If there's one question we hear more than any others, it's some variation of the question posed by this article's title. It's 2023, after all, and we're well past the need to explain what SEO is or why developing an effective SEO strategy is important. Instead, marketers are asking more tactical questions, trying to glean simple SEO tips for better rankings they can leverage to drive real results—primarily in the form of increased organic traffic (and everything that comes with it).
In this blog, we're going to focus on the practical side of how to improve SEO on Google and other search engines. Specifically, we'll be exploring:
The most-important SEO ranking factors, and why they matter.
How to get started with SEO best practices to drive outcomes.
Tips for improving SEO rankings in 2023 and beyond.
Let's start with the main factors that impact how your website ranks with search engines.
What Are the 3 Main SEO Rank Factors?
While Google and other search engines aren't exactly transparent in how content ranks within search engine results pages (SERPs), much can be learned from studying things like Google's helpful content update. In simple terms, this recent update works to prioritize content that is genuinely informative, engaging, and written for humans—as opposed to spammy, keyword-stuffed trash (for lack of a more elegant term). While there are several factors worth considering, they can be categorized into three general categories: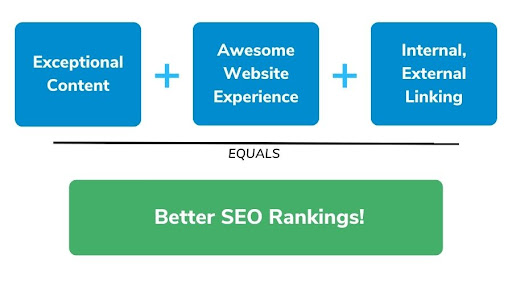 Let's take a closer look at each of these search engine optimization techniques and why they matter so much.
Exceptional Content
What it is: Website content can include blog posts, landing pages, customer resources, case studies—literally any text-based material within your website that is crawlable by search engines.
Why it matters: Your company's website should offer prospective and even current customers timely information, thought leadership, and more. A well-designed website packed with high-quality content builds credibility, helping to establish your brand as a trusted authority.
Awesome Website Experience
What it is: It's easier to describe what an awesome website isn't—ugly, slow-to-load, glitchy…we've all been to terrible websites before. Even if they have good information, the website experience is a major turnoff.
Why it matters: If your website has a ton of great content but the website itself is unattractive, loads slowly, or otherwise detracts from your content's ability to connect with and influence customers, you've got a problem.
Internal and External Linking
What it is: This point gets into the more technical side of SEO performance, but linking strategies do send important signals to Google and other search engines.
Why it matters: Effective linking strategies help to ensure that your site not only contains great content and resources, but that they're all organized and managed effectively, as well.
Is It Hard To Do Your Own SEO?
To the uninitiated, SEO might sound complicated and soul-less—but it doesn't have to be! If you're looking for SEO tips for beginners, the internet is full of helpful SEO resources—though they're not all created equally. Lucky for you, DemandJump's website is home to a number of vetted resources you can use to…
Also, if you've never been formally introduced to the concept of Pillar-Based Marketing, or PBM, there's no time like the present.
Pillar-Based Marketing: What, Why, and How?
What Is PBM?
PBM is a unique content creation and linking strategy that helps brands to create the exact types of informative, engaging content their customers are looking for.
Why Does PBM Work?
PBM has empowered companies across a number of different industries to publish interconnected content networks that signal to Google and other search engines that your website should be considered an authority—improving their rankings in the process.
How Does a Company Get Started with PBM?
DemandJump's innovative keyword research and content planning tools make it easy to identify what to write about—as well as how to organize, publish, and promote that content.
Next, we'll look at the types of activities you should prioritize if you're looking to strengthen your SEO rankings in the near future.
How to Improve SEO Rankings in 2023 and Beyond—3 Tips You Can Start with Today
If you came to this article looking for how to improve SEO for your website, here are our top three suggestions:
1. Know Your Customers
When you know exactly what your customers are looking for—the questions they need answers to or the pain points they're trying to solve, for example—you can give them precisely what they want.
With DemandJump's tools, you can learn a great deal not only about what customers are searching for, but what their intentions are. That way, you can fine-tune your content to complement their decision-making processes and position your brand at the forefront of their mind as they work toward a purchase.
2. Develop a Strategy
As we discussed above, Pillar-Based Marketing is a modern strategy that is poised to be content marketing's present and future. The basic framework for developing and implementing a PBM strategy includes:
Performing keyword research, which consists of not only learning what customers are searching for, but also seeing how your company stacks up to its competitors on a keyword-by-keyword basis.
Outlining a 16-piece pillar plan that consists of multiple pieces of content that are interconnected and interlinked.
Writing, publishing, and promoting exceptional content.
Monitoring the campaign's results, and adjusting or supplementing as needed.
As you're setting your strategy, work toward developing concrete objectives. What do you want to accomplish? You'll want to be more specific than "increase traffic." How much of a traffic increase would you consider a success? We recommend setting SMART objectives, which are Specific, Measurable, Achievable, Relevant, and Time-Bound.
3. Make It Your Own
As you publish and promote your content, try to engage with your audience. For example, as you share individual pieces of content via different social media channels like LinkedIn, Facebook, even Snapchat or YouTube, encourage users to share, like, comment on, or otherwise interact with your brand.
Some brands shy away from engaging with customers over different social media channels, unsure exactly what they might be getting into. It doesn't have to be intimidating, though. Social media represents an awesome opportunity for brands to demonstrate their brand's organic voice and commitment to their customers. Some brands even—gasp!—have fun with it.

Sorry, we're just messing around—we're really not about that clickbait. Actually, it goes against every SEO-building bone in our collective bodies.
Here's what we are about: helping companies to increase their website traffic and develop authentic (and productive) customer relationships. DemandJump provides an intuitive, all-in-one content marketing platform for SEO beginners and experts alike.
With DemandJump, you'll know exactly what to write, how to organize and structure that content, and where your best opportunities lie for gains over your competitors.
Did we mention that you can try it for free? Just click the button below to take your first step toward a brighter SEO future.
Get Your Free Pillar Strategy Preview!