If you're reading this, you might have heard of Pillar-Based Marketing (PBM). If you haven't, you might be wondering, what is Pillar-Based Marketing? It is a marketing strategy in which you create several pieces of content (we recommend at least 16) that set your brand up as an authority for a topic of your choice.
How does your content make you an authority? Through quality writing and the use of high-value keywords. These keywords are the exact questions and phrases that your target audience is searching for. Use these keywords, and your audience will more likely find your content when searching the web for answers to their pain points.
The basic PBM strategy template consists of:
1 pillar page of 3,000+ words and 20 keywords
3 sub-pillar pages of 2,000+ words and 15 keywords
12 supporting blogs of 750 words and 8 keywords
There is so much more to PBM than this template, though. So how do you become an expert at using this marketing strategy? This blog will serve as your guide to get started.
How Do I Get Started With PBM?
Like with any new strategy, skill, or tool you want to use, you have to learn about how it works before you dive in head first. DemandJump University offers a comprehensive resource library to give you the knowledge you need to execute your own PBM strategy. Because DemandJump is the first company to implement PBM, we are the experts in it. Get your PBM education for free with our resources to gain the skills you won't find anywhere else.
We offer six courses you can work through at your own pace. They will cover:
Intro to Pillar-Based Marketing: Get an overview of what PBM is and why it's so successful.
DemandJump Account Setup: DemandJump is the platform you should use to create your PBM strategy (more on that later). This course will take you through how to set up your account and see the results of your pillar plan.
Pillar Topic Discovery: This course will advise you on how to find the best pillar topic to write about. This is important because it has to be something that your target audience cares about and something your business should know a lot about.
Building a Pillar Strategy: Learn how to find the keywords to use in your content. You can either use the DemandJump platform to do this or go about it the old-fashioned way and use the Related Searches and People Also Ask sections on Google.
Creating Pillar Content: This course will cover what you need to know to write quality, effective content that can get you to page one of Google search results.
Measuring Pillar Results: Once you post your content, you will need to track how it's doing to determine whether it's bringing your business the traffic you want. This course will show you how to do that.
Once you have learned how to make a PBM strategy, it's time to create your own.
How Do I Start a PBM Strategy?
There are two routes you can go to create your own PBM strategy: manual searches and using the DemandJump platform. For both, you will need to compile keywords for your content. Let's take a closer look at both methods.
Manual Searches
Think of a topic that you would like your pillar content to cover. Keep the topic broad, usually 1-3 words long. This will also be the title of your pillar page. Search for it on Google. For our example, we'll search for dance lessons.
Scroll down the first page of the search results until you see Google's suggestions for other topics for you to search. This can give you some ideas of keywords and sub-pillar topics to use in your strategy.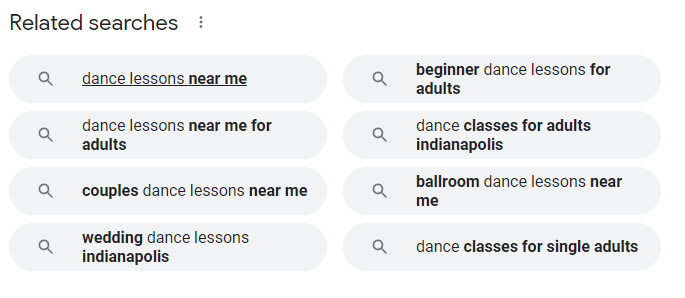 If you decide to use one of these as a keyword or sub-pillar topic, click on it. You will also see a section under the search results called "People also ask." These suggestions can also be used as keywords or titles for supporting blogs.
Repeat these steps, clicking on related questions and searches, until you have enough keywords to use as titles and to include in your content. When including them in your content, make sure they make sense with the rest of the piece. Do not just throw keywords around willy-nilly. Your reader won't like that too much, and it doesn't make for good content.
DemandJump Platform
If you want to know how to implement a PBM strategy quicker than through manual searches, use DemandJump. Once you create an account, you take the following steps to get started:
Select "Pillar Strategy" under Manage Research Topics. This page will give you suggestions about what sub-pillars and blog posts to write about.
Under Research & Discovery, select "Get Topic Insights." Type your content title into the search box and click "Generate Insights."

You'll see a report appear under Results. When you click on it, you will see a list of keywords you can use as titles and within your content.
4. Click on the three dots next to one of the keywords or questions, then select "Write about this." It will create a content brief, which you can find under Manage Content > Content Briefs. Click on it once you get there.


5. This brief will give you suggestions on keywords to use for that topic. Choose the ones that work best for what you have in mind and write away!

Make Your PBM Strategy With DemandJump
If you're going to start a PBM strategy, you want to do it right. DemandJump gives you the tools to do it with less stress. Our PBM marketing course will give you the knowledge you need for success, and (the best part) it's free if you have a DemandJump account! With an account, too, you will already have access to everything you need to come up with topics and keywords for your pillar topic. By saving time on the tedious tasks, you can focus on writing better content and addressing the needs of your target audience. Ready to start your strategy? Sign up for DemandJump.
Get Your Free Pillar Strategy Preview!