How Do You Create a Content Strategy?
December 29, 2020 •DJ Team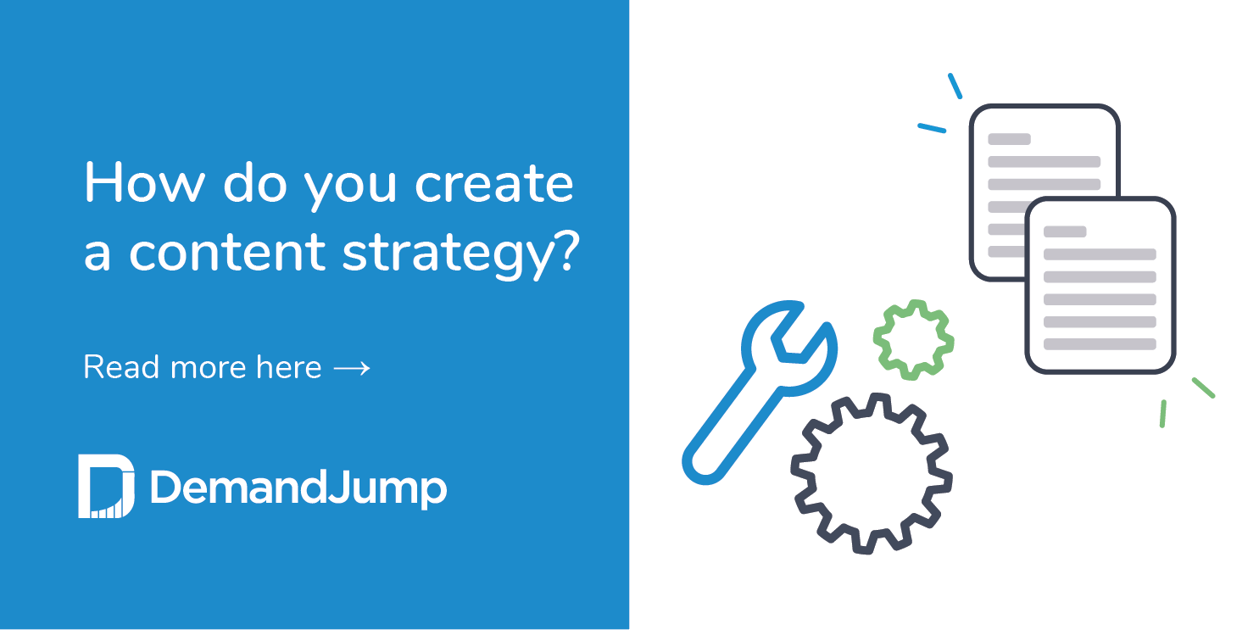 Blogs, videos, form-walled whitepapers, infographics—content marketing takes many forms. What brings them together, however, is how they each work to connect a brand's message to a world of consumers looking for real answers to real questions.
For new marketers, the many avenues for developing and executing content marketing strategies can be a rigorous and often intimidating practice. Let's take a look at how you can build a winning content strategy for your brand.
What is a content strategy?
Content strategy is the marketer's playbook for their work, defining the planning, development and management content as it relates to a business' marketing goals and objectives.
What is in a content strategy?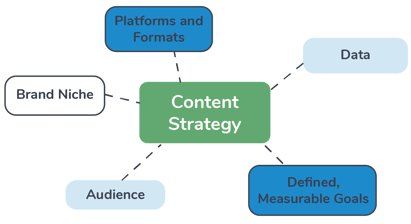 Answers. Content strategies house all the answers relating to the planning, creation, and distribution of branded content materials. While every strategy is unique to business' needs, many of them follow suit in including several silos that provide marketers with context and guidance as they execute their marketing objectives through digital content.
Defined, Measurable Goals
For every action, there is an expected reaction. At least with content marketing campaigns, there should be one. The content marketing you embark on should connect directly to the business goals set out before you. Marketers in small to medium-sized businesses might find that they have more freedom to define their goals. Those working for larger brands may have to align their campaign goals to that of their business. In either situation, plot out the goals for your campaigns, and get your peers and leadership on board.
Common goals include:
Capturing more leads through funneled content that lead to Buy Now or Contact Us CTAs
Expanding brand awareness through an increased digital audience
Establishing your brand as trustworthy thought-leader in the industry
Ranking higher on search engine result pages for certain keywords and phrases
Audience
Without a clear understanding of who you're talking to, your words might fall on deaf ears. Do research to pinpoint who your audience is, whether they are existing customers, potential industry partners, or even a new subgroup of demographics that you have yet to tap into. Once you know who you are talking to, you can dive deeper into how that audience responds and engages with content online.
Brand Niche
Every company is different. Their solutions are different from the competitors. This is what separates each brand from the next. As you consider what content you'll create, first consider how your brand's perspective is unique. That niche should immediately be considered part of brand standard voice and messaging. Speak to that unique perspective and offer consumers something different from your competitors.
Platforms and Formats
A key part of any usable content strategy is a clear understanding of which digital channels a brand is going to publish content on, and what shape that content will take. The core of most winning strategies is a consistently updated blog, but from there it can vary wildly depending on your audience and industry. Will you publish on Facebook? LinkedIn? TikTok? Will you utilize email marketing? How often will you push out articles, social posts, and emails? Do you incorporate video as a regular part of your editorial calendars? The answers to these questions will guide you as you conceptualize new content campaigns and determine what you'll need to create and where to put it so it reaches your intended audience.
Data
Whether you simply operate a no-frills website, or you're riding the wave of several content marketing tools and platforms, there is data out there to be compiled and analyzed to make your marketing better as you go. Start by compiling data on your current tools, like your website, blog reel, and social media engagements. Understanding what your current users are frequently reading, clicking on, and even avoiding altogether can let you know where your current strengths are and where your efforts might prove to be futile.
Then, start researching opportunities to capture your audience by studying keywords within your industry. Looks for high-competition keywords where your competitors already are, and search for their content relating to those keywords. Are they saying the right things? Do you have something better to say? Say it!
What is an example of content marketing?
Anything and everything that you create online for the distinct purpose of providing value or entertainment to a targeted audience in an effort to meet business goals. The list can go on and on, but many marketers find success creating and distributing content that fall into these categories:
Written Content

- blogs, case studies, whitepapers, landing pages, email

Graphics

- designs, infographics, GIFs, CTAs

Video

- educational, vlogs, animations, customer testimonials, webinars, site-based videos

Social posts and sharing

- Facebook, Twitter, LinkedIn, Instagram, customer reviews, sponsored content

Audio

- podcasts, radio, interviews
Every action deserves a purpose. Content strategies have become the backbone to many successful content marketing teams as they work to develop, distribute, and govern content to boost their brand's presence online and drive traffic to their websites.
In order to be successful, though, a content strategy must be an informed one. Even for the most standard digital marketer, this often means trudging through several tools and platforms to compile data and analyze it to make decisions on where the best opportunities for marketing are.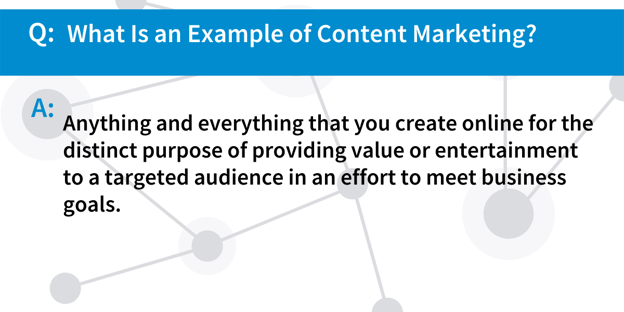 DemandJump is eliminating that problem. Yep, we pull all of your favorite data together to give you a helicopter view of your digital engagements and even provide you with instant consumer insights to give you your best foot forward. Sign up for our free trial to see how immediate insights and marketing analytics can change your marketing game forever.
Automate Your Content Strategy
DemandJump's Insights show you where you are winning and where you are losing to your competitors around any topic. The platform will point out gaps and opportunities to take traffic share, and with one-click SEO-optimized content outlines, you'll save time in the process.
Save over 50% of your time while creating better content - that ranks!
Get Your Free Content Marketing Strategy Report