How Do You Distribute Content Marketing?
December 22, 2020 •DJ Team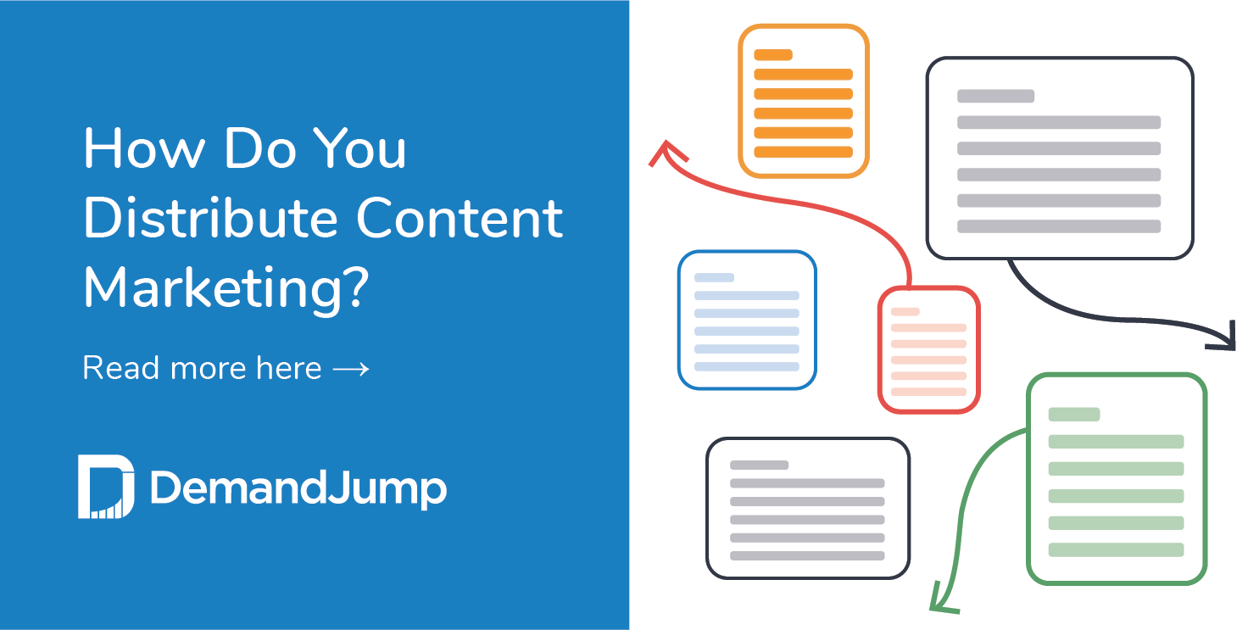 So, you've been creating content like crazy. You're writing blogs. Making videos. Designing beautiful infographics. You've stockpiled your content, and you're ready to distribute. But wait a minute—how do you do that?

Content marketing gets discussed a lot, but it's mostly about the content itself, or the creation of it. There's a lot less chatter about what you actually do with the stuff after you've made it. As it turns out, there's plenty of strategy associated with content distribution too.

Don't let that intimidate you, though. There are many ways to share content, and no matter how you do it, you're going to reach an audience. So, how do you distribute content marketing? The key is finding where your audience is.
What Is Content Distribution?
There's an art to distributing content. You can't just publish and forget about it. You need a strategy. But how do you create a winning distribution strategy? There's some debate about what content distribution strategy is "the right one." What it really comes down to is deciding what works best for you, your audience, and your content. For example, if you are trying to promote your latest video podcast episode, it might make the most sense to create a promo video and publish it on Youtube, as well as other video-dominated social media platforms. But written content distribution is not always that straightforward.

Truthfully, creating an effective content distribution strategy involves a lot of A-B testing. After you have tested out a few content distribution channels (we'll discuss those in more detail later) then you should conduct a deep dive into your analytics to really get a feel for how your content distribution is performing and benefitting your company's bottom line.
Where Can I Distribute Content Marketing?
After you've created content, whether it's a blog post or a dense ebook, it has to go somewhere. You're sharing and promoting this content in order to drive a wider audience to it. And there are three primary ways to do this:
Owned Media - This is the media that you and your brand own.
Earned Media - Earned media means a third party is distributing your content on your behalf, and they're doing so at no charge to you.
Paid Media - This is when you pay to distribute your content.

What is a Content Distribution Channel?
Inside those owned, earned, and paid segments, there are numerous channels through which you share your content.
Owned media includes your website, blog, social media channels, and email newsletters—as well as any other media your brand owns that you can share content from.
Earned media includes everything from guest posts or featured articles, to interviews on podcasts, even down to simpler things on social media like mentions and shares.
There are numerous examples of paid content channels, because of course there are. You can pay influencers to share your content on social media, or create social or pay-per-click ads. You may also use retargeting ads to get your content in front of people.
Content Distribution Examples
There are plenty of good examples of content distribution. In fact, if you look around you almost every time you get online, you'll see a lot of content being distributed through every single channel mentioned above. In the grand scheme of things, it's pretty easy to distribute content. Doing it correctly, and following a strategy, require a little more know-how and data, but let's look at a few examples.
Casper Sleep Channel - You could think of this as a cross-channel distribution example (though most pieces of content are). The mattress company Casper created a sleep channel full of nighttime meditations and soothing sounds to help you fall asleep. They released it on Spotify, but shared it on all of their social channels and other owned media as well.
Wendy's Twitter - Not everyone could get away with a sarcastic, quick-to-clap-back social media presence, least of all an old-fashioned burger chain. But that's exactly what Wendy's does, and they do it well enough to gain thousands of likes, retweets, and interactions every day.
GoPro's User Generated Content - A company that makes small, incredibly high quality video cameras is clearly going to use video in their marketing. GoPro is adept at gathering videos that their audiences create and sharing them on their own YouTube channel—and even providing awards for the best finds each year.
Content Distribution Tips
The first rule of content distribution is to go where your audience already is. You'll never pull your audience towards another area if they don't want to be there. So if your audience loves long-form reading but you much prefer videos, you can find a happy medium—but it's best to create blog posts for them to engage with.
Second, put your really premium content behind a gate. If it's something your audience will find really valuable, like an e-book or something else in-depth, ask them to provide an email address in order to unlock it. They get the piece delivered to them, and you capture a lead.
Don't be afraid to find very niche communities, and create content for them. These areas of specialists are often critical, but they're also very accepting of interesting and engaging content. Look to subreddits on Reddit, for example.
Finally, as we mentioned before, don't just set-it-and-forget-it. Use those analytics! Test your channels and distribution. If you're not seeing the kind of return you want, try other channels.

Content Marketing Strategy Help
DemandJump's Instant Consumer and Competitive Insights show you where you are winning and where you are losing to your competitors around any topic. The platform will point out gaps and opportunities to take traffic share, and with one-click SEO-optimized content outlines, you'll save time in the process.
Save over 50% of your time while creating better content - that ranks!
Get Your Free Pillar Strategy Report