How Do You Make an SEO Content Outline?
May 22, 2020 •DJ Team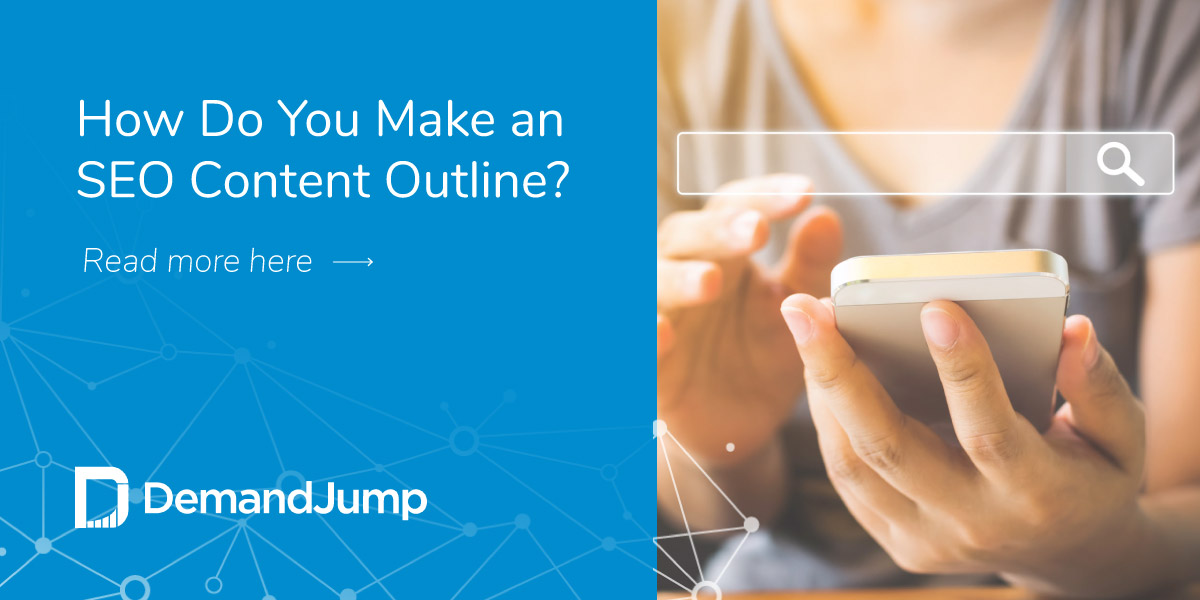 Utilizing SEO keywords in written content is as much of an art form as it is a science. When used correctly, keyword terms help your content rank for online searches and get marketing materials in front of the right audience for your product or service. But while keyword selection is based on data, including these phrases in your writing needs to be done in an organic way that doesn't sacrifice readability or keep you from communicating the necessary value propositions.
One of the most valuable tools in any piece of writing is an outline. Outlines help create guidelines for written content, ensuring that each headline, section, and transition works together to create a great piece of writing. Whether you're wondering how to do SEO or just researching SEO content writing tips, let's take a look at how to build a good SEO content outline.
Basics for Best SEO Practices
Google makes it clear that the best way to rank organically is to create engaging content that consumers actually want to read. This means not only writing about the things they care about, it means answering their questions in a helpful and meaningful way.
[Click here to get consumer insights that uncover the content your target audience wants.]
Any great SEO use in content writing comes from having not only the right keywords, but also the best sources and data to support your arguments. The articles and statistics you choose help your readers believe what you have to say, and help to resonate with your audience. Sources can also help you to build great SEO topics. This means that the sources you rely on may be a make-or-break for an effective piece of content marketing. If, for instance, you choose a source that doesn't include any data or makes large claims without anything to back them up, your writing will only suffer because of it. Much like you might find on a debate team in high school, content writing works best when there are reliable and honest sources backing up the initial arguments.
There are some basic elements to check on in order to be sure that this is a true and helpful resource. Known as the (and we're not making this up) C.R.A.A.P. method, be sure to compare a potential source with the following areas
Currency
What is the timeliness of the information?
Reliability
This is an evaluation of the source's writer, as well as their own sources they used in their article.
Authority
Who wrote this article? Do they have some sort of credibility or position of reliability
Accuracy
How well-researched and written is the article?
Purpose
Why does this resource exist? Was it created to educate and inform?
By using the C.R.A.A.P. method and your instincts, you can be sure that your starting point is good. Sources also help to structure your outline by providing the key data points you'll want to build the article around.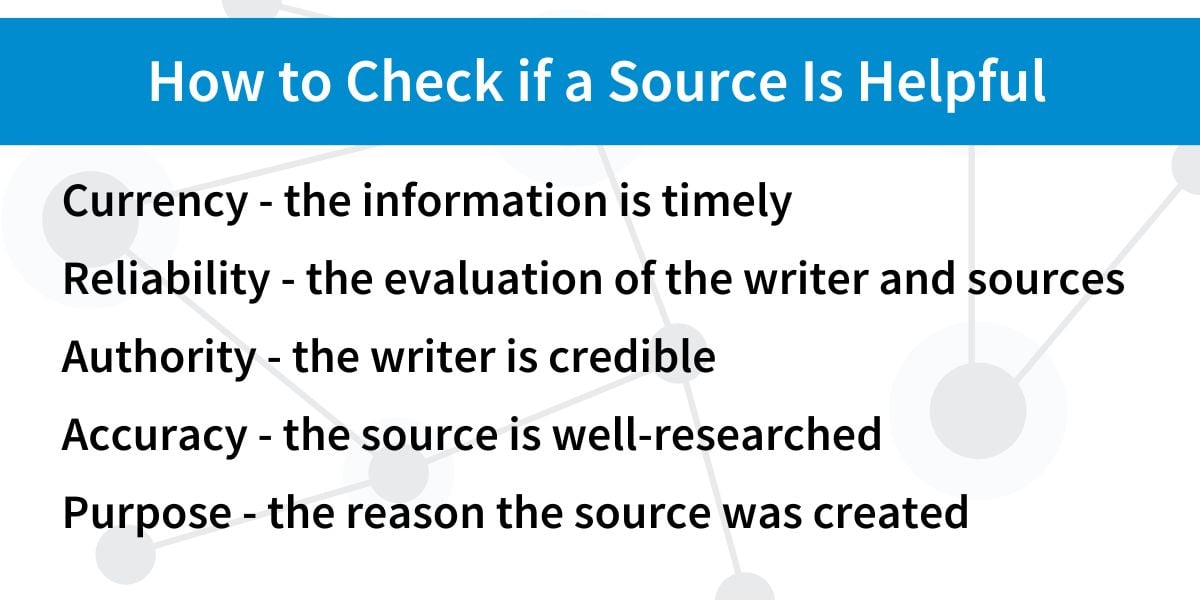 Adopt a Standard Template for SEO Content Outlines
Another excellent way to set yourself up for success is by using an SEO template or standard style guide. "Outlines help you follow a process of creative steps and let others on your SEO writing team do the same. Writing great SEO content ideas is all about building arguments and positions in a way that speaks to an audience. The organization that you use will play a huge part in delivering such messages.
A template should include these basic parts:
Introduction
This puts forth a problem or need, and how you plan on solving it. Think of this as your chance to state your thesis. But beyond that, it also gives readers an opportunity to know what the post will be about, as well as why it is important to solve the issue. Though the phrasing and approach differs between articles, the introduction sets you and your readers up for success.
Body
Simply put, this is where you make good on your introduction's promises. The body should contain the bulk of writing, and include the explanations of the solutions needed to solve or address the problem. These points should be backed up with research and resources, and may be in the form of several paragraphs and bulleted lists. It's also important to use headlines that not only inform readers of what to expect from each section, but that contain keyword-rich SEO phrases. The reason is that SEO phrases are crawled by Google's algorithm, and places more weight on articles with the keywords in the headlines.
Conclusion
This is a concise chance to wrap up your arguments and make sure that readers leave with a complete understanding of everything you said. It's also a great opportunity to utilize a call-to-action, where you can promote your own product or service and convert readers into leads.
In addition to these basic components, an outline also benefits from more than just the body's SEO copywriting. The outline should also have space to fill in your optimal SEO keywords, meta tags, copy for social media, and images. Essentially, an SEO content outline should contain space for anything necessary to write an effective blog post.
Ready to create content but not sure where to start? Or don't have time? We can help. DemandJump's automated SEO content outlines are certain to get your content to rank and save hours of research and prep. Get 4 FREE outlines on any topic or question important to you.

English 101 in SEO Content Marketing
Lastly, there are some basic writing and composition rules that need to be followed in order to make sure your SEO content is effective and to the point. Aside from elements like correct spelling and grammar, make sure of the following:
Each section should have a topic sentence
This not only sets up readers expectations, but helps you as the writer to keep track of what each section should accomplish.
Use transitions between paragraphs and sections
Without transitions, it's easy for a blog or white paper to feel disjointed or all over the place. Make sure that each paragraph and section sets up the one after it, in order to achieve a sense of cohesion.
Be clear and specific with your calls-to-action
Even in the best-written articles, vague CTAs can derail the entire piece. Rather than things like "contact us today" or "check us out," think about how your product or service can help the reader solve their own problem.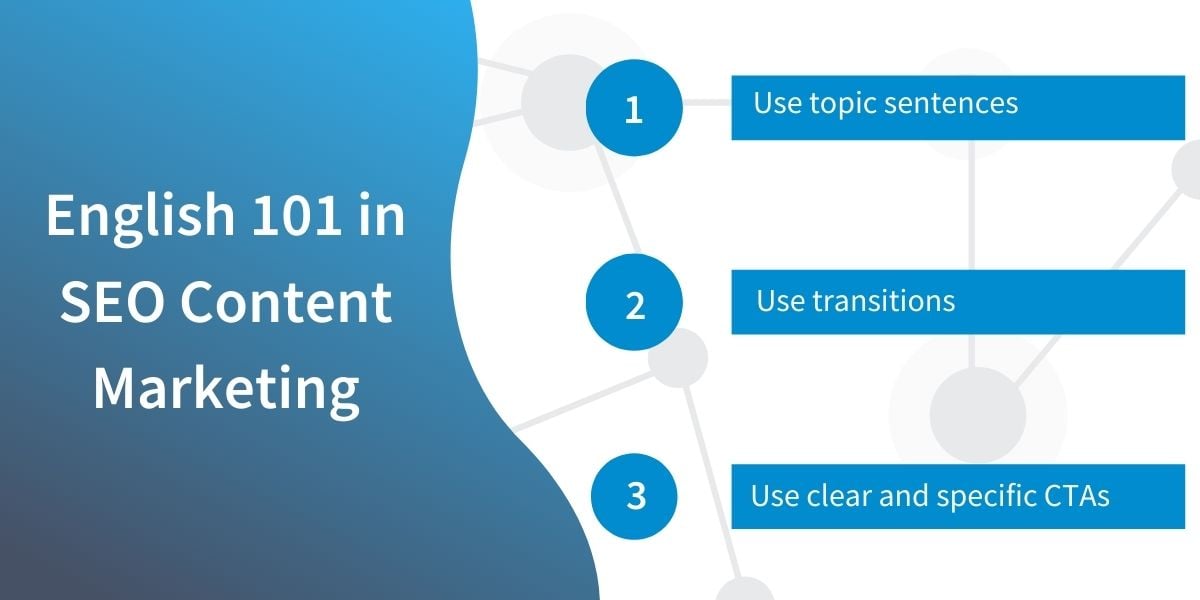 Make SEO Blog Post Templates a Snap with DemandJump
A good SEO content strategy starts with the right data and insights that guide your content. These insights can be overwhelming to manually uncover. That's why DemandJump uses AI to uncover for you the questions your target audience is asking, the searches they're conducting, and the videos and content they're consuming along their path to purchase. Get all of this, along with automated SEO content outlines with your free trail - get started today!

Get Your Free Pillar Strategy Report