How Do You Make Content Pillars?
June 16, 2021 •DJ Team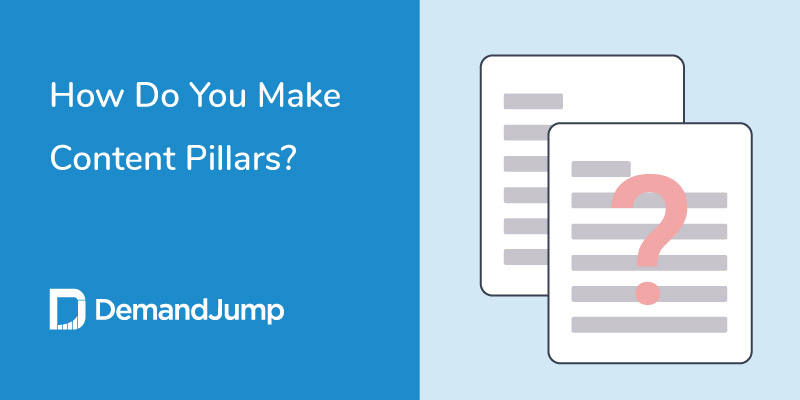 Creating an SEO Pillar means building a search engine optimization (SEO) strategy based on interconnected webs of content of varying lengths that follow specific interlinking strategies.
What is the pillar page template for a strategy that achieves results? We'll start by defining this innovative content marketing structure for what it is, then share tips about how to craft content that is unique to your brand propositions and audience interests.
What Is Content Pillar Strategy?
A content pillar strategy functions through different pieces of copy that all link down a funnel to the pillar page. Since the content you create to execute on the full content pillar strategy will all link to the pillar page either directly or indirectly, it's important to determine the content pillar topic and create this content first.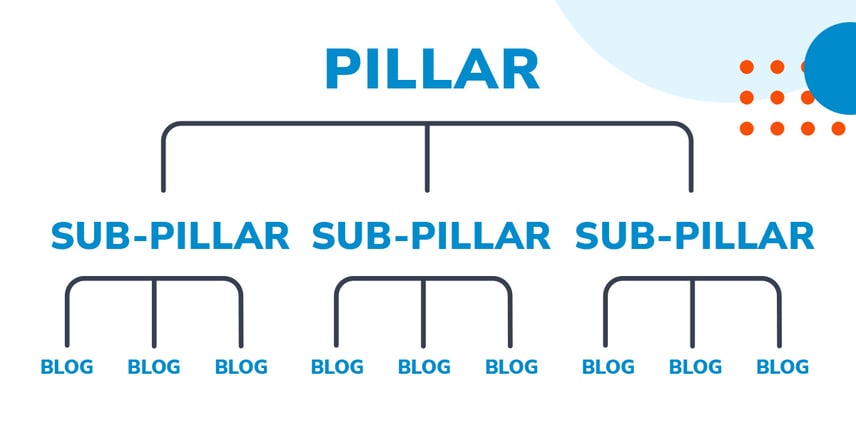 Main pillar pages are typically titled as the highest-value one or two-word phrase your business is trying to rank for. What are content pillar examples? Say you were working for a SaaS company selling a cloud file sharing product. One of your highest value keywords might be "cloud file sharing," meaning that would be a great main pillar page. It's important also to pick something you can write at least 3,000 words about, and we'll talk more about achieving that length of content in the next section.
Each main pillar page is supported by anywhere from three to seven or more support pillar pages. These are around 2,000-2,500 words long each, and the titles/topics are three-to-four word keyword phrases you want to rank for. On the topic of "cloud file sharing", these might be "cloud file-sharing technology", "what is cloud file sharing?", "cloud file sharing security", and the other keywords and questions your audiences are searching for.
Each of the support pillars contains a link to the pillar page somewhere in the copy, though this does not have to be the same as the call to action. You can work in the pillar page link like a source and still make a stronger call to action like asking the reader to contact your business.
The final layer of the content pillar strategy is the blogs that link to each support pillar. These blogs should be standard blog length, anywhere from 500-800 words, and will answer very specific keywords and questions. Examples relevant to "cloud file sharing" might include "who controls cloud file-sharing technology," "how does cloud file sharing improve efficiency?" or "what cloud file-sharing platforms are trustworthy." Each of these blogs would link to the relevant support pillars, where a link, in turn, leads back to the main pillar. Through linking and sidebars, users can explore their way through the content and self-educate on many important questions.
It's important to consider timeline as the last element of content pillar strategy. While it would be nice to be able to take a whole year's worth of editorial calendars to achieve the pillar page campaign, this is a strategy where speed and volume matter. It is generally more efficient to publish every piece of content in the campaign at once. Yes, we know it's a lot to do. But working with a content creation structure and keyword outline for each piece makes it easier.
How Do You Structure a Pillar Page?
Structuring a pillar page is achieved starting with keywords, but the flow of information must also be compelling and make sense to the reader. The days where Google and other search engines responded well to keyword-stuffing are long past. It's not about how often you use a keyword, but how well you use it. Today, Google analyzes over 300 factors in determining which content ranks at the top. A pillar page optimization strategy appeals to the foundational, long-lasting measure of quality content: are readers consuming your content and finding it answers their questions? Here's our list of tips for succeeding at this task.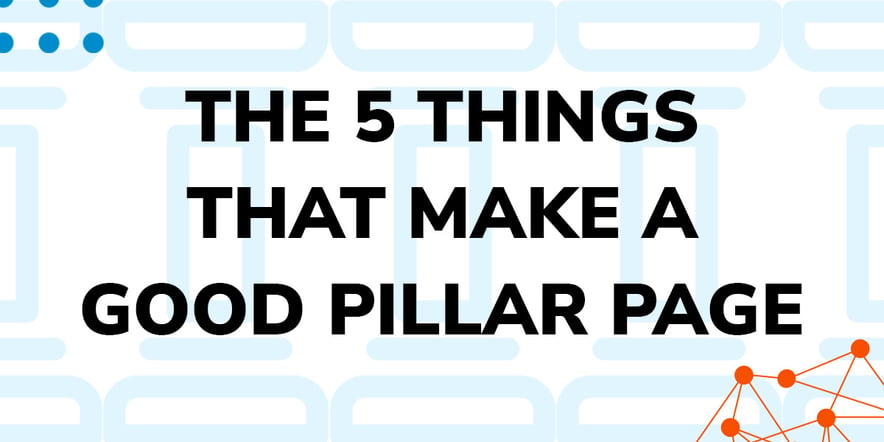 What Makes a Good Pillar Page
#1 Keywords in Title and Headlines:
Using keywords and questions as your title and headlines helps Google and other search engines notice that your content is aligning with what users are searching for. Plus, this also makes it easy to outline and plan the content of each piece, since "what to write about" is somewhat predetermined.
#2 Clear Value Proposition:
Though keywords provide a general structure to the pillar page or supporting content, it's also important to make a clear value statement for the reader. Somewhere in the introduction of your content, the reader should be told exactly what they will learn or take away from your piece.
#3 Sections and Sidebar:
The content of each section on your main pillar and supporting pillars should be created in balance with the content of the shorter blogs. You don't want to repeat the same information over and over, or worse, contradict yourself. Instead, you want all the messaging to be in alignment. Use the short blogs and supporting pillars to go in-depth on each nuance of the topic, while the main pillar provides an eagle's-eye view of how all the ideas connect.
#4 Call to Action:
Every piece of content should conclude with a call to action for the reader. This could be an invitation to learn more about your services and products, schedule a demo, or simply fill out a content form. If you have or intend to create lead generation content, this can also be included in the calls to action.
#5 Updated and Revisited Copy:
Lastly, it's important to remember that no pillar page project is "set it and forget it." Once all the content is published, you will start to notice trends and perhaps even surprises. This is when some blogs that aren't performing so well individually could be grouped into their own support pillar, while top-performing pieces inspire new content ideas. Don't forget to update any statistics and news or industry references every so often as well to make sure you don't sound out-of-date.
Get Actionable Content Pillar Ideas with DemandJump
Creating content pillar ideas is a winning strategy to achieve top search rankings, but a lot of keyword research must go into these plans. Operating manually, you may spend hours or even days poring over the related search terms to your primary keywords on Google, making assumptions about the most popular terms, and judging your competition based on where their links are showing up for the same queries.
At DemandJump, we've created a better way. Our marketing intelligence platform aggregates data from multiple sources to show you exactly what content to create. Running a search for your primary pillar page topic will reveal the main keywords and questions users are asking.
Exploring those insights further helps content creators understand where support pillars end and blogs begin. And through our professional connections, we can even help you write the content itself. Get started today and see just how easy it can be.
Get Your Free Pillar Strategy Report