SEO Content Writing: A Guide to Creating Helpful Content
August 9, 2023 •Allison Lemasters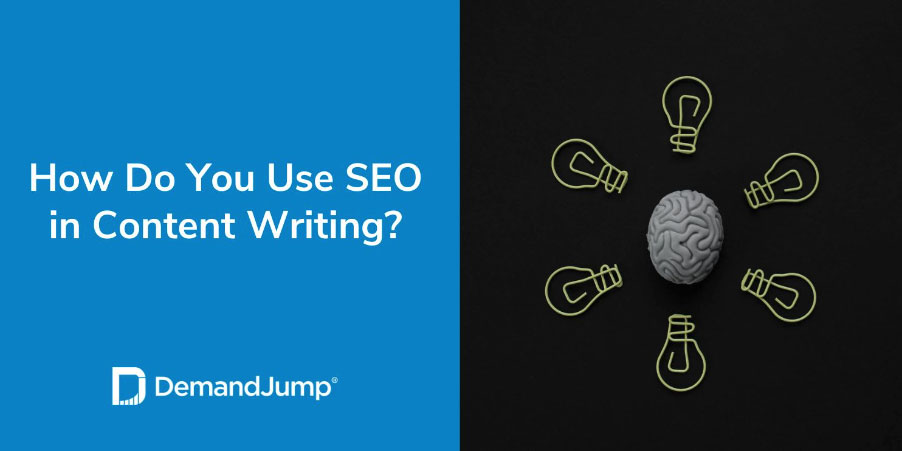 If you're searching for information about using SEO in content writing, chances are that you already know the advantages of an SEO-driven content marketing strategy.
You likely already know, for example, that the best way to attract and engage prospects is through the production and promotion of informative content that answers prospects' most pressing questions—and positions your brand as a potential solution.
In this blog, we're going to look at how SEO best practices can inform your content strategy, enhance the quality of your writing, and, most importantly, amplify your campaign's results.
If that sounds like a lot, don't worry—we'll also discuss how the right SEO content tool—like DemandJump—can provide the framework and the insights you'll need in order to outrank competitors and attract new business.
How Does SEO Play a Role in Content Writing?
SEO's role in content writing is fairly straightforward, in that it helps to ensure that your content is seen by the right people (your prospective customers) at the right time (when they're searching for specific products or services online).
For example, if you happened across this blog because you were searching for best practices or tips for using SEO to improve your content quality, that's a perfect example.
Ultimately, the idea is to use SEO techniques to increase the chances of your content appearing within the top few search results someone sees when looking for products or services aligned with what you offer.
For more great SEO content nuggets subscribe to Page One or Bust! wherever you listen to podcasts.
Does Content Writing Require SEO?
Content writing doesn't technically require SEO…but, at the same time, it kind of does. Unless you have an infinite marketing budget—and the reserves of time and patience that a trial-and-error process would require (for uncertain results, nonetheless)—you're going to need to understand SEO.

What Are the Skills of an SEO Content Writer?
An effective, SEO-driven content writer needs to balance analytical thought processes with common sense and creativity. The perfect balance is achieved when a writer can simultaneously know what to write about (including the depth of information they should provide) and how to write SEO content that communicates key concepts in a clear, informative way.
DemandJump's innovative keyword research and content strategy tools can make these processes much easier and more intuitive for novice content writers and SEO content specialists alike. You can learn more—and refine your own skills—by completing DemandJump University's Pillar-Based Marketing Writer or Pillar-Based Marketing Strategist certifications.
How Do You Write a Good SEO Post for Your Blog or Website?
Developing the perfect SEO content for your website can feel intimidating, but by following a few key best practices you can really hit the ground running.
Let's take a closer look at the most important aspects of SEO content writing, including how to determine the best blog topics and titles, structure your content so it is clear and impactful, and write content that's infused with high-value SEO keywords.
How Do You Find the Best SEO Content Writing Topics?
From an SEO and content marketing perspective the best topics to write about are the ones that your current and prospective customers are looking for more information about—and that align with your brand and/or its offerings. Traditionally, companies have had difficulty when it comes to zeroing in on the right topics to write about, meaning much of their content ultimately goes unread.
Nowadays, there are plenty of SEO keyword research tools out there that promise to illuminate users' search behavior in a way that content marketers can understand. With that said, a majority of these tools over-promise and under-deliver. They don't tell the whole story.
DemandJump's platform—the first (and only) Pillar-Based Marketing platform—was designed for content writers who are tired of letting guesswork or trial-and-error processes get in the way of timely results. With our keyword research tools, you can know exactly what kind of information your customers are looking for, and you can plan your content strategy accordingly.
How Do You Write an SEO-Friendly Blog Title?
An SEO-friendly blog title leaves no mystery or ambiguity as to what the post is going to cover. We're well past the days where a majority of searchers might fall for clickbait or other underhanded tactics to bring in traffic (without really serving them anything, content-wise, of much value). At DemandJump, we typically recommend that a blog post pose a question—something like "How do you use SEO in content writing?" for example.
How Do You Structure a SEO Blog?
First and foremost, a blog should be structured in a way that is well-organized and easy to follow. If your blogs are disorganized, what does that say about your company? It certainly doesn't vouch for your expertise or ability to understand what's important to your customers.
In this age of short attention spans and the desire for quick answers, SEO content should also be easy to skim. Rather than giving your readers hundreds of words in a single block of text, for example, break it up into sections and paragraphs. Each section should use a clear H2 heading to signal what the section is about, and the content beneath each heading should clearly address the question or topic that's being presented.
This blog is (hopefully) a perfect example of this concept in action! Have you noticed how it essentially follows a question-and-answer format? That's entirely by design, as it provides an easy structure to follow, whether you're reading it in a single sitting or just skimming through it to find a particular piece of information.
How Do You Write Content with SEO Keywords?
Including high-value SEO keywords throughout your content is a great way to increase your chances of improved placement within search engine results pages (SERPs)—but you don't want to overdo it.
How Many Keywords Should I Use in a Piece of Content?
It depends on the content type, as well as its length. For example, if you're using the Pillar-Based Marketing (PBM) methodology, you'll be writing a few different types of SEO content:
Your 3,000-word Pillar Page should use around 20 keywords and questions.
Each 2,000-word Sub-Pillar should use around 15 keywords and questions.
Each 750-word Supporting Blog should use at least 8 keywords and questions.
Where Should I Use Keywords within My Content?
Ideally, you should use SEO keywords within a piece of content's title, headings and subheadings, and body paragraphs. Typically, keyword questions are great for titles and headings, while you can use other keyword phrases throughout the content.
Recap: Best Practices for Using SEO in Content Writing

How Can You Ensure that People Actually See Your SEO Content?
Effective keyword usage is the foundation of increasing brand awareness through SEO and content marketing strategies. In addition to using keywords effectively, here are a few additional best practices to round out your toolset and drive more traffic to your content:
Prioritize helpful content. Genuinely helpful content isn't just what your prospective customers will benefit from, it's also a high priority within

Google's search algorithms

.
Create a network of interconnected content. Don't just write a single blog post and consider your work done. Instead, create a content strategy that is made up of multiple pieces of content that are thematically connected under a single topic—and then link those pieces together (literally, with hyperlinks). When you do this, and when readers move from one piece of your content network to another, it confirms to Google that your brand has a certain amount of authority on the topic.
Promote your content, and engage with your audience via social media. Whenever you publish one or more pieces of content, be sure to let your network know! If your prospective customers are all on Facebook, focus on Facebook. If they're spread out over LinkedIn and Twitter, as well as Facebook, promote new content on each platform. When doing so, tailor your message and tone for each audience. If users engage with your social media posts, take advantage of the chance to interact with them and (further) showcase your brand.
For a deeper dive into content writing best practices, download our SEO Best Practices for Writers resource.
DemandJump: A New Approach to SEO Content
Using DemandJump's innovative SEO content writing tools and PBM methodology is the best way to design a content strategy that will align with exactly what your prospective customers are looking for. As an added (and powerful) benefit, this approach also demonstrates to search engines that your brand is a credible and trustworthy authority within your industry.
With DemandJump, you can also:
Understand how your brand is currently performing in relation to competitors.
Develop a content-linking strategy to amplify SEO results.
See your ratings climb, potentially all the way to

Page 1

.
Click the button below to begin exploring the platform—and devising your strategy—today.
Get Your Free Pillar Strategy Preview!