How Do You Write A Content Marketing Plan?
December 4, 2020 •DJ Team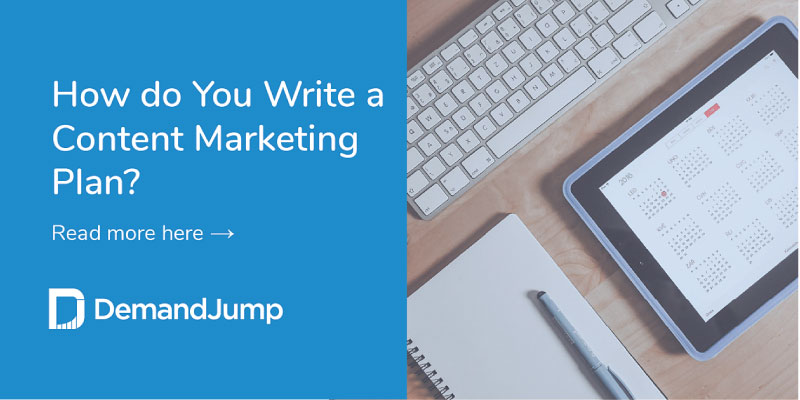 Writing a content marketing plan can seem intimidating and difficult, especially if writing doesn't come easily to you. However, creating this vital marketing plan doesn't have to be a painful process! Take a look at these easy steps as we walk you through creating and executing a successful content marketing plan:
Ask Some Questions And Get Some Answers
The first step to creating your content marketing strategy is simple—ask a whole lot of questions! Questions like:
Who is your target audience?
Why should your target audience choose you?
What makes your product or service unique?
What solutions are our product/service offering?
Once you've asked and answered these questions, keep them in mind as you are going through the next steps. You may find it helpful to create a mission statement for your business or a broad picture view of what you are trying to accomplish with your content marketing. Boiling it down into one sentence is a helpful way to make sure your content marketing plan stays focused and goal-oriented.

Look At What You Already Have (And What Others Have)
What types of content marketing are you already doing? Most businesses already have social media accounts on various platforms and a blog. Take a look and be brutally honest—what is working and what isn't working? How are your customers responding to the marketing that you're already doing? If you have been spending time posting to a specific channel but are getting very little results from it, consider eliminating that from your plan and focusing on channels where your audience is actually responding.

Take a look at your competitors too! Where are they focusing their efforts? Look and see what channels your competitors are in and ask yourself if you are in the same spaces or not. Evaluate the types of content that they are publishing and compare it to what you're already doing. Are there areas that you're covering better or vice versa? Knowing what you have and what they have will help you figure out your next moves as you create a new content marketing plan.
Do A Little...well, a LOT...of Brainstorming
Take some time to toss around ideas. What sort of channels will work best for your target audience? Where do they hang out online? There are a lot of different types of writing in marketing, but what is most attractive to your target audience?
Take a look at the different options that you have for reaching customers, and spitball ideas on the types of content you can potentially create. This is a great time to try a new channel, like podcasting or writing an ebook, and see if that will connect with your target audience.
Set Up Your Framework
The next step is to start making some decisions and establishing your content strategy framework.
You'll need to choose a content management solution—somewhere you can store your pieces of content and easily retrieve them when it's time to post. Many of the most popular website platforms also feature blog functionality, so if your brand already has a website, there's a good chance you have a place to store and publish content.
You'll also need to create your calendar or calendars (if you're the type of person who needs things separated out) and determine when and where you'll be distributing content.
It's also important to have a way to measure the results so you can determine if your content marketing pieces are working.
Create Content
Now on to the fun part! It's time to start creating all the content to drop into your content marketing framework. There are many types of content marketing and you can (and should) experiment with it! Infographics, blog posts, podcast episodes...make all the content that you need to fulfill your content marketing plan!
Wanting to create your own content but not sure where to start? DemandJump can help. DemandJump's content outlines ensure that you are ranking for topics important to your target audience. You'll know what to write, how to write it, and what to write next. Save time while creating better content - get started today!

Assess and Adapt
Your content marketing plan shouldn't be a static document. In fact, you should never really consider it "finished." An important part of that plan should be to constantly be assessing and adapting in order to get the best results. Check in on your pieces! What got the most clicks? Where did your conversions come from? Who are the people who are purchasing from your new, amazing pieces of content? Your plan should include a plan to evaluate and measure your success, or lack thereof.
How Can We Help?
At DemandJump, we're pros at helping you figure out your target audience and know how to assess and adapt to reach them. With our unique marketing attribution tools, you can easily determine things like which of your campaigns are driving revenue or figure out the exact pieces of content that are creating conversions. We help you have the data you need to make smart, informed decisions while creating and executing your content marketing plan. For example, you can utilize DemandJump's consumer behavior insights to uncover the important topics for your content team to write about. Start your free trial today and see for yourself how DemandJump can transform your content marketing strategy.!

Get Your Free Pillar Strategy Report