How Do You Write a Content Strategy Report?
August 2, 2022 •Clare Sheehan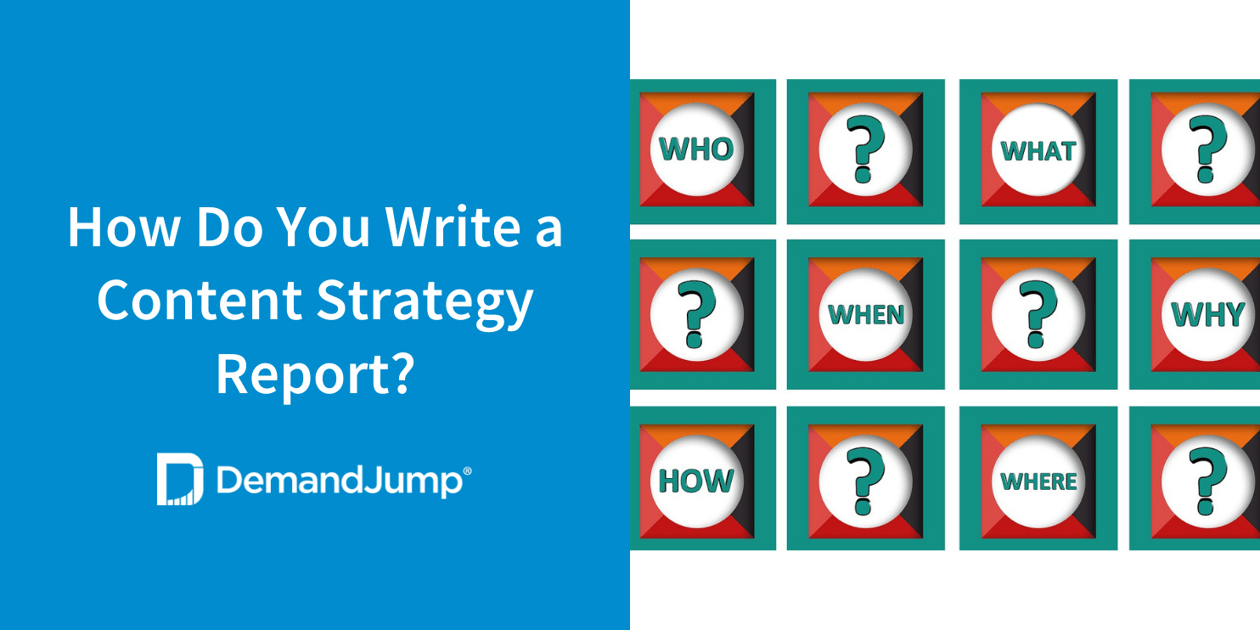 Insights from DemandJump's Experts
Congratulations! You did it, you successfully outlined a killer content strategy plan perhaps using a content strategy template for free. We know a lot of blood, sweat, and tears went into developing the perfect plan that fits right into your content strategy framework. But you're not done yet. Now, it's time to write that strategy report and get it approved. So, what should a content strategy proposal include?
Whether you're presenting your strategy internally, or completing a strategy for a third party, one thing is for certain—everything has to be perfect.
We're sure all marketers can agree, content marketing is many things but it will never be simple. As a company built by and for marketers, we've become experts in navigating complexity. At DemandJump, we've developed a straightforward and effective method for creating and presenting our content strategies. In an effort to take some stress off your back, we spoke to one of our industry experts to give you the insight you need to create a report that accurately reflects all of the great work you've done.
Without further ado, let's get to the good stuff.
How Do You Write a Content Strategy Proposal? Tips From a DemandJump Marketing Guru, Drew Detzler
At DemandJump, creating and presenting content strategies is our bread and butter. And our VP of Marketing Drew Detzler does it all day, every day. Here's his advice for creating a perfect content strategy report/proposal.
1) State the goal of your content strategy. No one creates a content strategy for no reason, you need to have a goal in mind. This could be:
Thought leadership
Lead generation
Increased registrations
Selling more products
No matter what the goal is, it should be at the center of everything in your report.
2) What is the topic of your content strategy? Here you need to identify your key subject matter and explain how it all relates back to your main goals and outline why your target audience would be interested. You'll need a lot of data to back up your claims here, so be sure to present your market research.

3) State the mechanics of your strategy. Is this web content only? Written content only? Does your strategy include paid campaigns? Social media? Offline spend? In this section of your report, you need to outline all of the details explaining what's included in the content strategy and why.
4) Next you need to outline the proposed timeline. This includes due dates, publishing dates, campaign launches, email send dates, etc. Be sure to make these realistic, you don't want to start off making empty promises.
5) Lastly, it's time to define what constitutes success. How do you plan to measure success? Is it leads, revenue, etc? Here you'll end your report by describing how to determine if your strategy worked or not.
Additional FAQs With Drew
How Do You Write a Content Strategy Example?
Honestly, this really depends on who you are presenting to. If you are presenting your content strategy to a higher-level audience like a CEO then your examples should be very high-level and metrics focused. This includes metrics like social shares, bounce rates, and click-through rates.
If you are presenting to a marketing manager, then you need to get into the details of the how and why, making the example much longer. For every example, you should highlight your past successes and clearly explain why you think this type of strategy will meet the established objectives.

How Do You Create a Content Strategy Presentation?
Focus on the data. This means showcasing estimated monthly searches, competitor rankings, related keywords, and more.
Make two versions of the presentation, one to use in meetings and one to send out directly. Your meeting presentation should be graphics-heavy and low on text. But you should also send out a copy of your report with a lot of text and examples explaining everything you talked about.
Make everything neat and visually appealing. This may seem like a simple step, but good design will help show professionalism and get people to listen.
When it comes to conclusions, be sure to give yourself a pat on the back and also open up the discussion for improvement.
And that's it! We hope you learned a little bit about us and a lot about presenting and creating content strategies. If you're interested in learning more from our experts, follow our podcast Page One or Bust. If you want to learn more about how DemandJump can help you create content strategies that rank, connect with us or start a free trial!
Get Your Free Pillar Strategy Report