How Do You Write SaaS Content?
December 21, 2022 •Erica Kempf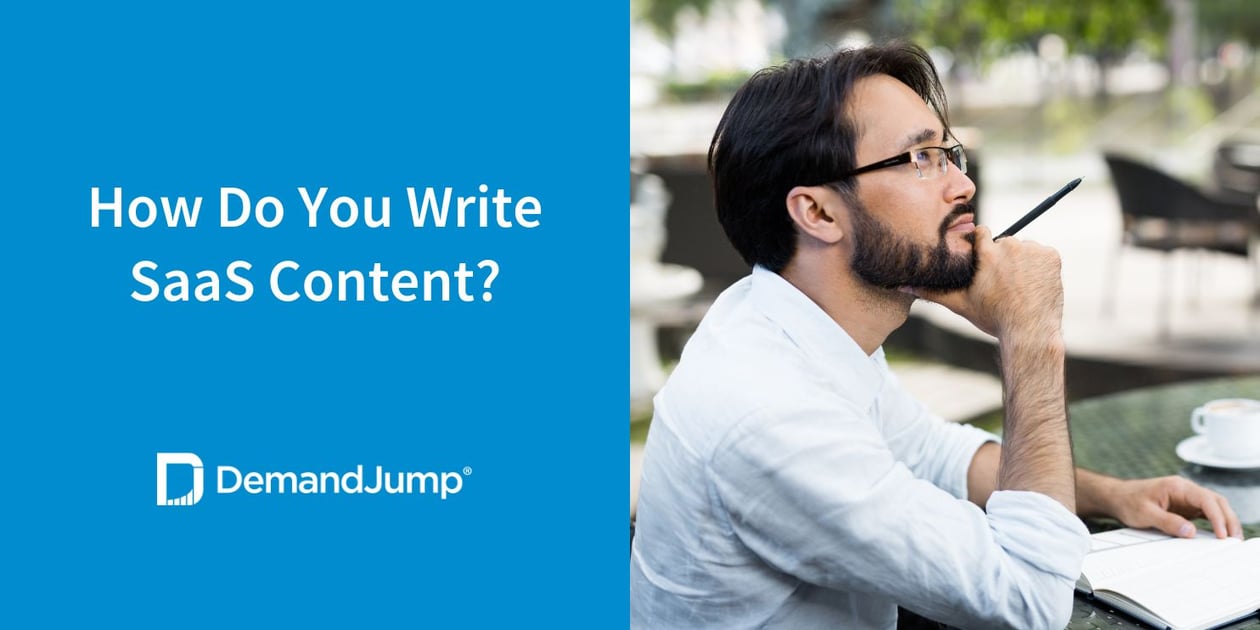 A shelf full of books have been written about how to market a company, and content marketing is often mentioned as essential, no matter the business type. Software as a Service (SaaS) businesses follow a little different playbook than other industries, but SaaS content still wins out as a top marketing strategy.
But how do you actually write the content to use for a SaaS marketing campaign? When you sit down and look at the blinking cursor, what's the first step you take to write something that will be effective marketing material for a SaaS company? Keep reading to find out.
How to Write SaaS Content: Getting Started
The first step to writing a piece of content is to understand how what you are writing fits into the SaaS content strategy that's being used. In some cases, especially for small companies, you as the writer may be tasked with both developing the content marketing strategy and writing the content. In this case, you definitely need to define the strategy and know how everything you write will work toward achieving the ultimate marketing aims. But even if you are given an exact blog title and word count, it is still very helpful to understand how what you are writing will be used for marketing.
After you have a basic idea of the overall content strategy, asking yourself some questions before you sit down to actually write is helpful. We'll look at an example of a hypothetical Business to Business (B2B) SaaS company, Bouffant, to illustrate how you can use these questions as a jumping off point. Bouffant is a software platform for hair salons that allows their clients to digitally browse, 'try on' with augmented reality, and save different hairstyles.
Who is their audience? For our example, Bouffant targets hair salon owners, hair stylists, and beauty and fashion influencers
What is the 'voice' of the company, and what tone do they use? Our example company requests a matter-of-fact tone that gets to the point quickly for their busy audience.
What is the main call-to-action they want this piece to end with? The company wants to highlight the message of "Try it yourself and set up a free trial in your salon today"
Do they want to push their brand throughout, or be less 'sales-y' with only a soft pitch at the end? Bouffant wants to be mentioned throughout.
How Do I Write a SaaS Blog?
Now that you understand the basic strategy and have some guidance on the style of writing your organization or client is looking for, it's time to put pen to paper (or more accurately, fingers to keyboard). A B2B SaaS content writer can approach a blog in a number of different ways, but here's a general workflow:
Research - Look for the questions and keywords the intended audience is searching for most (a tool like DemandJump can make this easy). Then read about the specific topic you are writing your content about.
Outline - Create the structure of the piece you will write. Include high value keywords and questions as headers to give them extra SEO juice when they're published. Highlight the exact keywords you discovered in the research phase to make sure the phrasing isn't changed as you write or as others edit.
Draft - Write the piece. Work through one section at a time and make sure to clearly answer the question that is the section title. Site your sources when you present study findings. Make sure to include a call-to-action section at the end, summarizing why the SaaS company you are writing for can help this audience.
Proofread - Edit your work. There are many online tools you can use like Grammarly and Hemmingway App to find common mistakes. Getting feedback from a coworker or friend is also valuable, and setting up a system for having someone else look at each piece is ideal.
How Do I Become a SaaS Content Writer?
Now that you know some of the nitty gritty about how content writing works, you might be interested in becoming a content writer yourself. There are several different ways to work in this field, including becoming a freelance SaaS writer, working for a SaaS content writing agency, or becoming a staff writer for a specific company.
For all of these positions, you will likely be most successful if you have:
A degree in English, writing, or an equivalent
Good research skills and a willingness to learn about new industries
A SaaS writer portfolio to show the caliber of work you can do
A background in SEO, marketing, or the SaaS industry in general
DemandJump: Decoding SaaS Content Writing
At DemandJump, we know the pain of trying to write content that ranks on search engines without knowing exactly how to do it. That's why we've developed our platform to show you exactly what real people are searching for, so you know what to write about to show up on page 1 of search engines. We also offer content writing services if you aren't ready to do the writing yourself.
When you're ready to take your writing to the next level, click the button below for a free trial to see what we can do for you.