How Does Content Improve SEO?
April 29, 2021 •DJ Team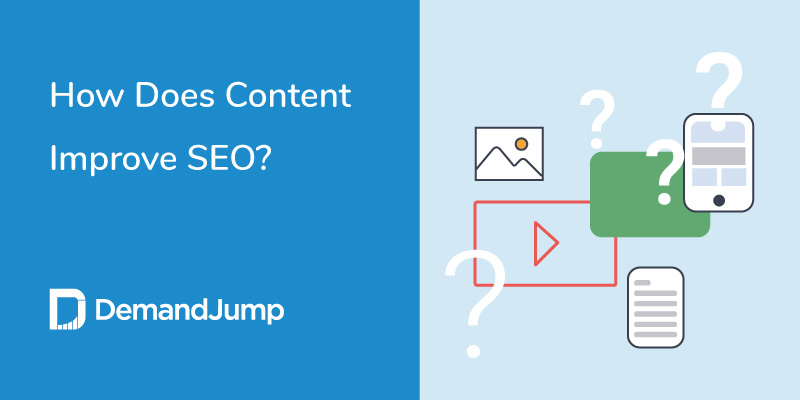 You can't talk about SEO without mentioning content. There's no better way to improve your SEO game than by skilling-up your content marketing. Since that's the case, we've gathered common questions related to improving content and SEO, so let's dive into our question-and-answer session.
Content Marketing
What is Content Marketing?
Content marketing is marketing your brand through published content. You do this by creating content that customers want to read. If you follow content best practices, via the magic of Google algorithms, your customers will find your content whenever they need it. When customers enjoy your content, it builds a relationship of trust with your brand.
What Should a Content Strategy Include?
In basic terms, a content marketing strategy outlines several types of content marketing. Here's a list of content marketing examples:
Long and short-form articles (At DemandJump we use a pillar strategy, but we'll get to that later)
Social media posts
Videos and infographics
E-books
Your content marketing strategy should cover what content to post, when to post, and outline how you plan to optimize your content for search engines (SEO). Wondering how to figure all of that out? DemandJump's got you covered. Keyword stuffing and guesswork are tactics of the past. To reach page one, a company's content should be organized via an internal linking structure designed to establish topical authority. This is where our pillar page strategy comes into play. It allows you to create an entire content ecosystem. Within this framework, all of your content links together, delivering exactly what your audience is searching for and appeasing the Google Search algorithm. We believe that driving content performance and organic traffic is all about having the right content that's aligned with actual audience behavior. Our platform allows you to do just that by:
Eliminating guesswork, telling you exactly what your audience is searching for and what you should write about.
Automating keyword research so you know what to include in your writing to achieve the greatest SEO results possible.
Outlining the perfect pillar strategy for you so you can begin creating your content ecosystem.
Learn all about our pillar strategy and how it can revolutionize your content marketing strategy here.

What Does a Content Marketer Do?
They are planners, producers, and managers of content. Good content marketing teams create content strategies and schedules and monitor the quality and quantity of content produced.
What is SEO Content?
SEO optimization begins with being conscious of how Google algorithms treat articles, which requires some research, but the general rule is a well-optimized article is written with your audience in mind.
What is Content Marketing in SEO?
Content marketing and SEO go hand in hand. We mentioned earlier that success is hard if you only have one without the other. Remember, the goal of SEO is, in the end, to get more eyeballs on your content and your business.
There's a reason for the saying that content is king in SEO.
It's easy to understand why SEO helps improve content. All the SEO tricks help create better experiences for online users. But content marketing in SEO isn't just how SEO improves your content. It's also the reverse: how does content improve SEO?
One of our best SEO content writing tips is to make an SEO content outline.

Take a look at several SEO article examples. They all have similar patterns to their outlines.
Does Content Improve SEO?
Yes, content absolutely has the potential to improve your SEO. However, without a proper content strategy, you won't get the rankings you desire. But, when you work with DemandJump, page one results are just around the corner. Here's how we can help level-up your content marketing strategy to deliver optimal SEO results.
Our analysis of internet behavior unearths which topics and questions your content should address to build brand relationships and drive site traffic.
Our platform helps you create content tailor-made to engage and delight your target audience.
The DemandJump platform allows you to see exactly what content is successful and what needs to be scrapped. We track your organic progress as you tackle keywords and phrases with content, delivering actionable insights into the effectiveness of your content strategy.
Sounds too good to be true? Don't believe us? Take a look at our many customer success stories and see for yourself.
Does Video Content Improve SEO?
Yes. Video content boosts engagement, conversion, and retention, so videos are big for improving SEO. Make sure to include keywords in your metadata and transcriptions.
Google Search Ranking
How Do I Improve My Google Search Ranking?
The best way to improve search engine ranking is with a blog. When Google ranks content, it looks for content that's consistent, relevant, and helpful to readers. Blogs are one of the best and easiest ways to provide consistent and enlightening information for your audience.
Another way is to improve your SEO search task list.
What are Some Ways to Improve My Search Task?
Improving your SEO task list means creating a workflow for your SEO optimization. You research SEO techniques and create tasks for each step of your content creation process. Analyze your current search task and see what areas you are doing well in and where you could do better.
What Techniques Can I Use to Improve Search Results?
There are many techniques for improving your content's rank in search results. Here are some you can implement right now:
Do keyword research
Outline your articles
Include multimedia
Link to other articles on your site
Keep your articles fresh
How Do I Improve Google Search Results for My Company Name?
Treat your brand name as a keyword. If keywords occur together often, they're associated with each other. If you include your brand name along with keywords common to your business, then your brand name becomes relevant to those keywords.
Other things that will help include keeping your Google My Business page up to date and building up citations on other sites.
Creating Content That Drives Better Outcomes, That's DemandJump
Search engine optimization best practices are constantly evolving to match consumer behavior. But having a content strategy catered to your target audience will always deliver the best results.That's why we created DemandJump. Our platform expedites your content writing process with our automated SEO content outlines, insights audience search behavior, and automated analysis of how you stand up against the competition. DemandJump allows you to identify the perfect content strategy that keeps your audience coming back for more. Stop guessing and start creating content that ranks today.
Get Your Free Pillar Strategy Report