How Does Content Marketing Benefit SaaS Companies?
December 21, 2022 •Jeremy Flick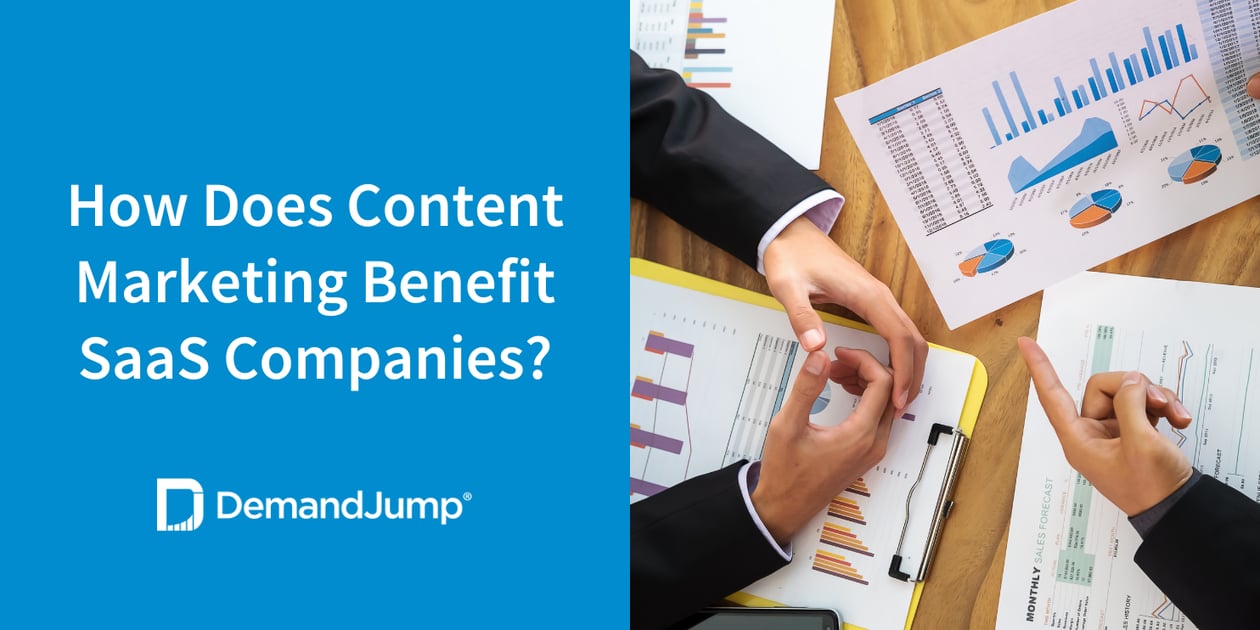 If you're looking to reach page one of Google organically, then you might have come across different SaaS content marketing strategies. At DemandJump, we love to offer content ideas for SaaS companies by providing guides on content marketing and examples of how it all works.
But why should you use content marketing for your own B2B SaaS company? Is it really worth the effort? In this blog, we explore why SaaS content marketing is a great way to reach your audience and boost their engagement.
What Is B2B SaaS Content Marketing?
B2B SaaS content marketing is the process of leveraging your own published web content—blogs, white papers, videos, etc.—to offer measurable value to your target audience. It is also meant to engage with them directly in order to capture their attention and guide them toward a sale. But what does that mean, exactly? Essentially, content marketing is producing valuable content for your audience to help answer their questions and providing a solution—typically your product or service.
In our ultimate guide, we explain that content marketing involves three key elements:
Understanding who your best customers are.
Determining how and where those customers find solutions to their problems.
Providing immediate solutions in the form of informative, engaging, and authoritative content.
Are There Any Benefits to Content Marketing?
So why create this content? First thing's first, it is helpful to your target audience to find content that actually answers their questions. How many times have you searched for something on Google only to scroll through several sites that don't provide a real answer? Content marketing for SaaS aims to fix that. There's no doubt: if you produce high-quality content you'll earn the trust of your audience. Not only that, but you'll be creating valuable information for other searchers who might not know about your product or service.

Is there really any benefit to putting employee and financial resources into content marketing? According to the Content Marketing Institute, 67% of marketers say content marketing creates leads for their product or service. Additionally, 72% of marketers report that content marketing supports audience learning and 63% believe it promotes consumer loyalty. Ideally, creating this content using high-value keywords and quality answers to questions will lead to higher rankings on Google, more click-through rates, and increased conversions.
While your marketing success can be enhanced by using paid search, social media, email marketing, as well as other strategies to promote the content and increase visitors, content marketing can help boost organic results with the right strategy. We'll dive into a digital marketing strategy for SaaS later on, but ultimately content marketing should focus on writing great content for audiences, which will drive profitable organic results.
What Is the Role of Content Marketing in a Fast Growing SaaS Business?
It's simple: the role of content marketing for SaaS businesses is to have higher visibility and greater reach among a target audience, while providing them with awesome content. While it isn't as simple as writing a few blogs and stuffing keywords into the text, once you consider different content marketing strategies and develop a plan, you'll find great success in reaching your goals.
With B2B SaaS businesses, content marketing provides an avenue for your business to promote your solution as an answer to your audience's pain points. Because SaaS companies offer software solutions, it's beneficial to share in-depth, knowledgeable content that shows your business understands what the audience is looking for and how you can help.
How to Create a SaaS Content Strategy that Drives Product
The majority of marketing techniques need extensive research and development, which can be costly for SaaS companies. It can also take a lot of effort, since you may need to spend hours or even days learning about your competition and potential high-value keywords. At DemandJump, we've created a powerful content marketing strategy framework called Pillar-Based Marketing (PBM) that eliminates guesswork and ensures you get the most from your SaaS digital marketing.
The idea of PBM is to generate a wealth of interconnected content from Pillar Pages to Sub-Pillar Pages to Supporting Blogs. The key is in the keywords and connection between the content, making you an authority on any given topic—and Google rewards this by boosting the rank of your site on search engine results pages (SERPs) since you provide extensive and helpful information.
So what does creating a PBM strategy look like? First, we need to break down the pieces:
Pillar: "The Ultimate Guide" — A comprehensive piece of content that explores your main topic in detail. (~3,000 words / ~20 keywords)
Sub-Pillar: A more focused piece of content that explores a sub-topic within the pillar. (~2,000 words / ~15 keywords)
Supporting Blog: A very specific piece of content that answers a few questions related to the sub-pillar or pillar topic. (750 words / 7-8 keywords)
Using a PBM framework, you should start by developing a 16-piece pillar strategy that answers all questions on a certain topic. With 1 pillar page, 3 sub-pillars, and 12 supporting blogs, each article will be connected directly to the other pieces of content.
Now we can get started building a Pillar-Based Marketing strategy:
Determine a topic relevant to your business that you'd like to rank for on search engines.
Explore high-ranking, relevant keywords and phrases to learn more about what your customers are looking for online.
Write informative, valuable content using those keywords and phrases to reach your target audience. Don't forget to write 1 Pillar Page, 3 Sub-Pillars, and 12 Supporting Blogs to complete your content strategy.
Post your content on your website. You should post it all at once, rather than individually when they are written. That will boost the SEO "juice."

Sounds simple, right? The process can be difficult without the right tools—doing your own research is time-consuming (and expensive)—but PBM is built with DemandJump in mind. Our platform provides you with insight reports that help you develop your strategy and find high-ranking keywords. We are the experts when it comes to SEO research and content creation. As the exclusive PBM provider, we have created our solutions from the bottom up to help you create the greatest marketing plan for your company and achieve fantastic results.