How to Become an SEO Writer
May 20, 2021 •DJ Team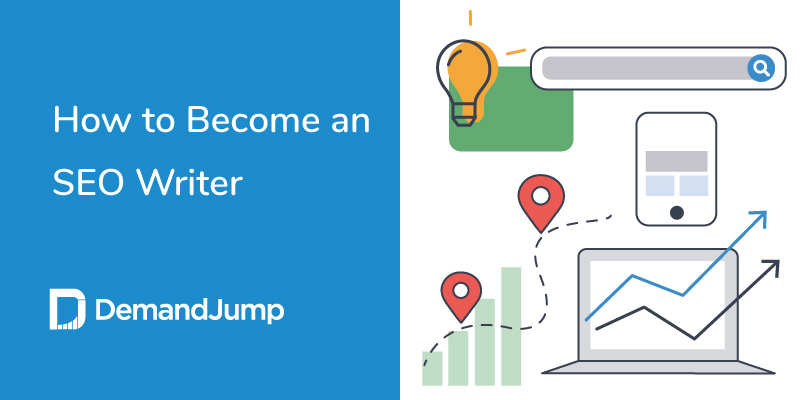 Are you considering a career in writing? Content writing is a growing field that offers many different paths to success. If you have the ability to craft a sentence or turn a phrase, consider SEO content writer jobs. Whether you are looking for a flexible career with stay-at-home opportunities or a more traditional office job, content writing is an excellent avenue to explore. Content marketing as a standard practice continues to grow as it is more effective and less expensive than traditional outbound marketing, and is used in almost every industry! In today's competitive economy, practical skills like content writing continue to rise in demand.
What does a content writer do?
Not to be too flippant, but a content writer….writes! However, to be more specific, content writers create different types of written materials that are typically used for search engine optimization for a specific business. From blog posts to brochures to white papers to social media posts, content writers have to be flexible and creative to adapt their writing skills to different formats and have that spark of interest to keep readers hooked.
The best content writers are chameleons—able to take on different styles and voices to best fit whatever content they are creating on a specific day. While writing is the bulk of a content writer's job, content writers also need to have some technical skills as well, since they are often utilizing CRMs and customer data, social media platforms, scheduling tools, and other computer programs in order to plan, create and distribute their content.
What are a content writer's duties?
The responsibilities of a content writer often look something like this:
Researching topics related to the industry
Exploring competitors' content in order to differentiate your content
Planning and brainstorming for upcoming content
Writing and proofreading pieces
Preparing content for publication, making sure that keywords and terms are included in each
Seeking out guest blogging and freelance opportunities in order to promote your content and establish yourself as an industry expert
The roles and responsibilities can vary depending on the size of the company or if you are a freelance SEO content writer. Some content writers have editors that they submit their work to, while sometimes they have to both write and edit their own work.
How to become an SEO content writer
SEO writing for beginners can seem daunting and it's often not clear where to start—do you need a degree to become a content writer? What about an SEO copywriting certification free that you found online? While SEO courses online free can be helpful, the best way to become a content writer is to start writing! Pick a topic that you are passionate about and start writing.
Pay attention to your metrics and set goals for how much traffic you want to see. The more following that you get, the easier it is to build your portfolio for applying to content writing jobs. Content writing is also an area that you may be able to develop while in a different role at a company. Because creating content is a never-ending job, you may be able to contribute to your company's content marketing with blog posts and social media posts centered around your job role. Any chance that you have to work on your writing skills is one you should take.
Another aspect of SEO writing that is important is the technology side of it. Being able to work with data and researching and understanding customer behavior online will give you a leg up when writing. The whole point of content writing is to reach your target customer, so in order to reach them, you need to know who they are and what they are looking for.
How can we help?
DemandJump is a comprehensive content marketing platform that can assist you on your content writing journey. We can help you know exactly what your target audience is searching because our network of data compiles online behavior and aggregates customer touchpoints to give you topics and keywords to focus on. You'll receive a prioritized list of content to create, as well as help with content calendars and outlines to make your job easier and help you become an excellent content writer. Our keyword and search term tools will help you create content that ranks highly in the search engines and help you gain traffic share immediately.
Try DemandJump for free and start your journey towards becoming a skilled content writer!
Get Your Free Content Marketing Strategy Report