How To Choose a Topic for Content Writing
July 19, 2021 •Amber Peckham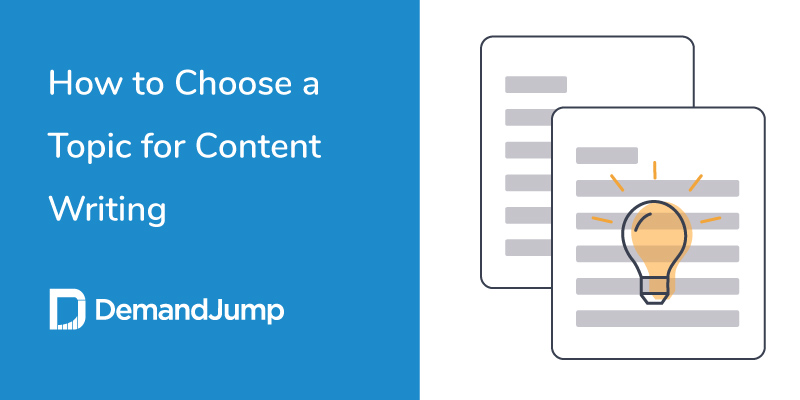 Choosing a topic for content writing is best done through user behavior data. The right topic, researched and written well, will drive traffic to your website and contribute to your business goals. But the "right topic" isn't whatever is on your mind to write about–it's whatever is on the minds of your audience to search for.
Good content writing engages your target audience, educates your customers, attracts new leads, and moves your prospects down the sales funnel.
But topics for content writing, for beginners especially, can be a challenge that paralyzes you. You might be a great writer, but what are you supposed to write about? We're sharing insights into the process of our content team and how they use DemandJump to pinpoint the trending topics for article writing our clients need to cover.

Content Writing Process
The process of content writing starts from planning and researching and ends with writing and editing content.
Content writing is more than articles and blog posts. There are different types of content. Examples are email newsletters, web pages, social media posts, whitepapers, e-books, video and podcast scripts, and press releases. Once you're ready to produce or publish your content, you distribute or promote it to your target audience in different channels depending on the kind of content you've produced.
However, all these efforts may be for nothing if you chose the wrong topic. That's why the planning stage, which involves topic research, is crucial to the entire process.
What Is a Content Topic?
A content topic is the subject you are going to write about. For our team at DemandJump, it's usually also a high-value keyword we've pulled from our platform. See, here's the thing about choosing a topic. As an expert in your space, there's a lot your company has to say to customers. You want to explain what your product is, why they should choose it, what's wrong with the competition, and even scientific or technical insights about your industry. There's probably more you want to say we could add to this list.
But–and this is a hard truth—your audience might not care about any of that. Writing on whatever topic comes to mind is how 90% of content on the Internet never gets any organic traffic. If you want your content to drive revenue and win you business, it needs to rank on page one of search results, without being a paid ad. That's why a content topic is more than just an idea–it also needs to be informed by user behavior insights.
Does this approach allow you to cover content writing topics relevant to 2022? Absolutely. Use a free DemandJump account to run an Insight Report about the topic you want to cover. Our platform pulls in your website analytics, competitor data, and information about how audiences are searching for your topic. This report compiles over a thousand hours of research into one dashboard for you in a matter of minutes. Then, you'll be able to see the questions people are asking, the terms they are searching, and choose keywords for your title and headlines.
Content Writing Trends
Gone are the days when you can just write a 400-word article on a generic topic and expect positive results. With so much content out there, yours needs to stand out and reach page one. Here are some trends in content writing that can give you a competitive edge.
Authoritative Content
Search engines like Google prioritize in-depth, valuable, and authoritative content. And so does your target audience. Establish your expertise and authority in your industry through your content, mirroring the search terms your audiences are using to look for your insights. This way, you also increase your chances of ranking higher in search results.
Topic Clusters
A hot trend in content writing is grouping related content into topic clusters. At DemandJump, we call it Pillar-Based Marketing, or PBM. You create a 3,000-word pillar page around the main topic in the cluster, then compile shorter pieces that are related to the content, all linking back to the pillar page to lend authority. You should also add links to external sources like other websites and research papers used to inform your writing. This is the kind of high-value content your audience references, links to, and shares.
Visual Content
Supporting your text with visual elements like graphics, images, and tables makes it more appealing, engaging, and easier to understand. It's even better if it's interactive, like dynamic charts and online calculators.
Videos, Podcasts, and Webinars
These content formats have grown in popularity in recent years. Take advantage of these visual media for content marketing. You can make educational videos, interviews, podcasts, and industry-focused webinars.
AI-Powered Content
While artificial intelligence (AI) may scare human content writers, AI isn't likely to replace them anytime soon. At best, it can generate basic content like captions and product descriptions. You can also use AI for proofreading, editing, and transcribing. This allows your writers to focus on producing high-value and complex website content.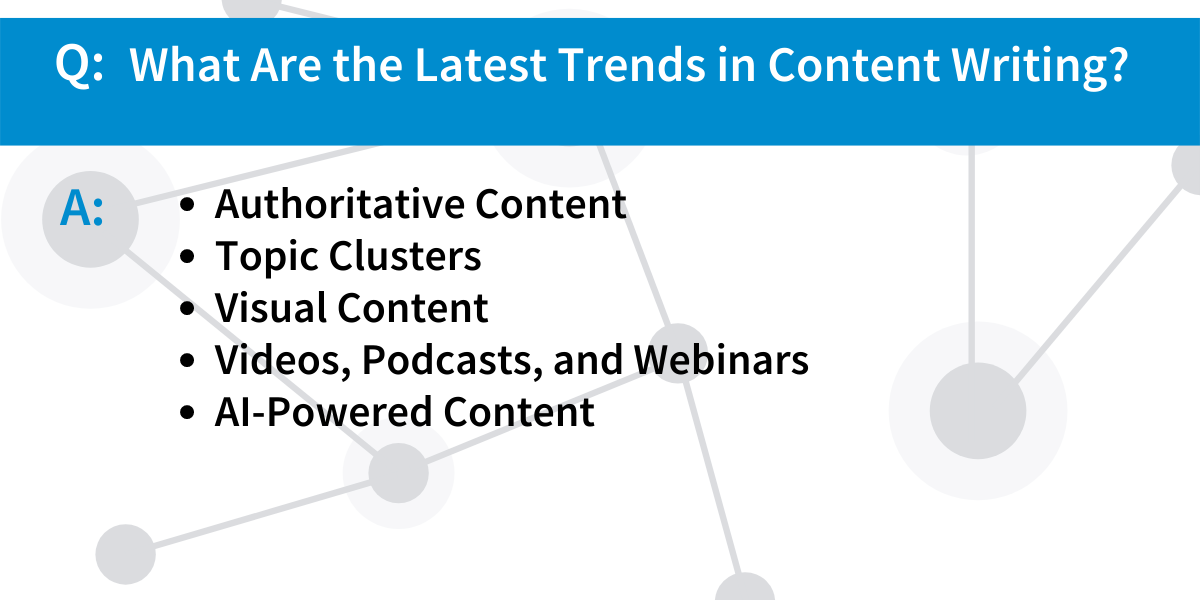 Topics for Content Writing 2022
Knowing about content writing trends is useful. However, if you're running out of ideas for current or trending topics for content writing in 2022 to cover, there are four main sources you can tap:
Customer Needs: The best way to know what to write about is asking the people you want to reach. Check what they say or ask in your blog comments, social media, and customer support channels. Conduct surveys and interviews with them. Review your own analytics to identify topics that resonate with them.
Prospect Needs: Marketing and sales can work together to come up with topics that will double as sales enablement. What needs are your best customers bringing to the conversation, and how are you solving them? What barriers are happening in the sales process that a blog, video, or webinar could help overcome?
Competitor Content: Looking at the work of your competition lets you create your work in the context of the industry. Follow their websites, blogs, and social media channels to see what topics people are engaging with. DemandJump pulls in the publicly available data about their website(s) to show you which of their web pages and blogs are outranking yours, so you can try to capture some of the organic traffic away from them.
Industry Conversations: Your content is also the best place to get involved in the trending conversations in your industry. You can share your perspective and insights your audiences need to stay up to date, Sign up for industry newsletters, read industry blogs, follow industry thought leaders, and attend industry events to get fresh ideas.
These are four sources you can always go back to for new inspiration. If you still aren't sure how to turn the concepts you hear into topics, we recommend trying out DemandJump. A search for your main idea will reveal all the related keywords and questions, giving you more direction and hopefully sparking inspiration.
Choosing Topics For Content Writing
Now that you have so many topic ideas to choose from, it doesn't mean you should write content for all of them. Create a shortlist and prioritize or even discard certain topics. How do you decide? Here are four factors to consider:
There's no point in creating content people aren't interested in. The best topics are the ones people are already searching for. So choose topics using related keywords that have high search volume.
Many high-volume keywords may be too difficult to compete on with just one blog. That's why we innovated Pillar-Based Marketing, an approach where you write lots of content around your main topic and publish it all at once. This lets you address many of the longer search terms audiences are using, driving your content to page one faster.
Focus on topics that are specific to different stages of the customer journey. Sometimes people want general information, while other prospects want something more specific. For instance, to compete for the keyword "standing desks," write about "the best standing desks," or "budget standing desks."
It's tempting to write about nothing but current events, but that means a few months from now the pieces have little to no value from a sales perspective or a search perspective. While it's good to comment on some current events, make sure you're also writing to topics that will always be relevant regardless of the trends.
How Do You Write Content Ideas?
Our best advice for executing on topics for content writing is to test different approaches to find what works for you. Some writers like to make a very structured outline, identifying each headline, the main point of each section, and doing all the research before they start writing. Others work better when they figure it out as they go, researching each headline and writing that section before moving on to the next one. While there's not one writing process that works for everyone, we will leave you with a few best practices.
Start With the Data: As much as you already have a topic in mind, the goal of the content goes beyond simply sharing your company's perspective. You also need the content to rank highly in searches and attract readers or viewers. Whether you're writing a pillar page or a video script, rely on user behavior data to pick the best title and section headlines. Remember, you're here to give the audience what they want and need, whether you want the same thing or not.
Consult Outside Sources: Your content is going online, so you need to know what else is out there competing for the audience's attention. A good first step is to simply Google your title. What is already ranking on page one for this idea? Read the content. How can yours be different, better, or share similar information in a way readers will like better? Remember that outside data points and quotes should always be attributed to the original source with a link and mention of their name. Make sure you aren't citing the competition when you pull your data! The backlink to their website will add authority to their page. If you need to use a statistic they used, you can always look for the primary source by Googling the statistic.
Recruit Internal Editors: Our last tip is to have at least two other people read or watch anything you create before it goes live. But, it's also important these people understand the goals of the content. For example, if you're trying to make a complicated topic easy to understand, sharing the piece with a subject matter expert might do more harm than good, because they could want to work in every tiny detail and over-explain when the goal is the opposite. Remember to take all feedback with a grain of salt and keep the audience's needs at the center.
Find Trending Topic Ideas for Content Writing With DemandJump
DemandJump's content strategy platform shows you the exact pieces of content you need to create to take share from your competitors around any given topic. Just put in the topic you are looking to rank #1 for, and the DemandJump platform provides a prioritized list of website content ideas.
Plus: Our one-click automated content briefs tell you the keywords to include and the H1s and H2s to use to ensure your content ranks on the first page. Get started writing content that ranks.
Get Your Free Pillar Strategy Report