How to Choose the Right Keywords for SEO Purposes
September 1, 2021 •DJ Team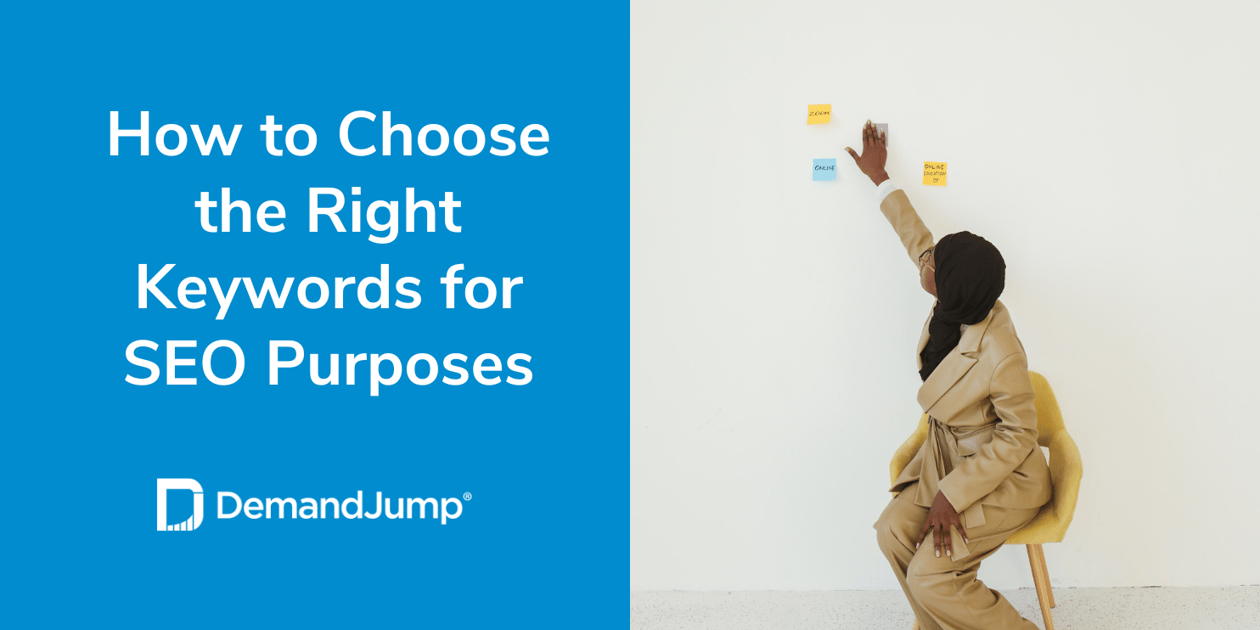 Has your boss ever asked you, "Can you make us appear first in results on Google?"
This sounds like asking to get your company on Oprah or on the cover of Time magazine, right? Getting your content higher in the rankings isn't necessarily a pie-in-the-sky dream, however.
While there's no way to guarantee ranking first, or even on the first page, there are strategies you can employ to rank higher in search engines over time.
Once you understand the art and science of SEO, or Search Engine Optimization, you will have the tools to break down SEO strategy for your higher-ups and communicate the resources you need to move your website up in search rankings.
What are SEO Keywords?
To start any good SEO campaign, you need to start with identifying keywords. SEO keywords are words and phrases that people enter in search engines to look for web pages and answers to questions.
How Do I Generate Keywords for SEO?
There are two approaches for how to choose keywords for SEO. One option is to run your URL and a few basic topics into an SEO keyword research tool to see a list of keyword suggestions. Another option is to start a list on your own based on your knowledge of your customer base and industry.
To start an SEO keyword list on your own, first outline your search terms and phrases. Let's imagine that you work for a pet food company. You might start by listing out your most basic search term, "pet food," followed by your core product lines, for instance, "dog food," "dog treats," "cat food," or "fish food."
Next, put yourself in the mindset of your customer and imagine how you might research your product. Consider your brand's value proposition. If it's affordability, your customers might search "what's the cheapest dog food?" or "affordable dog food." If it's product quality, they might query "organic dog food" or "healthiest dog food."
Types of Keywords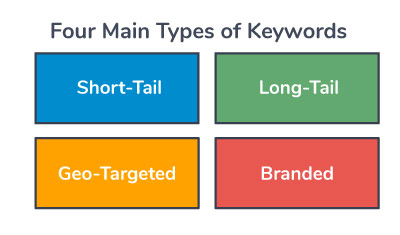 There are several different types of keywords, including short-tail, long-tail, geo-targeted, and brand words.
Short-tail. Short tail keywords are individual words or short phrases that describe broad topics.
Long-tail. Long-tail keywords are keyword phrases of more than three words that often include at least one descriptor. This could be something like "what food is best for puppies?" or "organic food for Siamese cats."
Geo-targeted. Geo-targeted keywords take a keyword or phrase and add a geotag on the end, for instance, "buy pet food near me" or "pet food companies in Portland." Geo-targeting is very important for sectors with brick-and-mortar locations. Geo-targeted keywords will always have a much lower search volume, but will likely result in higher conversions because of lower competition and relevance to the user.
Brand words. You should never forget to add your own brand names to your list of keywords. Companies will not always rank highest on Google for their own brand name, either because they have a generic name, because they are featured in high-ranking content by third parties, or because competitors are bidding on their brand name in search.
Outside of search terms for your own products and services, you may want to consider what topics your audience is interested in at various points in their buyer journey. For instance, you may discover through keyword research or market research that customers are most likely to choose a pet food brand when they are new pet owners.
To reach this audience, you could publish content around this topic, addressing questions such as "What kind of pet should I get?" or "What do you feed kittens?".
Once you have a starter list of keywords, you'll want to run them through a free or paid SEO tool to access the analytics for them. SEO keyword tools like those mentioned below can help you identify similar topics and questions your target audience may ask.
SEO Keyword Tools
There are many SEO keyword tools on the market for keyword research. The most basic information that you want from a keyword research tool is monthly search volume to understand how popular the search term is.
You should also look for insights like competitiveness, top-ranking domains, estimated cost per click, and suggestions for related search terms. It's also useful to be able to save and organize your keywords into lists and export your research.
Google Ads Keyword Planner is a free tool that many use when getting started on keyword research. Other tools like Ubersuggest, Moz, or People Also Ask offer free options, but those are either capped at a certain number of keywords or only offer select features for free.
f you are looking to launch a full SEO campaign, you'll want to look for a robust SEO tool such as DemandJump that includes all of the features listed above and helps create content outlines as well as marketing attribution insights so that you can monitor your progress and tweak your campaigns based on results.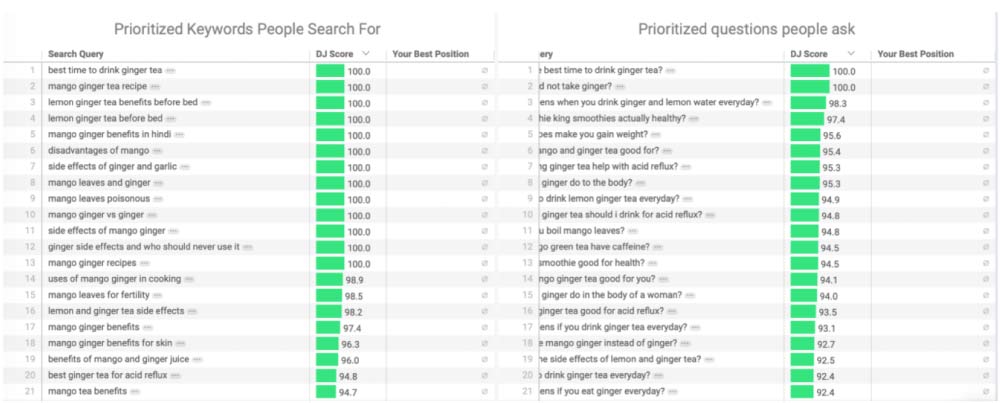 How to Use Keywords in Content Writing
Once you have a keywords list compiled, you'll need to decide which terms to prioritize. Of course, you should take into account your business's priority areas for growth. You'll also be able to make more traction on keywords with a healthy amount of search volume but lower competition.
With your chosen topic, create a content outline with a keyword or phrase for your header and a list of keywords and questions to be addressed under the topic. From there, you can write the article yourself or assign the article outline to another writer. You'll want to include each keyword or phrase at least once while addressing the topic with natural, easy-to-understand, and informative language. Don't forget about back-end content spaces that Google reads for its rankings, including alt text for images and page metadata.
Keep in mind that SEO is a marathon, not a sprint. With the right mix of technology and human capital over time, you can boost your Google page rankings and make your boss happy, too.
Need more help generating keywords for your content? DemandJump's one-click content outlines reduce research time by automatically compiling questions to answer and keywords to include in each section. Get started with a free trial today and start creating content that ranks—fast!
Get Your Free Pillar Strategy Report