How to Create a Content Strategy
December 10, 2020 •DJ Team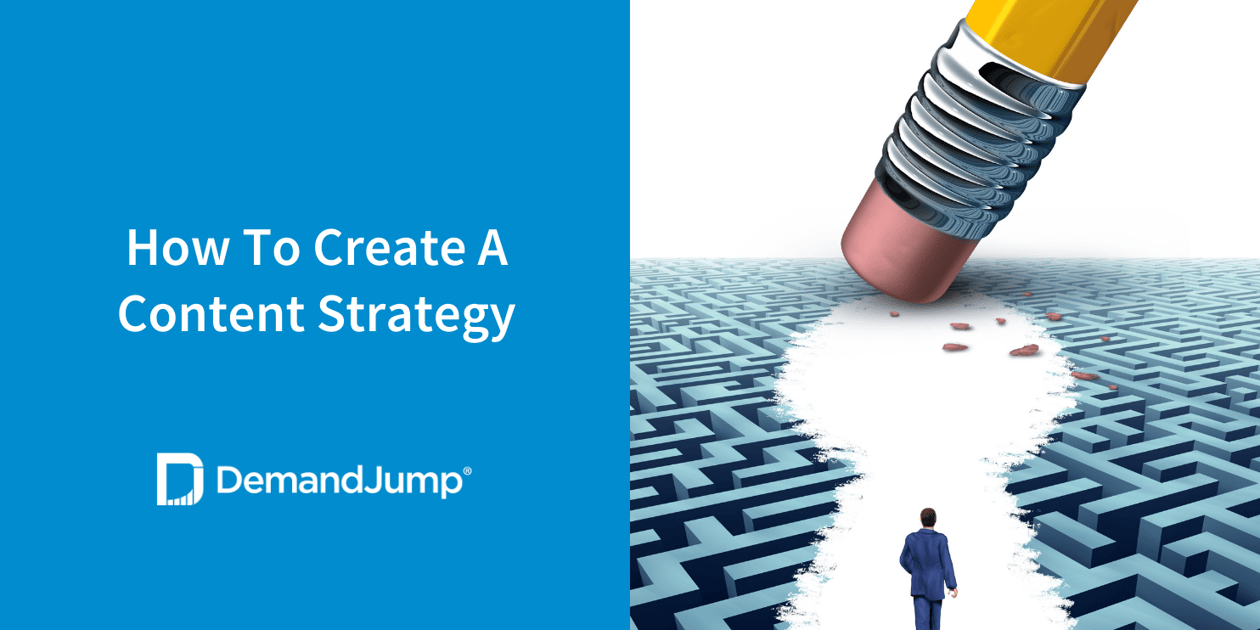 Content marketing has quickly become the go-to plan of attack for many modern marketers seeking to connect with their audiences and build a growing list of trusting customers. As consumers flock to their digital spaces, great content marketers are putting together content strategy plans to meet them with relevant content right where they already exist. In fact, according to the Content Marketing Institute, 65% of the most successful marketers have a documented content marketing strategy.
Let's look at what a content strategy is, why you need it, and how to create a good one.
What Is Content Strategy and Why Do You Need It?
For some, content strategy might look like a simple, regularly scheduled blog reel. Maybe they publish a few times a month, maybe a few times a week. For hardcore marketers, a blog reel is only one integral piece to a complete, effective content marketing strategy.
We'd agree. Kristina Halvorson, a respected industry thought-leader, defines it short and sweet:
"Content strategy guides the creation, delivery, and governance of useful, usable content."
Halvorson also provides a good perspective of how a well-defined content strategy can:
Define how a marketer will use content to meet business goals while satisfying consumer needs.
Guide decisions about content throughout its lifecycle, like when to create, distribute, and even delete.
Set benchmarks to measure the success of your content.
When we consider a project's end-goal, the messages that are said throughout, and the content types that need to be created and shared, a content marketing strategy is the blueprint that connects it all together—what messages are to be created, what format they are created in, who will create them, how and when it will be distributed.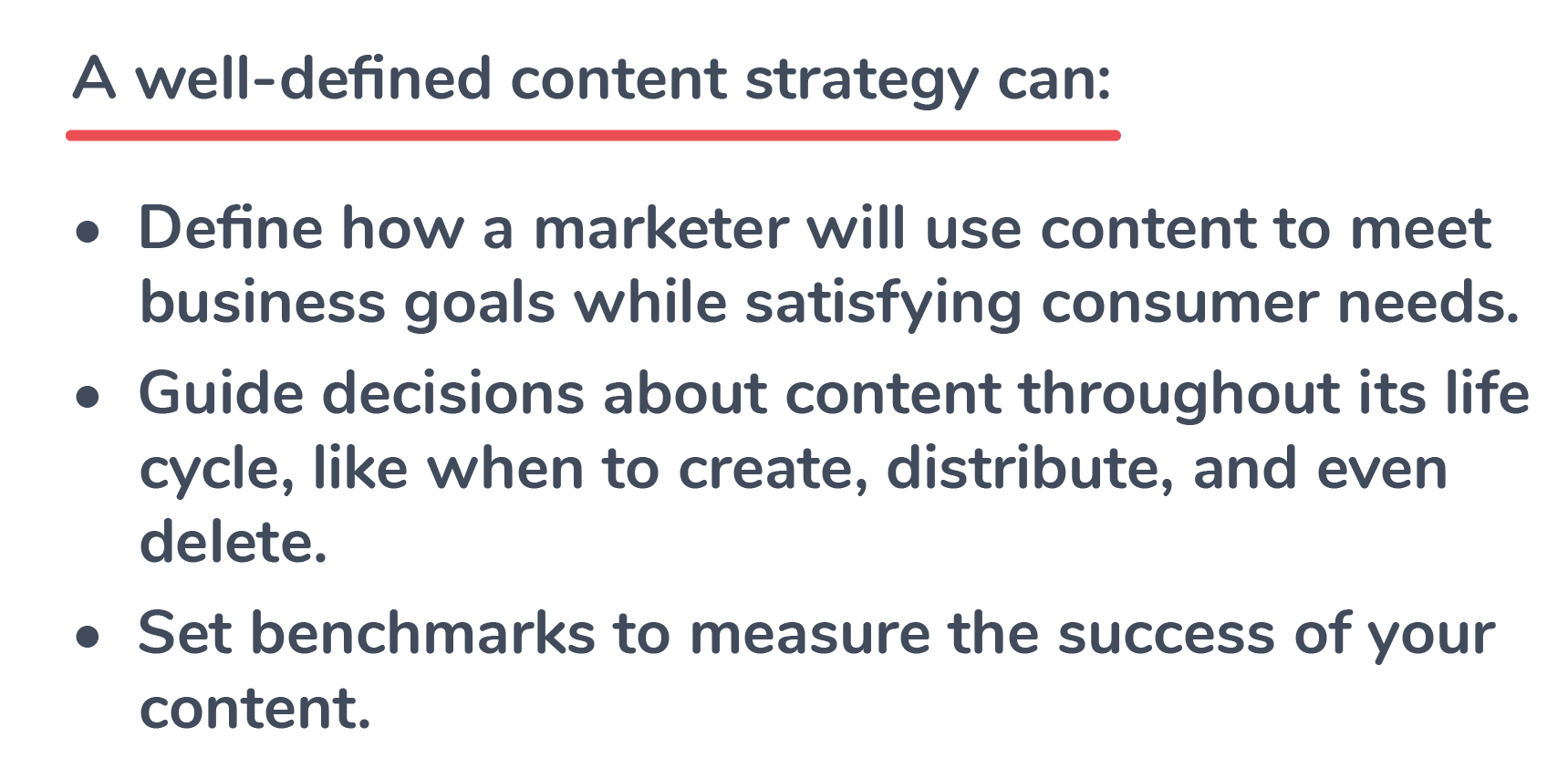 A highly effective marketing creative needs a clearly defined and documented content strategy that details the path to success. Without one, it's easy to lose sight of the larger picture and how each piece fits into the equation.
What Is In a Content Strategy?
Let's dive into what should be included in a content marketing strategy. An action-packed strategy will provide clear-cut answers to the most important questions any marketer needs when executing a plan. For a successful outcome, a content strategy should include the following:
Identify target audience personas
Who the content is intended for
Messaging Tactics
What answers or solutions the content seeks to provide users
Explain channels to share content
Social media platforms
Advertising placements
Email marketing campaigns
Landing pages/blog reels
Content types
Written content
Videos
Audio
Graphics
Content creation plan
Content distribution schedule
Detailed plan for changes throughout campaign
Making shifts based on content success/failures

How To Create a Good Content Strategy
The first big step in creating a good content marketing strategy is to answer some basic questions:
What do we want to say?
What does our audience want?
What types of content does our audience like to digest?
What business goals are we aiming to accomplish?
The answers will drive the development of your content marketing strategy, allowing you to pinpoint overarching themes of the plan, like what to say, how to say it, and who to say it to.
From there, break down that messaging by defining what types of content you will create. For many content marketers, the start is to define what tangential topics to touch on with introductory content, like blogs, social media videos, and even infographics. These work to garner interest from an audience, reeling them into a landing page, or setting them on a purposefully developed buyer's track of content. Lay out the plans for pushing this content to the masses, like what keywords will be used on written content, what channels they will be shared on, which email contact lists will be included.
From there, plan out what comes next. Once you've gathered your audience, how do you move them through content that will be useful to both of you? Whitepapers, how-to guides, free trials—these are all great content ideas that can dig deeper into a consumer problem. Put up an information form to gather a lead before providing that next piece of content. If the content is truly useful to your audience, they'll gladly trade their email address for it.
Let's Simplify Your Content Strategy
Building a good content marketing strategy means knowing your audience, maintaining in-depth data around what kinds of topics and content types interest them, and connecting them to key business goals and objectives. DemandJump makes things a little easier with our suite of solutions designed to put more information front and center when developing a content strategy. Our Instant Consumer Insights can give you keen insight into your best content marketing opportunities, allowing you to form effective, successful initiatives every single time. Sign up for our free trial and see how you stack against competitors!

Get Your Free Pillar Strategy Report