How to Create a Great Keyword List That Drives Results
September 23, 2021 •DJ Team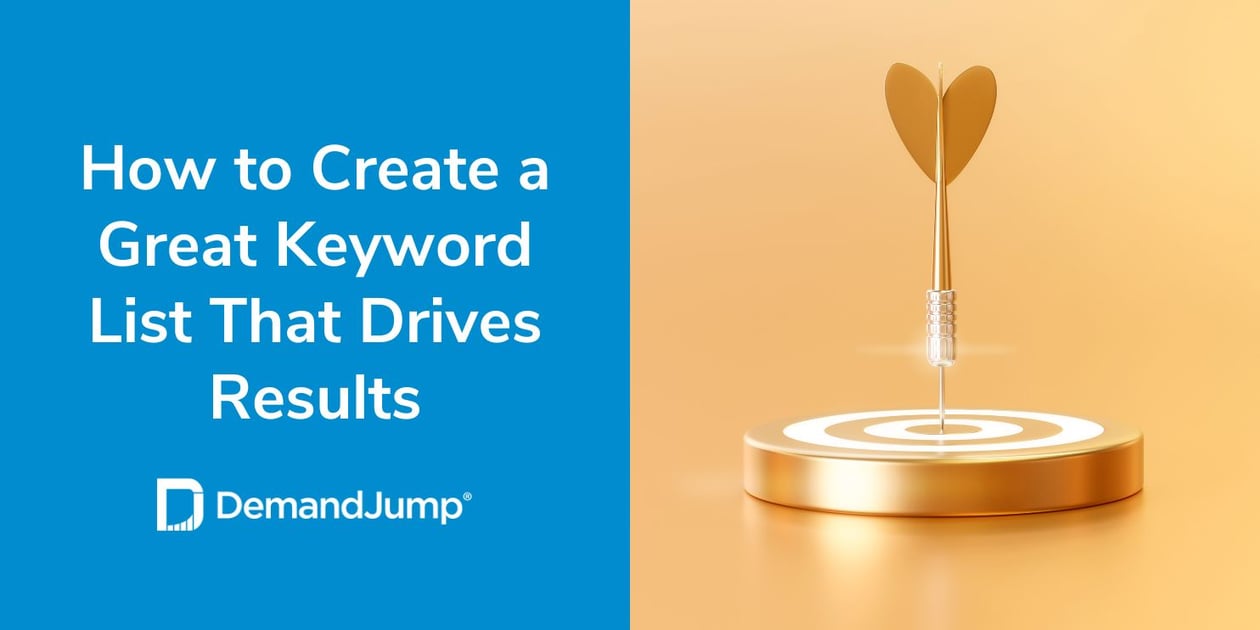 Finding the right keywords helps put your content and ad campaigns in front of the ideal target audience you want to connect with most.
These keywords act as points of mutual interest between you and your audience, and this will affect where and how your content will appear in web rankings.
But how do you generate a list of keywords that will show actual results and not get lost in the fray of everyone else?
Creating a list of keywords that produces results requires investigation, thoughtful analysis of your industry, and the use of relevant keyword research tools and keyword generators to learn the types of keywords that will have the most impact in putting your content in front of the largest audience.
How Do I Create a Keyword List?
A good keyword list will provide you with the search terms to include in your content that will both improve your SEO relevance with Google, and match the terms your audience is using to find the content, products, or services they're interested in finding.
Start by creating a manual list of keywords relevant to your industry, and you will have a good scaffolding for generating additional search terms.
This is a jumping-off point to use additional tools like a keyword list generator to find keywords you likely hadn't considered, or to find keywords more relevant to what your audience is searching.
These can be long-tail or short-tail terms, and you will want to try to create variations and related keywords that will rank.
The strategy of using a keyword list generator and other tools is to create modifiers of those general search terms to create more nuanced, specific keywords that will improve your relevance.
Which Is Not a Recommended Method of Creating Keyword Lists?
Manually brainstorming keywords related to your industry may be a good way to begin populating a list, but you will be dead in the water if that's where you stop with your list.
We tend to brainstorm fairly generic terms for our industries, and those alone aren't helpful in boosting rankings. You miss the nuanced keywords that can have a positive effect on rankings and drive audiences to your content and websites.
A keyword list generator, like what DemandJump provides, will identify the keywords and key phrases related to the keywords you provide to increase your traffic. Try it for yourself!
In addition to the risk of generic, dartboard keyword lists, you should also avoid using the Google search engine as a means to generate keywords.
Here's an example: you want to find keywords related to your industry, so you identify related keywords based on the results you see on the first page of Google. This kind of keyword mimicry won't improve your rankings or your relevance—at least not right away. Those sites have put in a lot of strategic work to land on the first page.
However, you can use this tool in a helpful way: by searching for keywords used by competitors that have high rankings in Google search, you can identify the keywords that work for them, and then use modifications and alternate variations of these keywords to create your own, new list.
How to Search Keywords on a Website
Knowing the keywords other websites in your industry use can help you hone your own list. You want keywords that have lower competition but higher search volume.
So how do you find the keywords on a website?
Sure, you can manually use Command-F, the "find" tool for your browser. But this can be cumbersome with how you search through a website.
Alternatively, you can browse the HTML source which will sometimes show you in the page source the "keyword" that is being targeted.
This, still, is a roll of the dice to discover targeted keywords.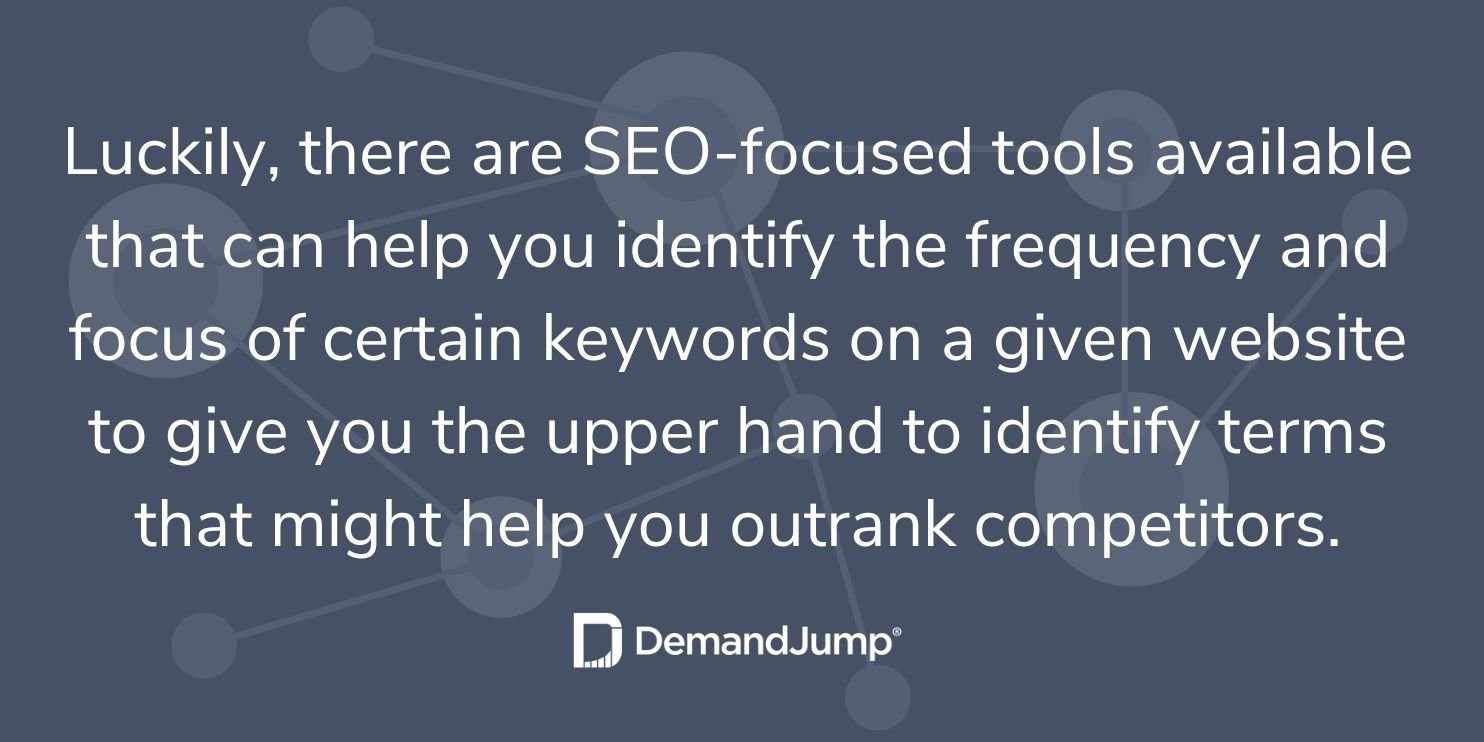 Luckily, there are SEO-focused tools available that can help you identify the frequency and focus of certain keywords on a given website to give you the upper hand to identify terms that might help you outrank competitors.
They can check keyword density, clicks, impressions, and other important data to help you navigate your own keyword list.
How to Do Keyword Research
SEO Keyword research will allow you to perform critical analytics to discover the lay-of-the-land on keywords being used, what traffic they're creating, and how often.
Tools like Google Keyword Planner help businesses identify additional search terms, keywords, and phrases that will have the most impact on SEO and reaching your target audience.
Specifically, Google Keyword Planner can provide you monthly analytics on which keywords have significant search volume, relevance, and compete in rankability.
But the drawback to Google Keyword Planner is the consistent push for additional paid marketing.
DemandJump: Keyword Research Made Easy
Are you looking for the right tool to help you generate an impactful keyword list?
DemandJump helps save you the time and confusion trying to develop a robust keyword list by automatically generating keywords and sub-keywords based on your industry, products, and services.
Get started creating content that ranks - fast!
Get Your Free Content Marketing Strategy Report