How To Create Content for Your Brand: A Beginner's Guide
December 10, 2021 •DJ Team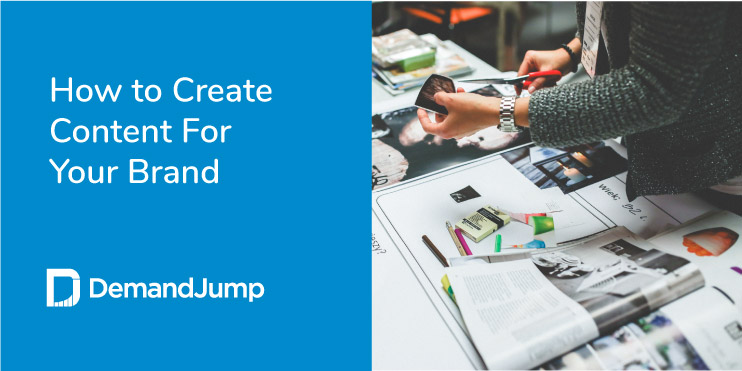 Content marketing is more than just churning out Instagram photos, blog posts, or website content.
In fact, there's a lot that needs to happen prior to putting pen to paper (or rather, fingers to keyboard) in order to generate content that will work for your brand.
Let's dive into content creation and how to do it effectively.
How Do You Create Brand Content?
Trying to come up with branding content ideas can be difficult, especially if you're not sure where to start. Here are a few practical steps to go through to get started making content for your brand:
Define Your Brand
It may seem obvious, but you'd be surprised at how many people don't take the time to create brand tools like a style guide. Creating a guide that covers things like fonts, color palettes, tone and voice, image standards, and all these small details will help you when you are creating your content.
These guidelines will ensure that your content is consistent and relevant to your brand and that anyone who views it can recognize it as yours.
Figure Out Your Audience
Who are you trying to reach with your content? Who are the unique demographics on each of the content creation platforms you'll be using? What types of content are appropriate for those demographics and marketing channels?
These questions will help you determine the types of content to focus on and the channels that are right for your target customers.
Create a Strategy
It's a great idea to make a content strategy framework. Think of this as your blueprint—it will contain all the details of what, when, where, and why that will inform and guide the content creation process. As an added bonus, this can help you stay on track by setting a content creation schedule.
Brainstorm Ideas
It's finally time to get to the actual content part! Hopefully, while you were going through the previous steps, this sparked a few ideas. Now it's time to write them down and expand on them. Don't forget to think about unique content for each channel.
Looking at content creation examples from your competitors may help generate some ideas (either things to do or things to avoid).
What Content Can I Create?
Create the type of content that caters to your audiences preferences. A good place to start is thinking about what you would like to see when you're searching for answers. Solutions can come in many forms. Here are some common formats and themes for blogs that resonate with readers:
How-to Guides: Provides a step-by-step walkthrough of a process
Pros and Cons: Compares advantages and disadvantages
Overview: Often follows an "Everything you need to know about…" format
When choosing a format, start with the questions people are asking. Not sure what those are? DemandJump's keyword research tool makes it easy to find topics to write about.
Start Creating!
It's important to remember that copyright laws must be obeyed. Make use of commercially available free stock photos from websites like Pixabay instead of grabbing components from an internet search. Another thing to keep in mind when creating written content is to properly cite your sources using links. There are also tools that can help you with your written content.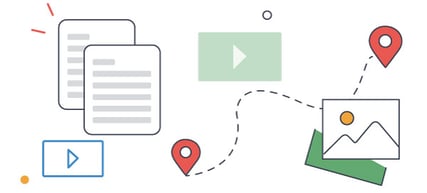 To toot our own horn just a little here, not only can DemandJump's content marketing tools help you figure out what to write through our network of customer touchpoints, but the tool can also give you SEO content outlines with the most important keywords to include so your content writing is a snap.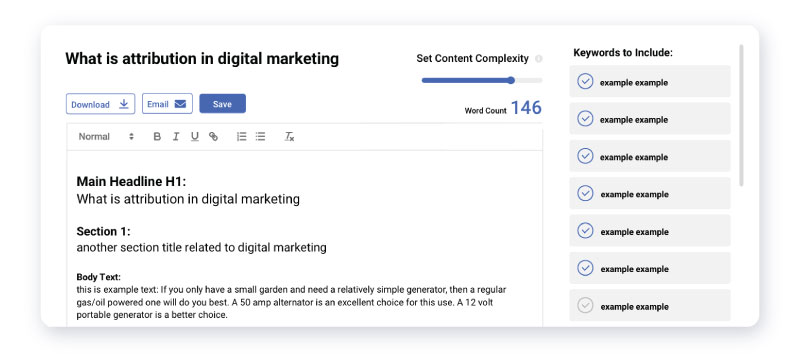 (DemandJump's automated SEO content briefs make content creation easy.)
What Makes Good Branded Content?
There's a lot of content out there, and odds are you've seen great examples of both good and bad branded content. There are lots of tips and tricks for making great content, but here are three high-level reminders to help guide your process:

Be Authentic
People know when you're trying to sell them on something, and it can come across as disingenuous if you try to pretend like there's not an ulterior motive.
In fact, you're on this blog post now because we used keywords about content to get you to come here—we ARE giving you actual tips about making content, but we also want to sell you on our product. That's a reality of content marketing, and it's important to acknowledge that.
Tell a Story
No matter what medium you use, storytelling is an important part of good content. You can highlight the people behind the product, how your company has changed people's lives, or even something as simple as posting pictures of your office cat bossing you around. Find the stories that make your business unique and share them with your audience.
Keep Your Audience in Mind
How do you write helpful content? Think about who your readers are and why they might engage with your content. Speaking of your audience—good branded content is tailored for them. If your business has customers who are 65+, then creating fun viral TikToks probably won't work. Make content that fits who your audience is, where they are, and what they want to see.
What Is an Example of Branded Content?
"Everything is awesome! Everything is great when you're part of a team…" odds are, you started humming (or maybe downright singing out loud) the song from one of the most successful pieces of branded content in the last few years.
That's right, The Lego Movie! This silver screen hit is a great example of branded content because it hits on all the points that make branded content work well. The storytelling was excellent, the emotion behind the story was authentic and genuine, and the creators knew who the audience was.
They were able to create a fun experience for kids and inspire nostalgia for the adults who grew up playing with these toys (and sneak in a reminder that fostering creativity is great for kids and adults!).
More Branded Content Creation Examples
Branded content provides your audience with value that is clearly, but not intrusively, connected to your brand. In other words, your readers should know that you're the one providing the answer to their questions, but they shouldn't be bombarded with sales pitches. Here's a few more examples of branded content done right:
Red Bull's Youtube channel shows off extreme feats–perfect for promoting an energy drink
GE's science-fiction podcast, The Message, tells intriguing stories stemming from a puzzling alien transmission that can be solved with the help of GE technology
DemandJump's very own resources page answers common questions about content marketing
What do these examples have in common? They put their audience's interests first.
Create Great Content With DemandJump
Are you struggling with writing blog posts or unsure of how to effectively incorporate SEO keywords into your content so it actually gets to your audience? Content writing doesn't have to feel frustrating or overwhelming.
So, how do you write branded content that shows up in search results and engages your audience? With DemandJump!
Check out our keyword research and planning tools and how they can transform your content marketing strategy. Get started creating great content today!
Get Your Free Pillar Strategy Report