How to Create Digital Marketing Content
December 29, 2020 •DJ Team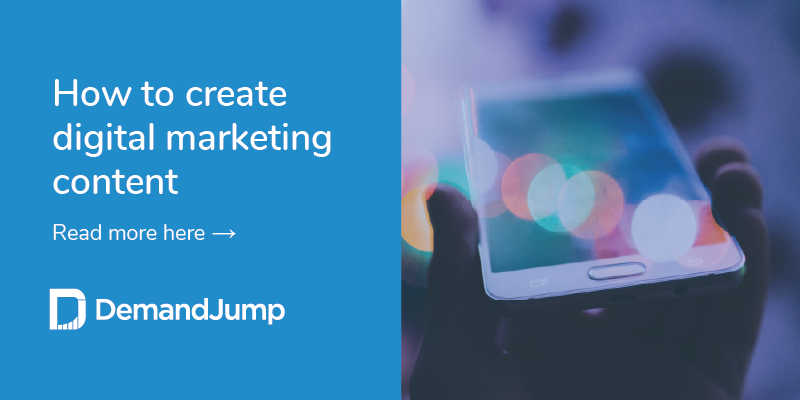 Digital content marketing looks a little different than your grandpa's newspaper advertisement. Sure, traditional forms of marketing still carry their own weight, but digital content marketing is a new ballgame with a lot of opportunity. Marketers looking for content marketing tips might also be looking for advice on creating their own digital marketing content—here's how to get started.
What is content marketing? And how it works.
The Content Marketing Institute sums it up well:
"Content marketing is the strategic marketing approach of creating and distributing valuable, relevant and consistent content to attract and acquire a clearly defined audience – with the objective of driving profitable customer action."
In layman's terms, content marketing takes place when a piece of content created and distributed by a brand intends to educate rather than directly promote. Sure, the endgame is to capitalize on a relevant audience to build leads, grow customer bases, and increase brand awareness, but the strategy is played out by building content that users want.
It works by answering the questions that consumers face everyday, providing how-go guides for learners, and even giving users a little entertainment as they seek to gather information and learn through search engines and article-hopping.
What is an example of content marketing?
Well, this blog is an excellent example. Sure, we have a great suite of products that help our users leverage data to make more impactful marketing decisions, but our goal with our blog content is to educate you, the reader. Other forms of content marketing might take the shape of videos, infographics, or even user-generated content like customer reviews.
Truth be told, content marketing stretches across many different channels and formats, with marketers engineering unique ways to create and distribute useful, usable content to their audiences each and every day.
Types of content marketing

We already mentioned the breadth of variance that content marketing has. It's true: there are a lot of ways to build content for your users. Here's a good list of content types that you might find yourself getting creative with.
Written Content
Blogs, whitepapers, landing pages, email campaigns, FAQs, how-to guides— written content is often the first step marketers make when they step foot into the digital content marketing arena. This is because writing can be done without any expense, if done internally. It's also the easiest to align with search engine optimization.
Graphics
Graphics are overlooked by some, by a beautiful infographic can really go the distance. They are designed to be easy to digest, and enable readers to download chunks of information in a visually attractive format.
Many brands use graphics to provide valuable content under the brand standards of their business, which is a great way to distribute usable content while also leaving your brand imprint on users.
Video
Videos can be a double-edged sword. Most digital consumers prefer videos over written content, but video content can sometimes involve pricey equipment and editing software to make a professional splash. That being said, smartphones can now take videos in high resolutions, which means you genuinely could have film quality videos just by using a smartphone.
Not sure how to get started with video? Instead of writing out your next Top 10 list, put a friendly face in front of a clean backdrop and have them present. Other video examples could include brand vlogs, event videos, site-based videos, VR interactions, customer testimonials, and webinars.
Social
The digital playground. Social media is where everyone already exists, sharing content with friends, family, and even peers. Consider how you can utilize your social media presence to provide value to your followers, like sharing hot tips for industry problems or recommending content that you believe in.
Social media has quickly become one of the most effective modern day marketing available, and the many unique ways businesses are using their social accounts to leverage useful content to their audiences is inspiring. If your brand doesn't already have them, create accounts for major social platforms that your target audiences might already play and learn within, like Facebook, Twitter, Instagram, LinkedIn, etc.
Take advantage of hashtags to filter your content and ensure that users also browsing similar content have a chance to see yours. Welcome conversations with consumers on your pages, and on theirs!
Audio
Podcasts have become hugely consumed, and for good reason. Many professionals have found success in putting their unique spin on industry topics into a podcast format to bring to the desk-ridden masses. Businesses are also starting to hop onto this bandwagon. Other forms of audio content can include radio segments, interviews, and even music.
How to create content
In-House
Here's a good content marketing tip: before you start to turn your gaze to creative agencies and freelancers, look inward at your internal pool of resources. Take note of who may be able to support the creation of some great content.
Tapping into these internal talents can enable you to jump the hurdle of budgetary constraints or enable you to spend budgets elsewhere. Paired with the DemandJump Insights for content, team members are given the ability to create content without disrupting their normal workflow - using automated SEO-optimized content outlines. Try it Free - see just how easy it is to create great content.
Outsourced
Maybe you don't have enough internal resources. Or, maybe your leadership has requested professionally crafted content and handed you a wealthy budget. In any case, hiring external partners to help build content that aligns with your brand can enable you to focus your efforts on setting up strategies and tools you aim to execute them with while knowing that your content is being created by creative professionals.
Automate your content strategy
Ready to create content but not sure where to start? We can help. DemandJump's content outlines are certain to get your content to rank. Get 4 FREE outlines on any topic or question important to you.
Get Your Free Content Marketing Strategy Report