How To Do SEO?
April 29, 2021 •DJ Team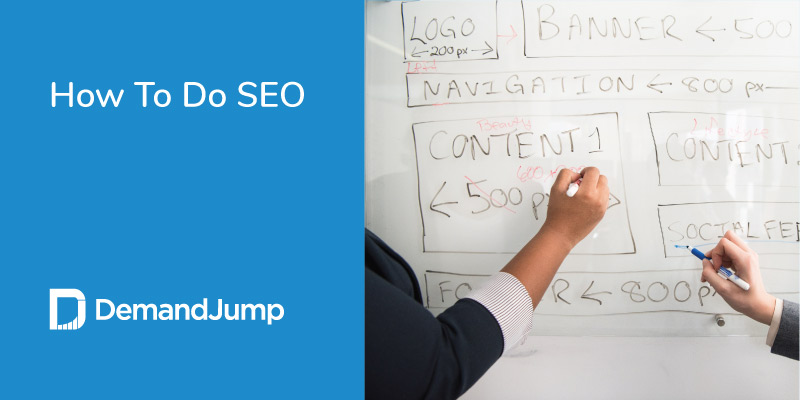 In today's world of digital media, people have lost confidence in traditional advertising and are now more inclined to trust online reviews, brand interaction on social media, and authoritative website content. The creation and distribution of quality content may not be enough to increase traffic to your site.
You must ensure high visibility of your content on search engines so you can catch more eyeballs every day, and this is where SEO comes to the rescue of your content marketing strategy.
Let's dive in and understand the mechanics of running SEO and what it's all about.
Google SEO
To start with the SEO process, it's best to perform keyword research before you write your content. Keyword research involves surveying the internet for keywords searched by people that have higher search volumes, with fewer competitors currently using them in your niche. You must focus and use these keywords while writing your content. However, it's always best to use a mixture of broad and long-tail keywords. Such keywords are longer and more precise in nature and are more likely to garner clicks from potential buyers.
Hiring an SEO expert and using paid digital marketing tools is a costly affair. You can avoid the costs of hiring an SEO expert and become one yourself by learning some necessary SEO skills easily via search engine optimization tutorials available online.
Once you complete your keyword research and make a list of potential keywords, it's time to write your website content. Remember to spread out your keywords evenly throughout the content to trigger Google's algorithms.
Place your primary keywords in the title, subheadings, and body of your content, while adding secondary keywords to your meta title, meta description, anchor text, and image file names. This optimizes your web page's visibility and ranking on search engines like Google.
To increase visibility to your optimized website content, share it on social media and build backlinks to it. Be sure to create internal links and build external links from outside websites. These activities are known as "off-page SEO."
Search Engine Optimization Techniques
SEO means optimizing your online content so that a search engine such as Google shows your blog or other content as a top result when someone searches for a certain keyword. This simple and to-the-point search engine optimization meaning can even help a person with no knowledge of digital marketing understand what SEO is all about.
Before jumping into search optimization techniques, let's talk about how search engines like Google work. Just like any other search engine, Google works on two key factors to find the best results for every user's query: relevance and authority.
Google always finds you the most relevant search results. However, relevance is not enough to get your content on top of the search results. It's the best quality content that appears at the top to ensure users' satisfaction with the search results and to make them keep coming back to Google for future queries. Google achieves this by measuring the authority of a particular website or content through links known as backlinks.
Let's talk about search engine optimization techniques that can help you drive organic traffic to your website or blog.

SEO Tools
There are a ton of free SEO tools available online; however, the downside is that only some of these tools are worthy of your time and attention. Finding the best free ones and using these powerful tools correctly can instantly improve the effectiveness of your SEO campaign.
Google SEO tools to start with include Google Analytics and Google Search Console. Google Analytics gives you important insights on website traffic such as bounce rate, average time spent by visitors, and pages per session. Google Search Console lets you see your site from Google's viewpoint with reports on search queries, indexing status, crawl errors, and penalties.
Some more free SEO tools for successful Google SEO are Ubersuggest, MozBar and BuzzSumo - BUT, we prefer our own software DemandJump Insights. (Try it for Free!)
Furthermore, on-page SEO plays a crucial role in optimizing your ranking in the search engine and attracts new traffic. On-page SEO involves tweaking or changing some components of your websites, such as content, site structure, or HTML elements.
Since SEO makes your website more visible, it eventually results in more traffic, which means more opportunities to convert prospects into customers. Doing SEO can help you build better relationships with your audience, increase credibility, and improve customer experience by giving them value for their time. SEO can also give you an edge over the competition and increase sales when readers convert into buyers.

It's important to understand and implement all the crucial elements driving modern-day SEO techniques, so your business or brand can ride the digital wave to perfection.
Luckily, DemandJump automates this process for you. Automating your SEO Content Strategy by showing you the exact content to create and providing SEO content outlines on any topic - this ensures your content ranks and drives traffic.
Get Your Free Content Marketing Strategy Report