How to Measure Content Marketing Success
December 23, 2020 •DJ Team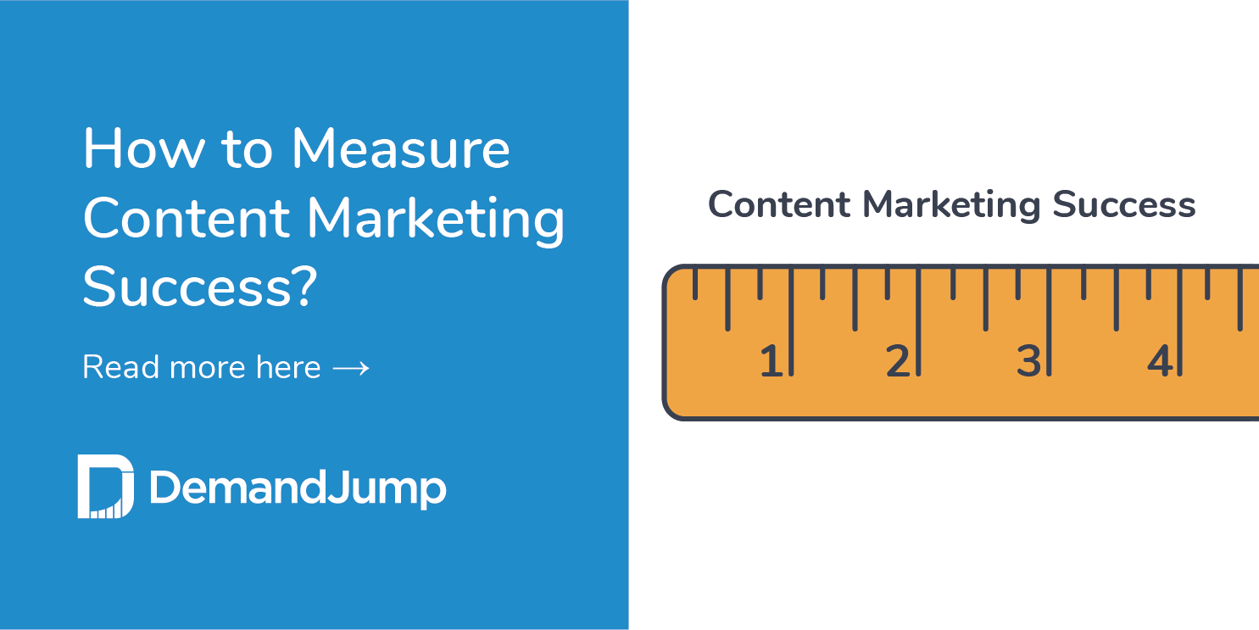 Measuring digital marketing effectiveness has become something of a double-edged sword. On the one hand, marketers have access to more reliable data than ever before. But the sheer amount of data can also be paralyzing—with so many different types of marketing metrics to consider, how do you identify those numbers that will actually help you optimize your efforts?
he key to measuring your success in content marketing is not going into data overload, but rather creating a manageable plan. By focusing on the metrics that align with your business goals for content, you can adopt a standard cadence for reviewing data. That process ultimately makes it easier to find your content marketing success story hidden in the numbers. Here's how.
Common Content Performance Metrics

The very first step to measuring your content's impact is to be clear about what you're hoping to achieve with it. Whether it's you or someone higher up at the company, somebody has chosen to invest money into content—what do they expect in return? Success in content marketing is not one-size-fits-all, but could be driven by how effective your content is at helping your business reach any combination of the following goals:
Brand Awareness
One very achievable goal for content is increased brand awareness. All it takes to spread the word about your brand to new audiences is some good content and the right channels to distribute it on. Since at least a third of consumers begin to shop with a brand they know already in mind, anything you can do to make sure your brand is the one your customers are thinking of is well worth the effort.
Metrics for measuring brand awareness:
Website traffic
Social media mentions
Inbound links
Audience Engagement
Sometimes, it's enough for content to create a memorable experience for a brand's audience. Especially for B2C brands, attracting the attention of followers online in the form of social media likes, shares, and comments can have a big impact in your ability to reach new audiences and stay top-of-mind. According to HubSpot, studies show that at least half of a brand's reputation stems from how it interacts with people online.

Metrics for measuring audience engagement:
Social media likes, comments, and shares
Email responses
Blog and video comments
Average time on page numbers in website analytics
Increased Sales
The ultimate goal of any marketing activity is increased revenue, but that might take a few different conceptual shapes. For brands that are selling products online, for example, content marketing can help drive traffic to online stores and encourage people to purchase more. Maybe that's why 86% of B2C marketers identify content marketing as a key strategy for increasing sales.

Metrics for measuring increased sales:
Social media pixels to attribute sales to social posts and ads
UTM links from blog posts and emails to product pages



Lead Generation
For service companies and businesses that operate in the B2B space, "increased sales" might not be something content has the power to do on its own. If your business uses a sales team to complete the purchase process or help customers make a decision, then the ultimate goal of content might be to simply increase the number of leads those salespersons have to work. And keep in mind that by the time a potential B2B customer actually makes contact, research suggests they're 57% of the way towards their ultimate purchase decision.

Metrics for measuring lead generation:
Whitepaper and eBook downloads
Webinar registrations
Contact form submissions
Customer Loyalty
Acquiring customers isn't the only thing content can help with. Well-timed blog posts and email newsletters can go a long way towards winning repeat business from customers you already have. In fact, one survey found that 75% of consumers would rather purchase from a business who already knows them and their purchase history.

Metrics for measuring customer loyalty:
Surges in purchases timed to email sends
Growing social media following
How to Monitor Marketing Performance
Once you identify the goals you have for your content, establish a schedule for reviewing progress toward those goals. Maybe you check in on your website analytics data once per week to see how your newly published content is doing. Maybe you connect social ad budget to completed sales once a month to adjust spend accordingly.
Try not to get into the habit of reviewing all of your numbers every single day. It takes time for content marketing to do its work, and metrics like organic search traffic on a new blog post can take some time to snowball—but given enough of a lead, you'll have a more objective way to compare new pieces of content to your benchmarks.
Automate Your Content Marketing Strategy and Reporting
If you're wondering how to measure content relevance across platforms and the many unique goals you have, DemandJump can help. With automated cross-channel analytics and repeatable consumer insights reports, you can track how each element of your content marketing mix is contributing to your brand's marketing goals—and how you're stacking up against the competition.
Try it free and see how much time you can save while creating better content - content that ranks and converts.
Get Your Free Pillar Strategy Report