How to Optimize Existing Content: 3-Step Guide
December 10, 2021 •DJ Team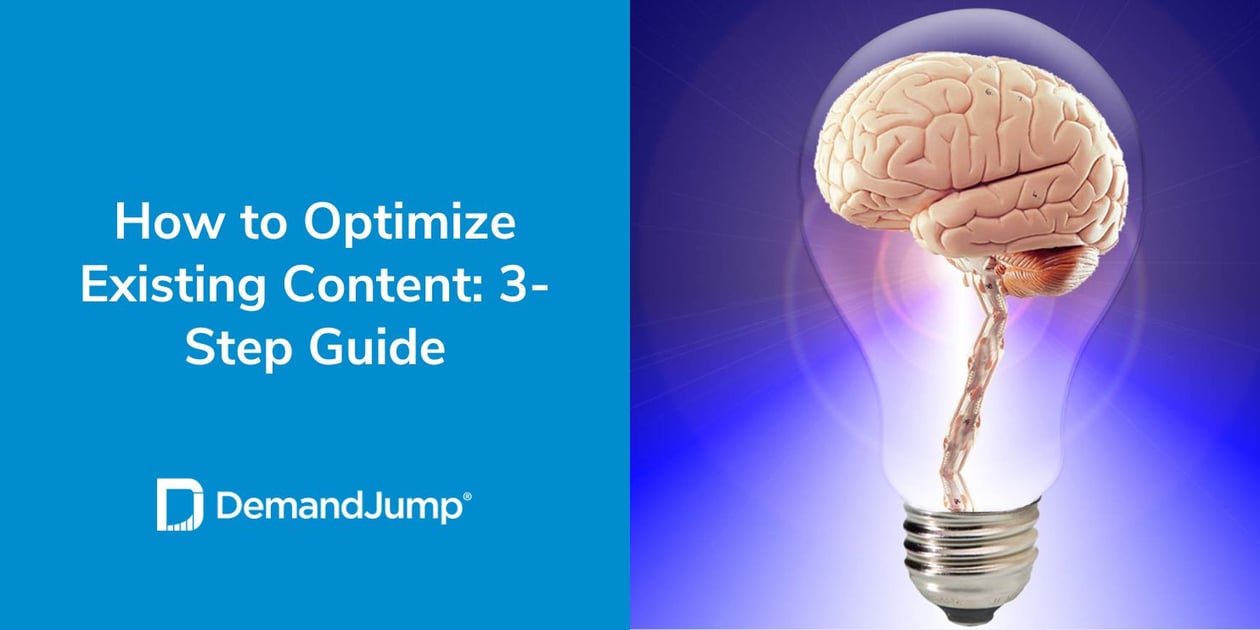 The best approach to content optimization for existing content is like brain surgery—make precise, small changes while disturbing as little else as possible.
It's not unusual, in content marketing, for writers to inherit a large library of content, especially if their business or website has been around for a while. In some cases, blog posts can still be performing well after years and need to be optimized for conversion.
In other cases, you may have quality content that isn't driving traffic because of missing metadata or other technical problems. Whatever your situation, optimizing existing content is an inexpensive, smart way to drive traffic and conversions alongside new content you are creating.
What Is Content Optimization?
Content optimization is the process of writing web content with the technical elements in place to help search engines match your content to your audience. Good content optimization will help your content reach a higher number of people, but also the right people who can become leads and customers.
How do you optimize content? You first need to establish a strategy and system for content optimization. Once you have this in place, you can dive into the tactics of optimization.

How to Optimize Existing Content: Getting Started
Looking to develop a strategy to optimize your content? Follow this handy three-step process to begin.
Content Audit
To begin optimizing existing web content, you need to know what content assets you have and what's working or not working. Every one to two years, you should perform a content audit to outline your strengths and weaknesses, competitive analysis, overlapping content, and opportunities for growth.
This can be done internally, but it's also helpful to have an external perspective from out of the weeds to help you benchmark against industry standards.
Content Optimization Strategy
A content optimization strategy is a guiding document that describes the characteristics that will help your content rank well regardless of the topic. These parameters may include length, metadata elements, strategy for keyword inclusion, and recommendations for including links, images, and calls to action (CTAs).
Content Optimization System
Content optimization at scale can be a beast of a project, so it's important to outline a system and budget if needed.
A content optimization system will help you answer the following questions: how will you catalog your content and its performance? How often should you optimize existing content? Who will be responsible for optimization, for example, staff or an agency or freelancer?
How Do You Optimize Existing Content?
What are some ways you can optimize your content for SEO? Here are some tactics for how to update existing content for SEO purposes.
Review Your Metadata
Free tools like the Screaming Frog SEO crawler can help you analyze your website pages to identify major issues like meta descriptions that are too long or missing altogether.
Incorporate New Keywords
Business strategies change over time, and so does search behavior. If you have new SEO keyword strategies, you should revisit your older content to ensure that new target keywords are being included where it makes sense. Make sure to look both in the front-end and the back-end of the content. Looking for a new keyword search tool? Consider checking out DemandJump's content marketing tools!
Update Your Research
Did you cite a study in your content that could be replaced by a newer one? Did you quote an employee that's no longer with your company? If you identify an issue like this or find you wrote about industry trends that are no longer up to date, it's time to spend the effort to update the body copy itself.
If a piece is very dated, you may want to consider unpublishing it or adding a disclaimer or CTA to point your readers to more recent related content on your site.
Another option? You can repurpose old content by updating it with a current take. For instance, revisit your marketing predictions from five years ago and analyze how well you predicted future trends.
Review your CTAs
For older pages that continue to earn traffic, your biggest missed opportunity can be outdated calls to action. Reviewing and updating your CTAs to current messaging is an easy way to improve your conversions.
Like all digital marketing, it takes a little art and a little science to make your content shine. To get the search ranking you deserve, don't forget that little changes can make all the difference.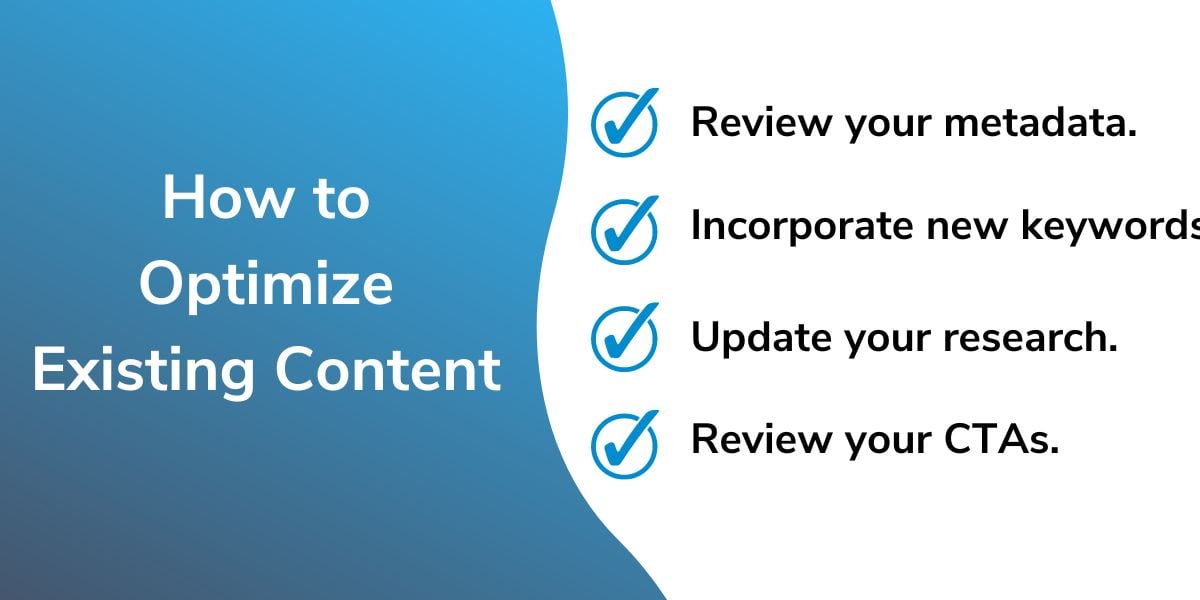 Optimize Better with DemandJump
DemandJump reveals the search behaviors of consumers in your target audience and creates one-click outlines to give them the content they crave. Build your content strategy and update existing content to align with trending topics, anticipate consumer questions, and drive action from your landing pages.
Get started optimizing your content today with DemandJump!
Get Your Free Pillar Strategy Report