How to Present Keyword Research: A How-to Guide
November 11, 2021 •DJ Team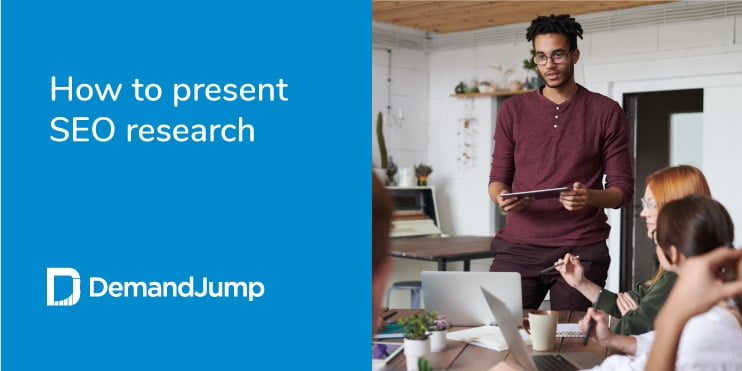 Similar to how SEO keyword research needs to be optimized, how you present SEO research can be just as specific to your client, other employees, stakeholders, etc—after all, the number one result in Google gets 31.7% of all clicks.
There is no need to overcomplicate this process for yourself. You have already done all of the hard work in finding the data and organizing it. This is time you let your work speak for itself.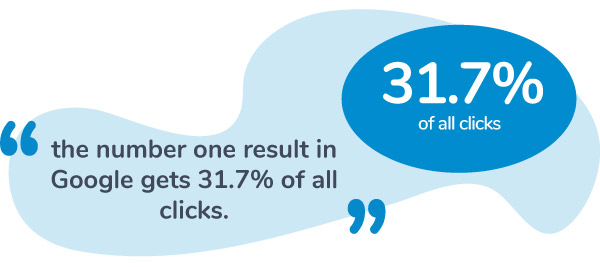 One of, if not the most important part of your presentation is getting quality feedback from your client. You have likely discussed what they want before you dove headfirst into your research, but now that the finished product has been presented it is important to discover if anything was lost during the process. You can ask yourself a few simple questions to eliminate some of those worries:
Is there something in my research that the client did not want to focus heavily on?
Have I still aligned with the client's biggest priorities?
Is my research presented in the theme or tone of the client's brand?
Answering simple questions like these will save you crucial amounts of time.
A client can identify if you have done quality research by looking at your SEO report. The difference between a good and a bad SEO report is the difference between nailing the project or missing a goal entirely.
The good news is that there are plenty of free SEO report templates available to get you started in the right direction.
There are elements to keep in your SEO report to ensure that it is the best product possible. Only summarize key data and explain why the work has been done the way that you presented. Giving the client bloated or unnecessary information will only bog them down and ensure they lose sight of your efforts.
Similarly, giving too little information is just as harmful. Giving the right information with a thoughtful explanation of why so that they can follow your process will ensure that both of you are ready to move forward together by the end of your presentation.
What Is an SEO Report?
An SEO report is one of the most effective ways to communicate to your boss, client, stakeholders, and anyone else who needs to be shown the impact that the work you are doing with SEO is positively influencing their business. It would also be advantageous to do a monthly SEO report as well.
This gives the client an up-to-date look at their website's overall health and performance. The report should include factors like site speed, meta tags, and sitemaps. This overview would provide insight on what is working for their site traffic, as well as what technical problems are impeding search traffic to their site.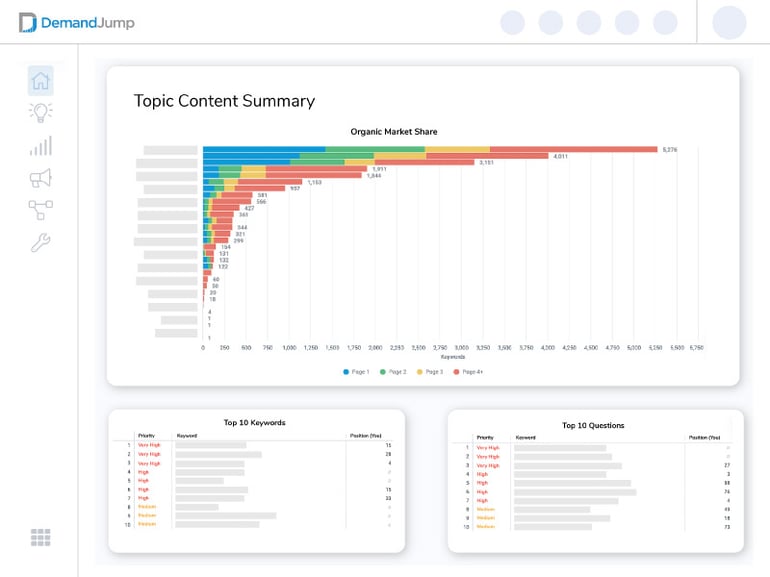 (DemandJump's Keyword Research Report shows how you stack up against competitors and identifies gaps and opportunities.)

How Do I Write an SEO Report?
The amount of data inside an SEO report can be overwhelming for a client or executive decision-maker, therefore, beginning your report with a brief overview of what is going to be detailed in the bulk of your findings can be a helpful way to start.
Depending on who you are presenting your report to, they may not have the deepest understanding of the information you are presenting them, so including a breakdown of all the SEO tasks you have done would be a good idea. This is also helpful for showing positive work even when the data cannot always reflect this.
When making an SEO report for a client, it is important to present the number of organic visitors that make their way to your client's website.
Google receives over 75,000 searches every second, and you want to bring as many visitors to their website as possible without needing to use paid advertising for each one. The organic traffic data is an even better indicator of how your SEO work is impacting your client's website.
A few things to include in your report to a client could include:
Conversion rate
Page-level traffic
Bounce rate and average time on site
Future plans and goals
Earlier we described how to present your SEO report, and along with the data required in your presentation is the strategy of how you present your work. You have presented them with SEO analytics for their site, and now they want your strategy moving forward to improve the data you have presented them.
Presenting an SEO strategy should lay out a website's content by topic to best improve the likelihood of appearing higher in search results. Having an SEO strategy can be vital for you as well by keeping you on track when creating content or implementing new strategies for the website.
Automate SEO Research and Reporting with DemandJump
Being able to clearly explain the work you are doing with SEO for a client's website improves your work and your client's success. DemandJump automates and organizes SEO keyword research and the tool presents it in a way you can take directly to the client.
See just how easy it can be, try it for free!
Get Your Free Content Marketing Strategy Report