How to Research Industry and Consumer Trends - With Ease
September 29, 2020 •DJ Team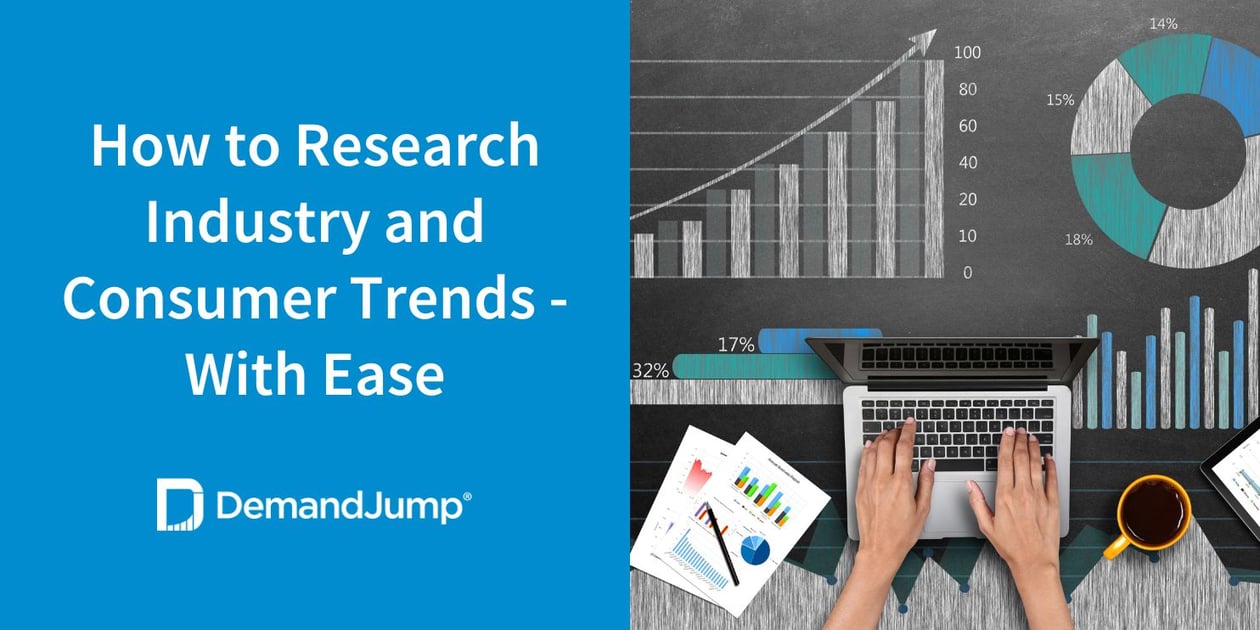 As content marketers, we constantly need to stay ahead of the curve and produce content that meets readers where they are. While no one has a crystal ball, predicting consumer and industry trends has become much easier thanks to powerful marketing tools. Trend analysis methods like keyword research, competitor analysis, customer surveys, and data analytics all combine to help marketers understand what their consumers are looking for, as well as how to craft content that meets those needs.
If you're looking to boost your marketing efforts and inform your strategy, consumer behavior insights and industry trends analysis is undoubtedly the way to go. Let's take a look at several of the most important elements to this process, and how to get started in performing this kind of research to improve the marketing research process.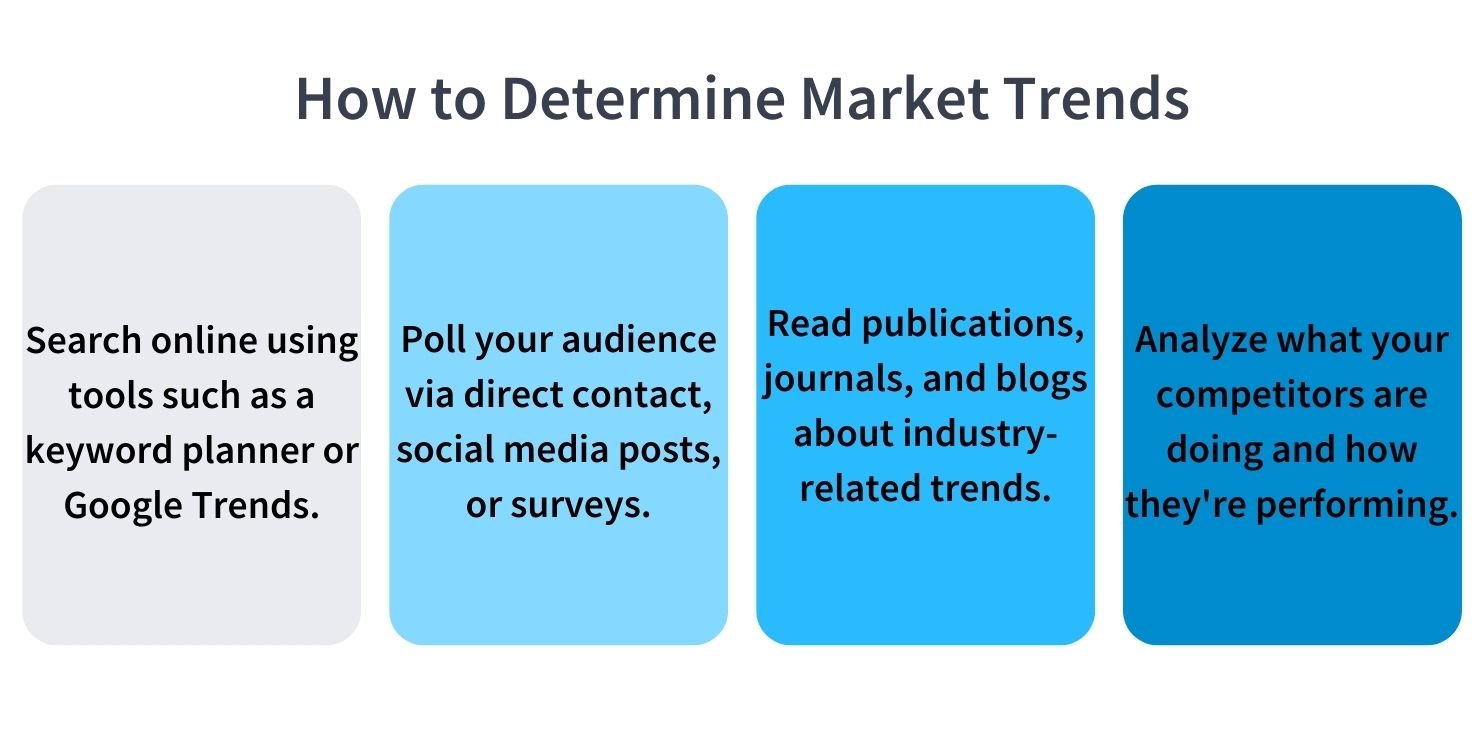 How to Determine Market Trends Using Keyword Research
The main way that consumers and customers find you is by searching online. 89% of B2B consumers begin their search online, specifically by entering a few key phrases or words into Google or another search engine. Keeping up-to-date with how consumers talk about your product, services, or just the industry in which you belong is a key factor in tracking these trends.
One option is to use a keyword planner to search for phrases relevant to your business. These search results can be sorted by time and geographic location, meaning you're able to compare data to see how search preferences are changing. For some examples of market trends, if you're offering human resources management software, you may check to see how often people are searching for "payroll management" as opposed to, say, "sick leave documentation." By arming yourself with the most up-to-date data, you can get a better understanding of which features of your platform your content marketing should be highlighting. You might also use Google Trends, which provides trend analysis interpretation in a highly illustrated way. If you need more help on how to use Google Trends, check out our recent blog on the very subject.
Polling the Audience as a Trend Analysis Method
Another excellent way to get a feel for consumer trends is by simply interacting with them directly. Customer surveys can give you more than an idea, but a direct snapshot of their needs and current pain points, both of which are a big help in trend analysis. Statistics generated from questionnaires can be provided to consumers in a variety of ways:
Reaching out directly to your current customers.
Asking potential leads a series of questions.
Posting questions on social media.
Requesting feedback from website visitors.
Keep in mind that some consumer responses may not be positive. While businesses only hear from 4% of its dissatisfied customers, 95% of them will share their experience with another person. Although these surveys are meant to get a better idea of industry and consumer trends, getting a feel for your own performance during the research can help you to understand how you match up against what is expected of other companies in your industry.
Keeping Up With Industry Trend Blogs
For many industries, there are already publications, journals, and blogs that are dedicated to new trends. Keeping up with these are key, as they can clearly present data and new developments among other competitor companies, so you don't have to worry about how to do trend analysis. They're also vitally important because this information is available to anyone else providing the same services and products as your own.
Following as many of these publications is essential, especially if they are free. Because new content is being published all the time, it is helpful to set you and your team up with Google alerts. Not only does this ensure that you're staying up to date with the latest developments in the industry, it may also help you to discover new sources of insights. In fact, some companies find it helpful to make this part of their marketing process; call upon one or more of your marketing team members to assemble breaking stories and reports into a weekly or monthly email so that all of the research is available in a single location.
Using Competitor Analysis to Discover Your Brand's Uniqueness
A final piece of the consumer and industry research puzzle is to keep yourself abreast of what your competitors are doing and how they are performing. The first step would be to establish who your competitors are and what kind of content they're publishing. You can also take advantage of content marketing platforms like DemandJump to get SEO and page ranking data that shows what users are looking for and what draws them in.
A great method for analyzing competitor brands is with a competition matrix. This industry tool is used to compare and contrast multiple brands in an industry, documenting their similarities, differences, and weaknesses. If you're looking for a competition matrix template, keep in mind that competition matrices can be used for a variety of reasons. Some might be set up to chart social media performances, while another may be set up to capture elements of tone and voice for particular brands. So, while you can find those templates online, it's really no more complicated than drawing a few X-Y axises in Excel or on a simple sheet of paper.
However you choose to use it, the point of competitor analysis is not for rankings or determining who's winning in an industry. By using competition matrix methods and thinking critically about your own similarities, differences, and unique traits, you can ultimately refine and sharpen what makes you stand out in the crowd.

Trend Analysis With Ease
Does this seem like a ton of work? That's because it is! Tracking industry trends and consumer needs is all about compiling data in order to get an idea of how things were, how things are, and how they will be. With DemandJump's platform, this is all done for you. Our tool provides consumer insights, competitor analysis, and dynamic keyword research that can put you miles ahead of your competitors. If you're ready to stop guessing and start using data-driven insights to drive decision making, start your free trial.
Get Your Free Pillar Strategy Report