How to Use Google Trends for SEO
August 25, 2020 •DJ Team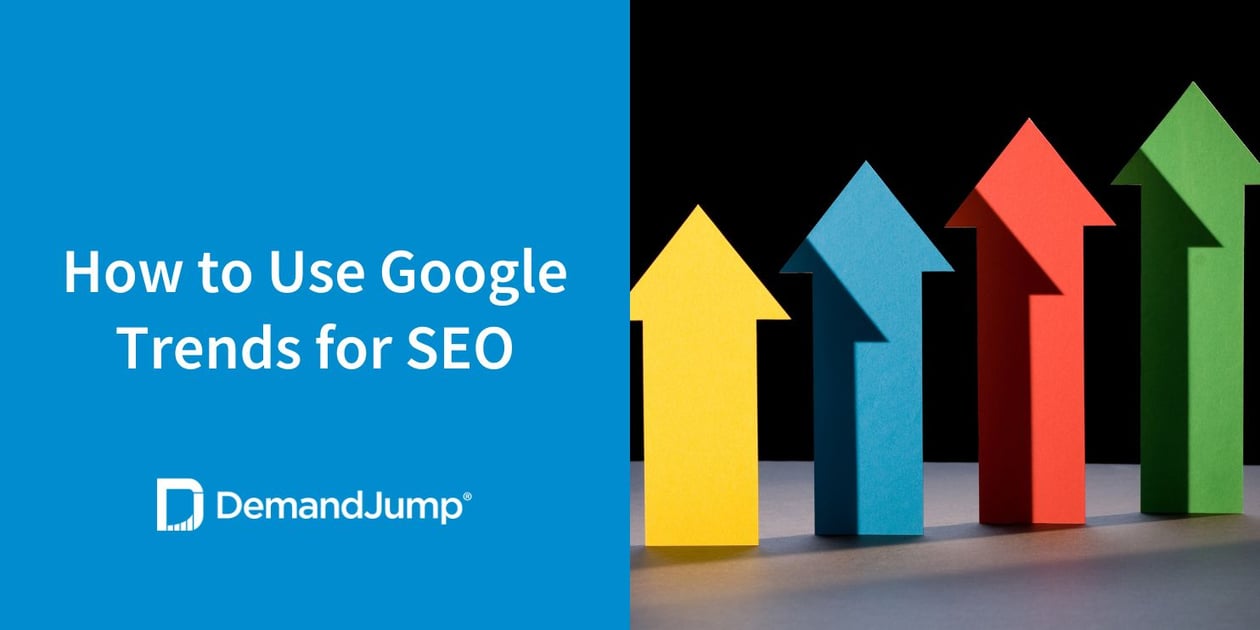 No matter which sector or industry vertical you're marketing for, search engine optimization, or SEO, is essential. If you don't understand the keywords your consumers are using to search the Web, you can't be confident your content is going to be discovered at all.
And of course, you don't just want potential customers to find your content, but enjoy it, get to know your brand, and ultimately make a buying decision, becoming your lifelong customer and telling all their friends to buy your products and services too.
This waterfall of content marketing success can actually be set off and improved by an awareness of trends on Google. While the keywords for an industry like "green cleaning products" or services like "eco-friendly office cleaning" might seem straightforward and obvious, it's also the case that news, current events, or other influencing factors cause keywords to change in value and popularity overnight, or even hour-to-hour. Here's how to use Google trends to inform your SEO strategy, move the needle, and rise to the top of search results.
Google Trends 101
If you've used any kind of keyword planner, or even the Google Trends tool itself, you undoubtedly notice that some keywords are longer than others. Seasoned content marketers might even know the industry jargon of short-tail and long-tail keywords that illustrate the distinction between the two.
Since short-tail keywords are only 1-2 words long, it may not be very likely that they change with the trends in your industry. There just aren't that many ways to search for an idea like "cleaning products" or "cleaning services," though that's not to say you shouldn't explore different variations to use in your content and headlines.
But search engine trends really show their SEO value when you consider long-tail keywords. These phrases of 3 or more words could include adjectives, like the "green" or "eco-friendly" variants we discussed earlier.
You might also find that certain geographic areas, brand names, or customer perceptions drive up the search value. For instance, "affordable eco-friendly office cleaning" might be an even better option for your brand to target during the early months of the year when office administrators are taking on new initiatives under a new budget.
Yes, SEO research tools can even provide you with insights into when certain keywords are most profitable to target, or how to change your strategy to meet the trends in different markets you want to reach. Just like fashion trends change with the seasons and the place you're in, so do SEO trends. Adapting your strategy to match is all about knowing which tools to use and how much to rely on them.
Is Google Trends Accurate?
Google Trends is a tool created by Google to provide transparency about what is trending on Google in real-time. This tool is accurate, but also relies heavily on the context you provide to frame your search. Here are a few tips for how to use this tool as an alternative keyword planner:
Telescope Your Time Frame: Unlike many other keyword planners, Google Trends lets you adjust the time frame you want to analyze traffic, up to the last 5 years. If you come to the table with some keywords already in mind, you can use this function to see if your key terms have gained or lost popularity over time. Even the most high-traffic terms could be on the way out.
Don't Ignore Geography: The Google Trends tool will automatically show you geography as a portion of your search results. You can expand this focus to the whole globe, or narrow it to a specific nation, region, or state. Because of the unique way Google Trends normalizes its data, you'll always be able to see which terms related to your keyword are popular in the area you want to target.
Check the Rising Keyword Trends: Once you enter a search term, Google Trends will give you the option to view rising search terms related to your keyword. Because the tool groups searches by industry and topic of interest, you're not just going to get back a bunch of different versions of your original keyword. Instead, this section helps you predict consumer questions and desires you can then use to update your strategy.
These are just some of the ways to use the Google Trends tool to improve your SEO strategy. While this tool can't help you pick your initial list of target keywords, it can help you narrow down the list, or make key decisions about what terms to target now and which to target later.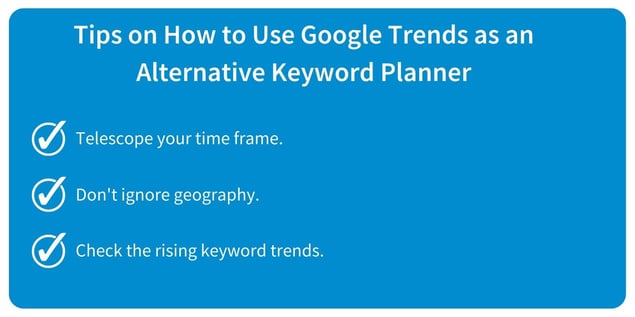 Automate Your SEO Trends Research With DemandJump
No matter which keyword planners and tools you use to do SEO research, it's a time-consuming process that has to be continually repeated to remain effective. The questions that drive customer interest and earn web traffic today will be answered and forgotten before too long. But continually obsessing and guessing about trends can leave marketers feeling like they can't get ahead, or questioning why they should bother with SEO at all.
We created DemandJump to serve marketers with exactly what they need to make informed decisions about an online marketing strategy. Whether you want to see the top-ranking content in your industry, learn more about your competitors' keyword strategy, or just take the guesswork out of your own marketing channel attribution and the related ad spend, the actionable marketing insights you need to succeed are available through our platform. Improving marketing ROI in a way that earns you more loyal and satisfied customers is possible with our platform. Register for a free account and see for yourself.
Get Free Consumer Insights Today!