How to Use Keyword Research for Blogging
July 24, 2020 •DJ Team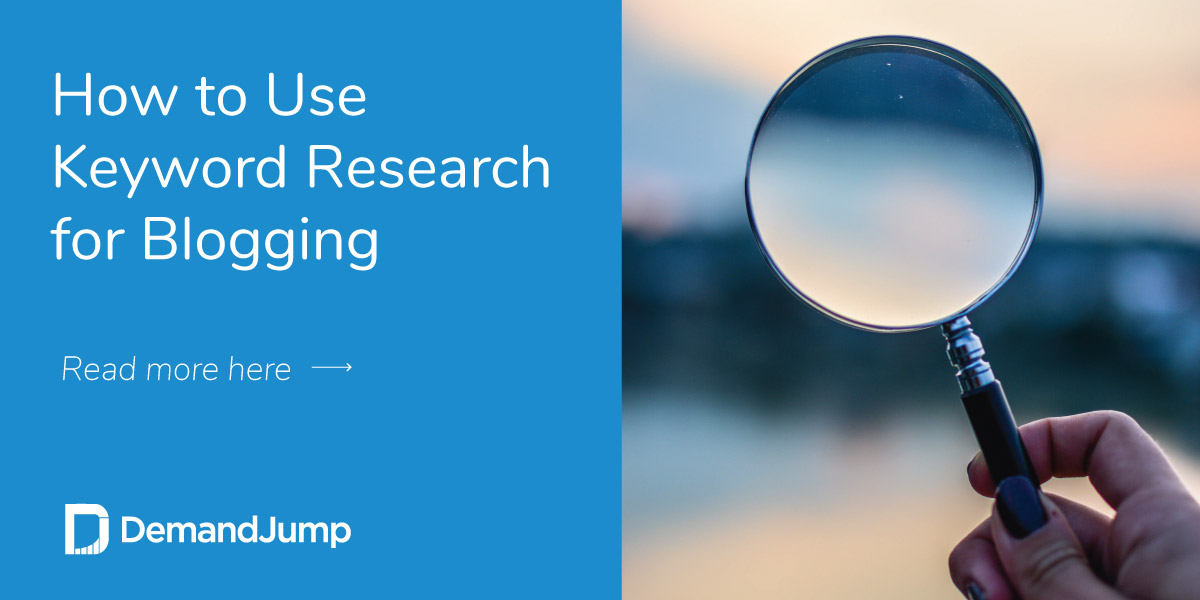 Content marketing can come in a variety of forms, but the main focus of each tactic is to speak to an audience and capture their attention. Website content, white papers, and case studies are all viable ways to speak directly to a consumer. But when it comes to written content, the most popular format is that of blogs. Still, it's not uncommon for folks involved in digital marketing to ask "Is blogging still relevant in 2020?" The answer is a resounding, "yes," especially in B2B marketing, as statistics show 71% of customers read blog content during their customer journey.

However, the ubiquity of blogging also means more competition for readers' attention. Of course, writing great content is of huge importance, but in order for a content strategy framework to succeed it needs to get in front of the right audience. If you're wondering, "What should a content plan include?," SEO keyword research is an excellent method to ensure the blogs your company publishes are topical, inspiring, and ranking on search engines. Let's dive into some high-level applications for keyword research, as well as some more detailed ways to use your findings on a blog-by-blog basis.
What Does Content Strategy Mean? Keyword Research.
Keyword research greatly influences and informs a marketing strategy in a couple of key ways. The first is to get a solid understanding of your audience and their needs. These are people who can benefit greatly from your services or products, whether they know it or not. The goal of your marketing strategy is to guide them toward your sales people, and blog content is often the first chance your brand has to make an impression on potential customers. So, keyword research is really a chance to get inside their heads and conceptualize how they're searching for topics related to your business.

Here is where the concept of an editorial calendar comes into play. Editorial calendars are lists of blog topics laid out in a visual, day-by-day format. The point of an editorial calendar is not only for workflow purposes, but to see all your intended written content as one unified strategy. Though they're often arranged by financial quarters (e.g. Q1 content, Q2 content) they can also be shorter, campaign-driven timeframes.

For example, if your blogs are about a human resources software solution, creating an editorial calendar may require some keyword research to make sure all content is hitting its important targets. The SEO research may show that people are searching for broad and general informational posts with "What to look for in HR software," as well more specific questions like, "HR software integration with Salesforce." By utilizing keyword research, you can be sure to include blogs that speak to both of these polar-opposite topics.

But another, more broad application of keyword research is to answer the question, "How should we be speaking to people who read our content?" Keyword research can really shed light on people's thought processes throughout the content marketing funnel. Should the blogs be high level? Should they be more relaxed? Informative versus emotional? All of this can come from keyword research.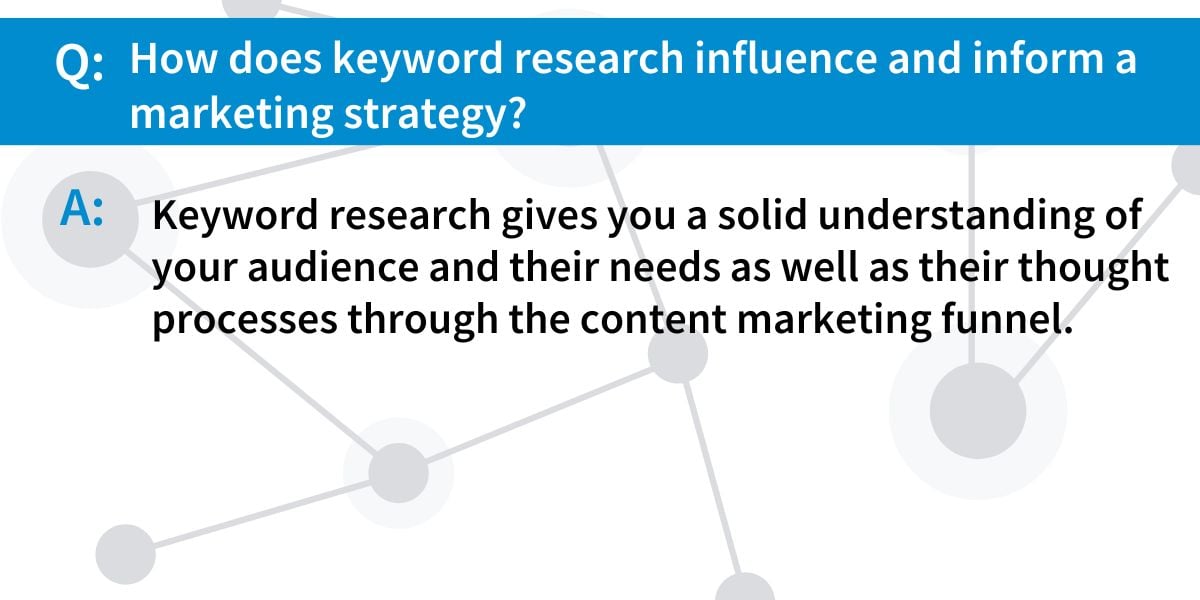 How to Get Traffic to My Blog Using Keyword Research
Keyword research also plays a role in how individual blogs are written. While there's not a hard and fast rule of how many keywords to use per post, it is important to have at least one primary keyword you want to rank for. From there, it's advisable to try and include relevant and related keywords as well. For instance, a blog about the best hiking gear might also include keywords like, "best hiking equipment," "best selling hiking shoes," and, "rainproof backpacks." Again, these combinations are born out of consideration for your audience's needs.

When inserting keyword research into blogs, these phrases have the greatest impact on ranking when they're used in headings and blog titles. When Google crawls through posts, its algorithm places higher emphasis on these placements. Additionally, it's a good practice to make sure you're not using the same keywords between individual blogs. When multiple posts on your websites compete for the same keywords it's called "keyword cannibalization," and it can negatively impact your Google ranking. That being said, if you do have posts with similar themes, make sure they're back linked to one another in order to create a cohesive web of ideas.
Using Keyword Research Is Easier with DemandJump
Anyone with experience in keyword research knows that finding SEO phrases is only part of the battle. Content marketing also requires strategizing to use the data to the best of your abilities. If you're struggling to make the most of your keyword research, DemandJump has got you covered. Our platform provides detailed keyword research, as well as ready-to-use insights to help you create a content plan template to guide your marketing strategy toward success. Ready to get started? We have a free account with your name on it.
Get Your Free Content Marketing Strategy Report