How to Write a Blog Post: A Guide to Writing Content That Ranks
June 10, 2021 •DJ Team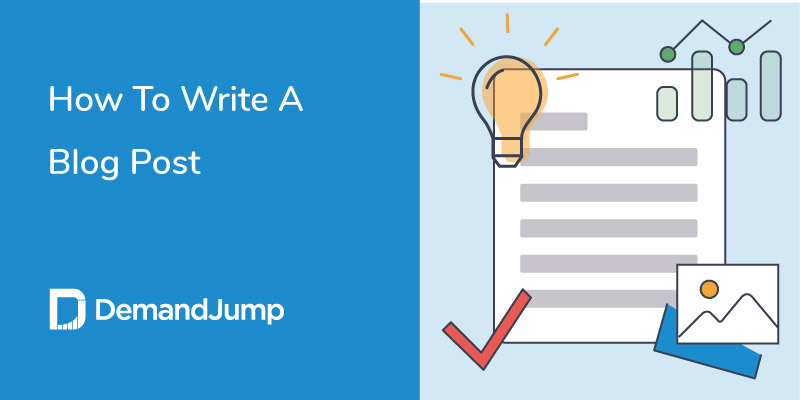 We're often asked, 'How do you write a perfect blog?" A good blog post offers a compelling story, gives helpful content, or provides a powerful call to action. A perfect blog post will do all three.
With 53% of all trackable web traffic coming from organic searches, crafting a great blog will drive more traffic to your website. What's more, having a high-performing blog can deliver more leads while also increasing your SEO (search engine optimization) ranking on search engines like Google.
How do you write a blog post for beginners?
Follow this blueprint to learn how to write a blog post, how to structure a blog post and how to optimize your blog posts with SEO best practices to increase your chances of success. Whether you're just starting out or you're an experienced marketing professional looking for new trends in blogging, anyone can benefit from a data-driven plan.
First, develop a list of keywords and phrases you want to rank for. The best keywords and phrases are directly related to your core business, have a relatively sizable search volume, and are being targeted by your direct competitors. A professional SEO tool like DemandJump can automate this process and ensure you're choosing the best keywords for your content strategy.
Second, understand your audience, their concerns, and what they want or need to know. Research consumer insights and go through your company's archive. What are top-performing pages or topics? How can you capitalize on your existing success by creating content that expands on what you already have?
Next, make an actionable plan by deciding how many blog posts you will create and how frequently you will publish. Think of blogs as articles that cover one main topic. We recommend blog posts contain approximately 750-1000 words for maximum performance.
Finally, your blog posts should be part of a larger "content pillar" plan that includes pillars and sub pillars for best results. Learn more about how DemandJump is changing the content marketing industry with our data-driven approach to content pillar creation in our case study.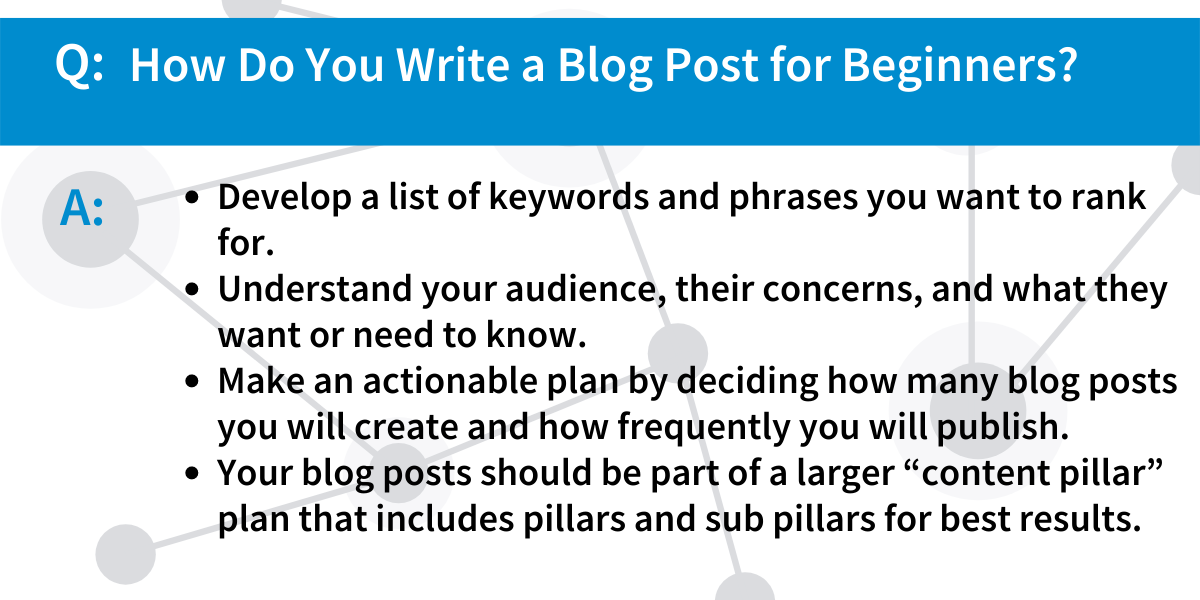 Blog Post Ideas for Beginners
After you've developed a content strategy, it's time to start writing. Consider these three top-performing types of posts to enhance your blog.
Practical: Share research, statistics, or how-to do or make something related to your company. Readers should leave feeling knowledgeable on a topic.
Inspirational: Share a story of how you or a customer overcame a problem or spotlight staff members doing incredible work. Inspirational content, well, inspires people.
Funny: A quiz, a list of do's and don'ts, or an example of a failure (and how that failure prompted something good) can all be humorous. Funny content can humanize companies.
How do you structure a blog post?
The best posts follow a simple blog writing format that makes it easy for readers and search engines alike to analyze and understand the content. Use short paragraphs and easy-to-understand language and keywords. Blog posts should include the following components:
A title that aligns with targeted keywords and phrases.
An introduction that hooks the reader, outlines what the post will be about, and includes at least one targeted keyword or phrase.
Correctly formatted headers, including H1s for main titles and H2s and H3s for subheaders. For best SEO results, the first sentence under every header should speak directly to that topic.
A call-to-action that leaves readers with someone to do, like watching a video, scheduling a call, or buying a product.
How do I write a blog post with a template?
While a general structure for blog posts is helpful, sometimes you just want clear-cut directions on how to get started. One of the easiest ways to get started on a blog post is to ask a question, usually in the title, and spend the blog post answering it. There are many other kinds of blog post templates that can be used in countless ways. Here are some of the most popular:
Point-Illustration-Explanation: Make a point, provide examples, and explain your point.
Interview: Choose an industry expert and use a Q&A format.
List: Make a list, like the top 5 reasons to do something or what to do (and not to do).
How-To: Provide educational tutorials that show how to do or make something.
How to write SEO friendly blog posts
Use this SEO checklist for blog posts to get the most out of each one of your blog posts.
Keep it concise. Stick to 750 to 1000 words, and make sure blog posts are shorter than pillars and sub pillars.
Use the correct formatting. Use your H1s, H2s, and H3s wisely.
Get to the point. If you ask a question, answer it quickly. Doing so will produce a better chance at catching the attention of Google's Featured Snippets -- the short chunks of text that appear at the top of a search.
Link wisely. For internal linking, blog posts can link up to pillar pages and sub pillars, while sub pillars should only link up to pillars. It's also acceptable to link to outside sources, especially if they're authoritative experts on the subject.
Don't spam your posts. Gone are the days of fitting as many keywords into your posts as possible. Appeal to your audience -- and to search engines -- by using keywords and phrases organically.

Blog Better with DemandJump
Creating a great blog post that drives traffic to your website and boosts your SEO ranking doesn't have to be difficult, but it does take time - or at least it used to. Eliminate the guesswork and save over 50% of your time creating content with DemandJump.
DemandJump has created a powerful platform that aligns content strategy with actual user behavior, giving you a prioritized list of content to create (plus SEO content outlines). See just how easy creating quality, high-ranking content can be - with DemandJump!
Get Your Free Pillar Strategy Report