How to Write for SEO: 4 Simple Steps
August 17, 2023 •Jeremy Flick
Getting eyeballs on the content you write for a business is tricky work. In fact, over 90% of the blogs out there have never been read by anyone online. So how do you write content that truly optimizes how you show up on search engines, so all your hard work has a chance to help people and bring traffic to your website?
The answer is a mixture of using the right SEO content tool, finding good SEO content ideas, and practicing your writing skills. We sat down with some of our content writers to ask them the questions we hear the most from future SEO writers. Here's what they had to say.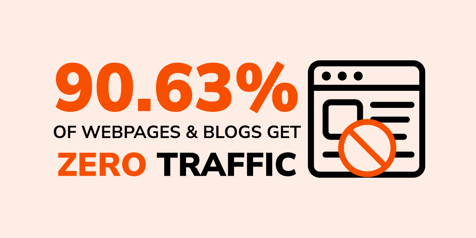 What Does an SEO Writer Do?
Write content! More specifically, write content that's designed to answer the specific questions being asked by potential customers, using SEO best practices. This means an SEO writer's days aren't entirely filled with simply writing—many hours go into figuring out what keywords and questions are most relevant, understanding the tone and approach specific customers want in your writing, and learning enough about a topic to be able to write about it with authority.
One of our content writers shared that their work weeks are a pretty even split between three main tasks:
Actual fingers on keyboard writing and editing
Research for the specific article being written
Learning more generally about the customer I'm writing for, the overall writing process, meetings with other writers and customers, and applying feedback
How Do I Start SEO Content Writing?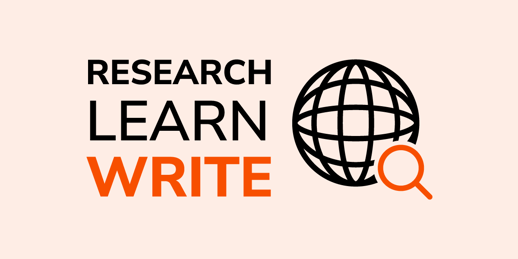 Whether you're trying to begin a career as a content writer, or just create a few blogs for your company's website, practice is the best way to get started. Writing is a skill and a bit of an art form, so it will take time to get good at it and develop your own style and process.
Once you're staring at a blinking cursor on a blank page, wondering what to do first, start with a topic. Let's say you work for a company that sells accounting software to small businesses and you just want to practice writing a short blog to boost rankings on search engines. Think about what kind of SEO content writing topics might make sense for this business.
What might an ideal customer be typing into a search engine that your business could help them with? Maybe "Small Business Accounting" or "Bookkeeping for Small Businesses" come to mind. Type these into Google yourself and see what kind of results show up. Take notes about the titles of articles that made it to the first page of these search results for you, and what other suggested questions Google offers for your search. These are the kinds of questions and keywords you want to include in your article.
A shortcut that will give you even more useful information much faster is to use an SEO content tool, like DemandJump. DemandJump's platform will generate topic insights and content briefs with easy-to-use lists of these kinds of questions and keywords ready to go, and even rank them in order of priority and search volume.
How Do I Practice SEO Content Writing?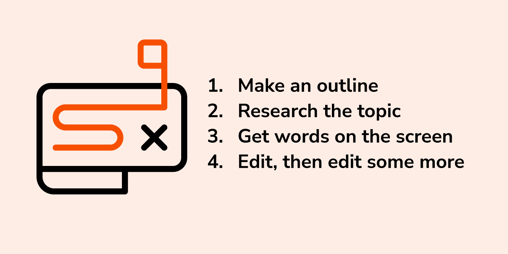 Once you have a topic and a list of keywords that people are searching for to learn more, it's time to start the actual writing. There are as many ways to write a good piece of SEO content as there are writers. But here's one approach our SEO writers use to get started:
Make an outline. Use the list of keywords to plan the structure of the piece. For a 1,000 word blog, aim for around four sections, each with headers that contain one of the questions or keywords from your list. Look at the five headings in this blog for quick SEO writing examples of how to use questions in your outline. Try to get a keyword into the body of each section too, for around 8 total in the piece.
Research the topic. Now that you know the main questions and ideas you want to cover, read more about each of them. Trying to research the entire topic of "Small Business Accounting" could take a lifetime, so use your outline questions to narrow your focus.
Get words on the screen. Start typing and get something down. This can be the most intimidating step, but don't think too hard, just get started. Answer each question in your outline in a clear and correct way, aiming to keep readers engaged. Trying to write for the algorithm or search engine crawlers is a sure fire way to write bad content, write for humans first.
Edit, then edit some more. Once you have a first draft written, read it with a critical eye. Good SEO content doesn't have spelling or grammar mistakes, and it fits with the company tone you are writing for. It always helps to get another set of eyes on a finished article, so ask a coworker, friend, or family member to read it after you finish.
How Long Does It Take to Learn SEO Copywriting?
There is no one answer to how long it will take you to learn SEO writing. You can sit down and write your first piece today, so in some ways it only takes a few minutes to get started. But it can take months of consistent practice to learn the best ways to find keywords, structure articles, and write in a compelling way. And you will find the more you write, the better you get, so you'll keep improving for years as you hone your craft.
One way to get a jump start on producing high quality content is to utilize DemandJump's SEO content writing course materials, free in DemandJump University.
How Do I Find SEO Keywords for Content Writing? With DemandJump!
At DemandJump, we know how much work goes into writing good SEO content. We also know how hard it is to get the stellar articles you write to actually show up on search engines so your customers can find you. That's why we created our proven SEO strategy using Pillar-Based Marketing, and provide you with tools to know exactly what content to write to get to the top of search engine results. When you're ready to start writing SEO content that gets you to the top, create your free account and get started!
Get Your Free Pillar Strategy Preview!