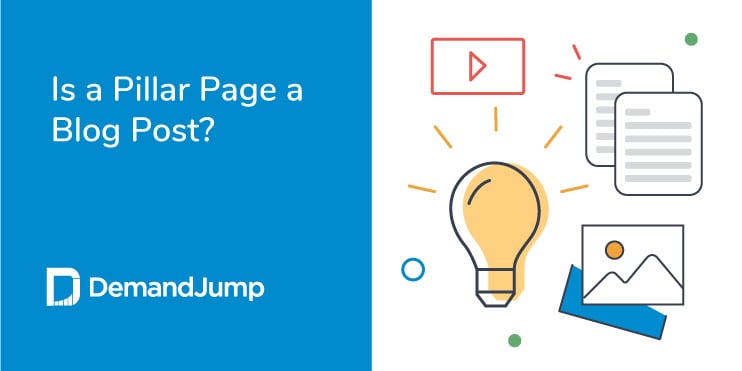 When it comes to marketing your business, if you're not on the first page of search engine results (especially Google), then you don't exist to the 88% of people who begin their research online.
But how do you get there? You set up your website with gorgeous pictures and convincing descriptions to promote your product or service. Now you wait for traffic to start flowing in, right?
Wrong.
If you're not actively giving reasons for search engines to promote you–like answering the most relevant questions asked in your field–then you'll get buried by the businesses that are. At DemandJump, our clients find success by implementing an SEO pillar strategy.
A pillar page has a specific purpose. When comparing pillar page vs landing page or pillar page vs blog, there are key differences that will set your content apart from the competition. In this article, we'll be going over the important distinction between pillar pages and blog posts and how they fit into an SEO pillar strategy.
What's the Difference?
A pillar page stands at the center of an SEO pillar strategy that works by creating a content cluster. But what are pillar and cluster pages?
A content cluster is a network of content that answers similar, commonly searched questions about a specific topic. Cluster pages are individual pieces of content within that network. Even though it's called a cluster, these networks do have structure, thanks to pillar pages.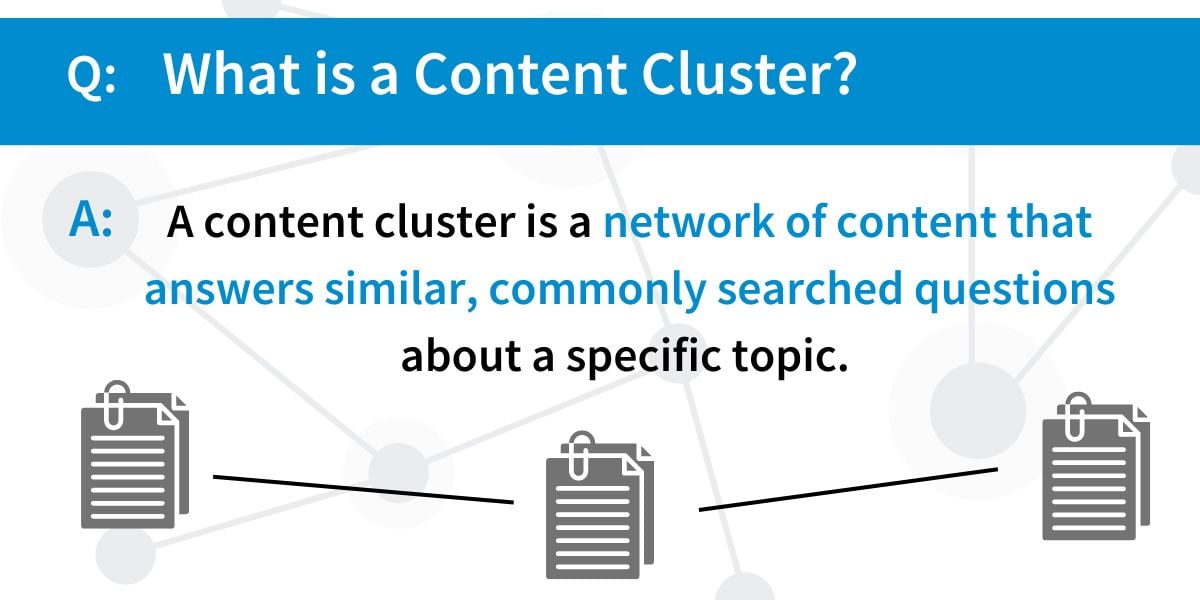 Pillar pages do a lot of heavy lifting for your SEO strategy, but they don't do it alone. A pillar page's goal is to establish you as an authority on that topic. Sub-pillars and supporting blogs give in-depth information on the topics introduced in your pillar. They also link back to the pillar page, which boosts its search engine ranking–getting you closer to that coveted first page.
How Long Should a Pillar Page Be?
A pillar page should be about 3,000 words long. This is usually enough room to give helpful, high-level information on the topics covered in your cluster, but also be manageable for a reader to get through the entire piece.
A good pillar page will also contain 20 high-value keywords, which are the phrases and questions that people are searching for. By including the right keywords, search engines will boost your ranking because you are answering the questions that people care about.
So how do you know what keywords to include? One place to start is to think about what specific questions you would have about your product or service. Do you sell cars? Then a common question might be: "Is buying a used car worth it?"
However, just guessing keywords likely won't be enough in an area as competitive and noisy as the internet. DemandJump takes the guesswork out of choosing keywords. Our database provides insight reports on what keywords your audience is searching for, how you rank on those keywords compared to your competitors, and provides content briefs that show you how to write about those keywords in an engaging way.
So, is a pillar page just a longer blog?
No. A pillar page is different from a blog post (even if that blog is 3,000 words). The key differences are that a pillar page provides structure to the entire SEO pillar strategy and connects to the rest of the cluster through related keywords and hyperlinks.
Blogs don't necessarily connect to a wider content cluster (unless they're part of a specific pillar strategy). If you were to compare a pillar page and a stand-alone blog of the same length, the pillar page would rank higher because it's supported by related pieces like sub-pillars and supporting blogs.
The benefits of pillar pages are that your content is seen as being more valuable by search engines. By centering your SEO strategy around a pillar page, your content ranks higher, and more people actually see it, read it, and find value in your business.
How Do I Make a Pillar Page?
Before sitting down to write a pillar page, you first need to map out your SEO pillar strategy. A thorough strategy will identify the topics for your pillar, sub-pillars, and supporting blogs. Your pillar will contain the main ideas that the rest of your content cluster will dive more deeply into. Here's an example of how the DemandJump platform would create a pillar strategy for a used car dealership.
By pulling data on your current search rankings, the keywords that your competitors are ranking highly in, and the questions and keywords that consumers are searching the most, DemandJump recommends the topic for a pillar, sub-pillars, and supporting blogs based on the sub-pillars you select. And of course, if you'd like guidance on which sub-pillars and blog topics would be best for you, our customer success team is always happy to help.
How Long Does It Take to Write a Pillar Page?
Three-thousand words is a lengthy piece, and it can eat up days of your marketing team's time between research, planning, writing, and editing.
Fortunately, you don't have to start from scratch. DemandJump not only tells you which keywords to include, it also generates content briefs, so you can jump right into writing. Or, you can work with our team of professional writers on pillar pages that rank high and engage your readers.
You're passionate about what your business has to offer, and it's our job to get your target market excited about it, too. Start a free trial of DemandJump, and unlock the keywords and strategies that will make your product or service the answer to the questions people are searching for.
Get Your Free Pillar Strategy Preview!