Is Content Marketing Manager a Good Career?
August 2, 2022 •Erica Kempf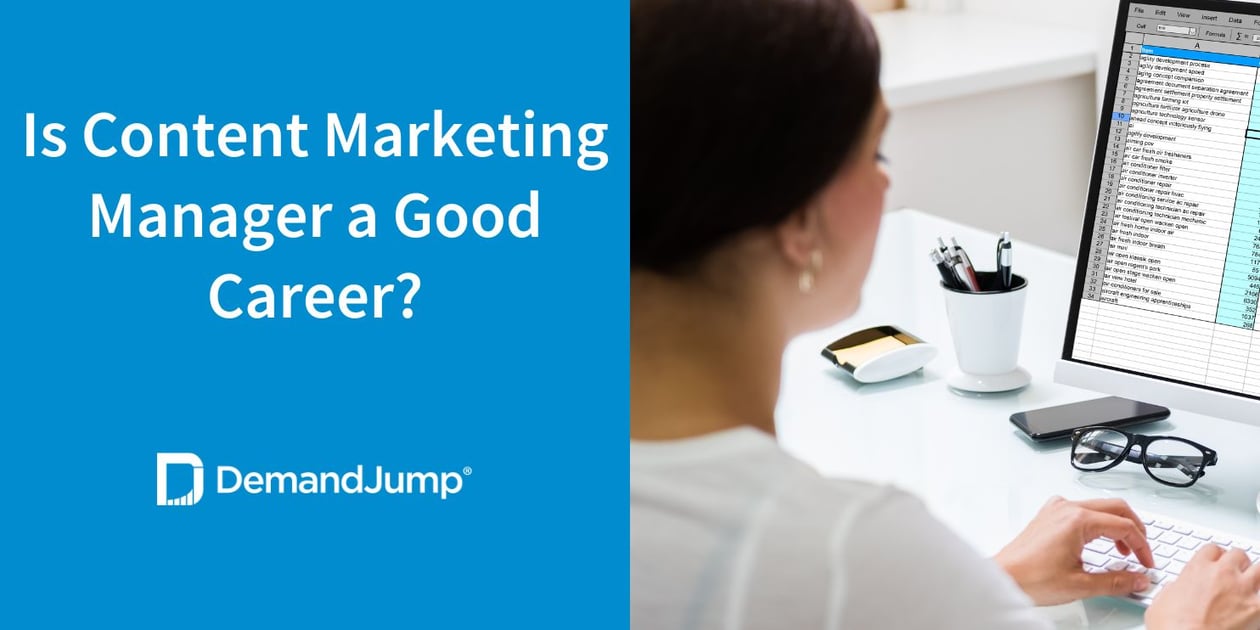 We often hear that content is king, and with companies using content marketing seeing 30% higher growth with 15% lower customer acquisition costs than those that don't, it's no surprise why. With all the benefits that content marketing brings to businesses, a content marketing career path is one that many are considering.
But there are so many options for careers within content marketing, how do you choose one, and are any of them going to be a good fit for you? Keep reading for a deep dive into one area you could choose, a content marketing career path. We'll look at what content managers do, what you need to become one, and how much they make. Buckle up and let's dive in.
What Does a Marketing Content Manager Do?
The role of a content marketing manager will vary from company to company, but overall these managers oversee and coordinate content marketing efforts. For a small company, they may be the whole marketing team—planning, writing, delivering, and monitoring all of a company's content marketing. For a very large company, they may be in charge of several teams of content writers, and they may spend most of their time developing higher level content marketing strategies and managing their teams.
No matter the size of the company, however, these are likely to be some of their responsibilities:
Develop and fine tune content strategy to support company growth goals
Establish content marketing calendar for blogs, social media, videos, newsletters and more
Write content or oversee a team of writers who are writing content
Check performance of published content and adjust strategy accordingly
Monitor existing content to keep it relevant, optimized, and using the desired voice
Liaise with other departments to ensure content marketing is in line with company goals
Follow competitors and plan takeover strategies to acquire more market share
What Should I Major in to Be a Content Manager?
If being a content manager sounds good to you so far, you might be asking yourself "What degree do you need for content marketing?" The answer is it depends on the company you're applying to and the other skills that you bring. There are a range of degrees that are generally considered highly for the job. These include:
Marketing, communications, or advertising
English, creative writing, or journalism
IT or related field
It is possible to get a job as a content manager without a degree in one of these specific fields, especially if you have relevant experience. However, 93% of content managers have a Bachelor's degree, so having a degree of some kind is going to increase your chances of being hired and doing well.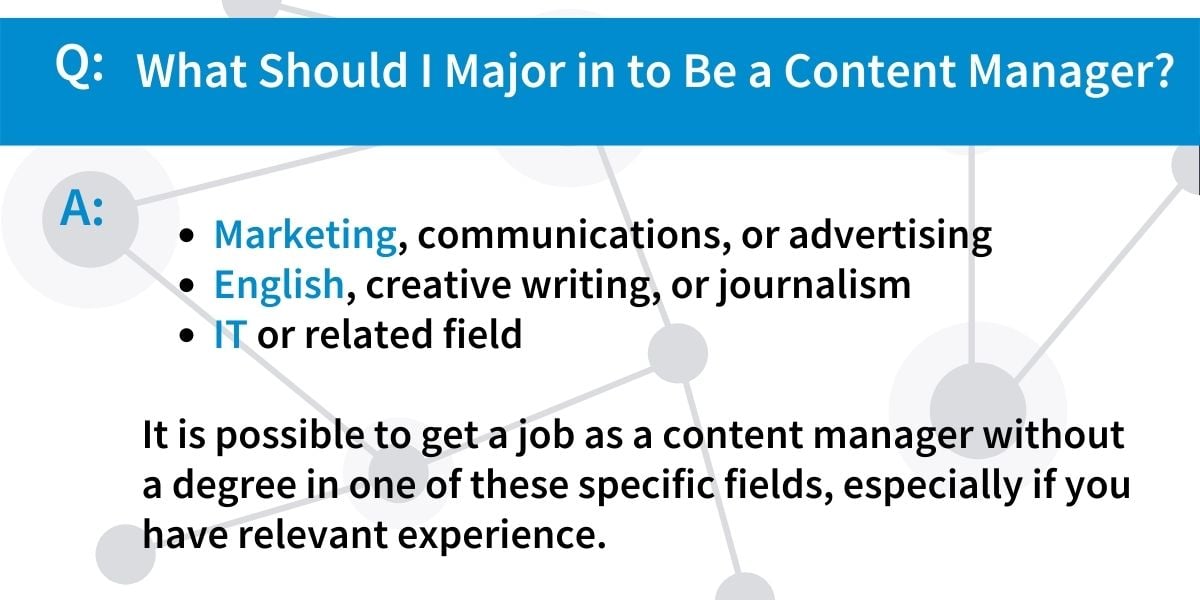 How Much Money Do Content Marketers Make?
The median annual income for a content marketing manager is $75,000 in the US in 2022, with the range being between $65,624 to $80,188. The range in content marketing manager salary is mostly due to the differences in responsibilities this job requires at different companies and cost of living and pay scales in different states.
What Is the Content Manager Job Outlook?
The entire field of marketing, promotions, and advertising managers is projected to grow 10% between 2020 and 2030, according to the Bureau of Labor Statistics, leading to an estimated 31,100 job openings per year during the decade. Although the job of a content marketing manager is not broken out specifically, the prominence of content marketing and its projected growth makes it likely that the job outlook would be at least as good. The emergence of new content-based marketing strategies like Pillar-Based Marketing further increases the demand for content managers.
The continuing evolution of technology in content marketing means that this job will stay relevant and exciting over the coming years. Someone interested in a career that presents new challenges and allows them to keep up with the latest advances may be a particularly good fit for this sort of job.
DemandJump: The New Frontier in Content Marketing
Speaking of the newest advances in content marketing, we at DemandJump are obsessed with content and making it work for the companies that use it. Our marketing strategy platform shows content creators and managers exactly what content they need to write to make it to page one of Google.
Driving that kind of traffic as a content manager is going to impress the boss. Using our Pillar-Based Marketing strategy as the main driver of your content sets up a content manager for success and empowers everyone to take their content marketing to the next level.
Try our platform free today, or consider becoming a certified content strategist or writer by enrolling in DemandJump University.
Get Your Free Content Marketing Strategy Report