Is Social Media Content Marketing?
December 11, 2020 •DJ Team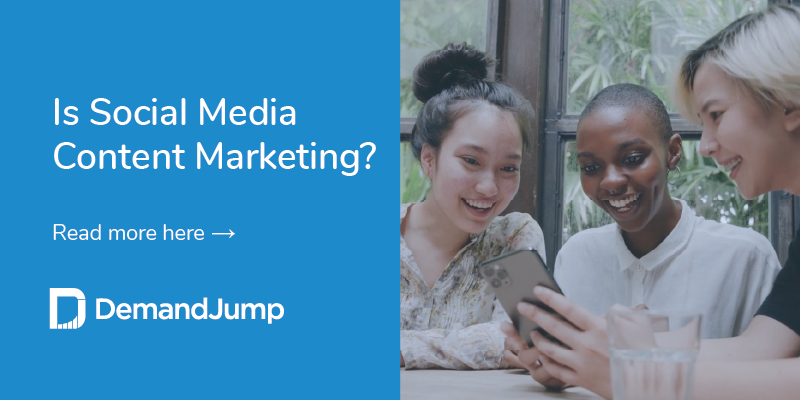 If you're not immersed in it every day, the wide world of marketing can feel endless—even intimidating. Especially since digital marketing has hit the scene and become such a power player, marketing has seemed to get increasingly complex. Content marketing, for example, is a beast in itself. But what about social media? It's pervasive and plays a pivotal role in many people's day to day lives, and some make a living off of it full time. But is social media marketing also considered content marketing?
What Does Content Mean in Social Media?
The web of media is definitely complex, but to make it as simple as possible: yes, social media is a type of content marketing when it's utilized properly by marketers. In many cases, social media acts as an outlet where you'll release the content you're creating elsewhere, but that's not to say there's not plenty of content created specifically for social media.

Let's take a step back and look at content marketing as a whole. Content marketing, for the most part, is focused on a company's website. There may be some kind of call to action associated with whatever content, be it an email, ebook, or podcast. More often than not, the goal will be to get that person to the brand's website to check it out further. The content also probably lives on the brand website, or at least on a landing page associated with it.
On social media, the interactions, engagements, sharing, and linking are happening primarily on the social media platform. In many cases, customers will choose to interact with a brand on these platforms and not visit the company website at all.
This means social media content does even more heavy lifting. Not only is it a place where customers come to interact with your brand outside of your website. It's also a place where you take the content you've already created elsewhere and broadcast it.
Social Media Content Examples
You may easily take that video you just uploaded to YouTube and share it across your social media channels. That's absolutely part of social media marketing, but that doesn't make it social media content. Social content is usually created specifically for the channel you're using, like Instagram or Twitter. Some of these include simple uses of the platform: sharing a tweet, for example, on Twitter. Others, though, are more creative.
Take a project by the New York Public Library, for instance. Using the Stories feature of Instagram, NYPL used the opportunity to tell classic stories on their Stories. With an animated introduction, they put the text of novels like Alice in Wonderland and A Christmas Carol in their highlights, which allow people to read the books right in Instagram. It was a content created specifically for Instagram, and drove thousands to the profile so they could read the books.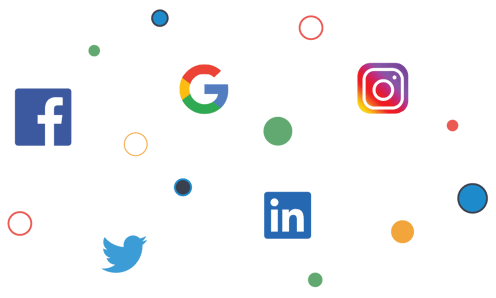 Another excellent example of content that was originally created for (and by) social media is Apple's "Shot on iPhone" campaign. To help showcase just how stellar the camera function on their iPhone was, they enlisted their droves of social media community members to take stunning pictures and tag #shotoniphone. Not only did this give them a veritable load of content that they could harvest from and turn into campaigns that stretched outside of social media, it also turned droves of people to engage with the brand.
How to Plan Content for Social Media
There's no one, perfect way to do social media. Your brand needs to have its own way of speaking, its own content it creates, and has to meet its followers where they already are. Here are a few tips to break it down.
Plan ahead - Put together a content calendar specifically for social media. Whether you're launching a full campaign or you're simply keeping your community up-to-date, knowing what's coming and planning for it can save you headaches—and keep you on schedule.
Consistency is key - Just like any marketing, regular, consistent touchpoints are what drive engagement. That's not to say you should spam people, but even regular posts throughout the week will keep you and your brand top of mind.
Think big - There's no reason you can't run multiple campaigns at once, including paid and organic. Remember, social is every bit as much about maintaining your current audience as it is gaining new followers.
Focus on quality - For larger brands, social media channels probably have a full marketing team behind them, including copywriters, designers, and photographers. While you don't need that to be successful, the higher the quality of your content, the more likely it will be to stand out.
Measure your results - Just like any marketing, learn what's working and replicate what you can.
When you're ready to start planning or adapting your own social media content strategy, try a free trial of DemandJump. Our software puts all of your data in one place so you can see exactly what's working. And if there's any doubt, we'll even offer suggestions for where to adjust to see the largest revenue impact.
Get Your Free Pillar Strategy Report