Keyword Match Types: The Pros and Cons of Each Type
October 14, 2021 •DJ Team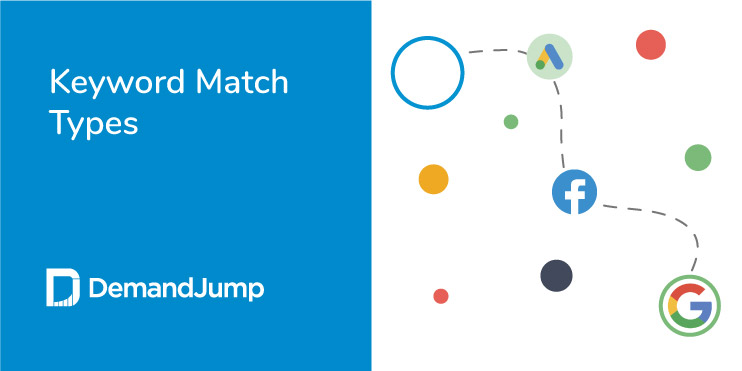 Your choice of keywords is how you connect with the search intent of potential customers—essentially it's how you stand out in the void to match their search queries.
In Google Ads, keyword match types allow you to dictate how your keywords appear, acting as parameters for how keywords and keyphrases function in a search.
To get the most bang for your buck, you want your ads to appear on a search engine results page when they are relevant to the user's search intent. This can improve the likelihood of conversion. Using different types of keywords helps improve the way you achieve this.
Here, we'll take a look at the different match types Google Ads lets users choose from to dictate how and where their ads might appear in various keyword search results.
With this information, you'll have a better idea of how to structure your own SEO keyword research strategy to reach your target audience.
What Are Keyword Match Types?
Keyword match types help you control how and where your ad will appear in a given search query. You can expand or contract the situations when your ad will appear by choosing a match type.
These match types will act like different filter types, letting a certain amount of searches get through depending on what you choose.
Google Ads match types changed in 2021—and, in all likelihood, they will change again.
This is why it's important to keep a finger on the pulse of how Google defines SEO and what tools they provide to help businesses navigate their marketing strategy.
What Are the Different Keywords Match Types?

There are three keyword match types: broad, phrase, and exact.
Broad Match
As its name implies, broad match keywords will show your ad to a wide range of related search queries.
The broad match keyword option is overly generous, if not heavy-handed in its approach. Broad match includes searches for the exact keyword or phrase, similar variations, related searches, and other relevant variations.
Broad match populates your ad even when keywords and phrases are out of order or if the phrase is split up.
This will attract the widest audience and have the broadest reach, but you won't necessarily get a true match with your intended audience: your ad might not relate to their search intent.
Phrase Match
This match type tightens the search, populating your ad when other words or phrases appear before or after your exact keyword.
Unlike broad match, the order of your keyphrase matters here, but your ad will populate when other words appear in the search.
Phrase match reaches a more specific audience than broad match does.
This is a way to still have your ad appear to a relatively large audience, but it's more likely that this audience will have some interest in your ads—though at a more specific level.
Exact Match
The exact keyword match is the most restrictive and specific when it comes to when your ad will appear in a search. It requires an exact match—or a very close variant—of your keywords, though the order isn't important.
On the opposite end of the spectrum from broad match, your audience will be limited, but your conversion rate should improve.
Which Keyword Match Type Is Best?
Keyword match types give you more control over how and when you want your ad to appear—and this will vary from business to business and with different marketing philosophies. For example, if you have a very nuanced business model, a broad match might actually lead to good conversion results.
Let's look at some keyword match types examples so you have a better understanding of which might work best for you:
A broad match example: Let's say your broad match keywords include "affordable piano prices."
A search for "cheap used piano for sale NYC" might populate your ad in a search, though the search and your keywords have very different meanings. And this is the problem with relying too much on broad match search terms. The intent is clearly different.
A common phrase match example includes the addition of "near me" in a search query for your targeted keyword.
This is known as a geo-targeted keyword phrase. If your keyword phrase is "used books," a match phrase example would include "used books near me."
Finally, an exact match is fairly straightforward, except for order and close variants. A common example includes common misspellings.
So if your exact match keyword is "exercise science," your ad might populate for a search for "exersize science," due to the common misspelling and the close association of the two words.


Understand Keywords Matches Better with DemandJump
So how do you know if your use of keyword match types is reaching the audience that will have the most impact on your business? That's where DemandJump can help.
DemandJump understands the importance of keyword strategy, and that it can mean the difference between ad spend that flops, or an investment that has the potential to grow your business and brand presence online.
With one-click SEO content briefs for new content, recommendations for updating current content, and linking content to revenue generated with marketing attribution you are sure to see results.
Work smarter with automation tools designed to make content marketers look like rockstars.
Write content that ranks fast, and save time doing it - get started today!
Get Your Free Pillar Strategy Report