Keyword Research Examples and the Best Tools To Use
October 14, 2021 •DJ Team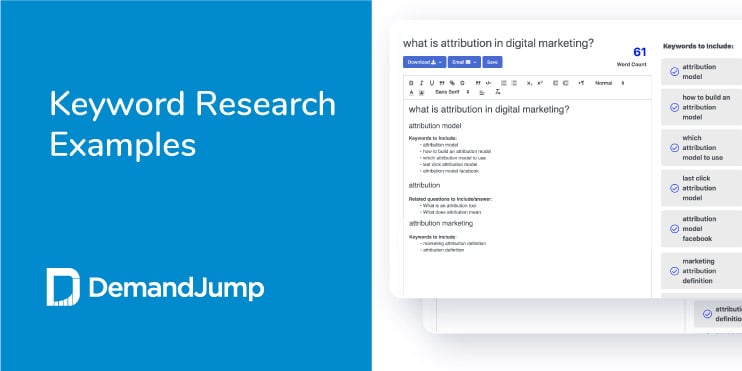 Search engine optimization (SEO) is the process of tailoring content to improve where it ranks when potential customers search for the products or services you provide.
SEO is competitive by its nature, making it truly difficult to overestimate the importance of keyword research in SEO.
When done right, a keyword strategy anticipates the questions people are asking and helps develop high-quality content to drive traffic to your website (and not the competition's).
The more you understand how SEO keyword research works, the better prepared you are to produce content that will increase your traffic by ranking higher within search results.
In this post, we'll look at some examples of how to do keyword research, as well as a sampling of useful tools and techniques to get you started generating your own SEO keywords example list.
What Is the Keyword Research Process?
The basic process of how to do keyword research for SEO consists of two main activities, creating a keyword list and developing a keyword strategy.

Understanding these concepts will help you develop an effective list of keywords, organize and prioritize them to bring traffic to your website, and develop content outlines and content calendars as a comprehensive SEO strategy.
Creating a Keyword List
The first step is the discovery process. You want to develop a list of short-tail, mid-tail, and long-tail keywords. In the initial phase of keyword research, consider each type of intent-targeting keyword.
There are a number of free tools you can use to get the ball rolling.
Examples of keyword research tools for generating keyword lists include:
Google: A simple place to start is Google. Begin typing a keyword idea into the search engine—maybe your brand, or a specific product or service you offer—and take note of the auto-complete suggestions.
These are based on actual search volume, and you may find keyword ideas for any or all types of search intent. After running a search, it's also a great idea to scroll past the first couple of paid results until you reach the "People also ask" questions. As you expand these to view the answer snippets, additional related questions will populate.
Use Google Trends (free) for a more analytical approach, surfacing individual keywords' relative popularity in addition to regional or seasonal variations.
Keyword Generators: A keyword generator is what you would expect—a tool for generating a basic list of keywords you might build your strategy around. There are many keyword-generating platforms available for keyword research—many of which are either free or have free versions. These include Bulk Keyword Generator, Keyword Sheeter, and

Keyworddit

.
Some keyword generators, like Keyword Surfer, are browser extensions that provide local search volume estimates for any query typed into Google. Others, like Keyword Tool Dominator and Soovle, provide search data and keyword ideas across multiple search engines or platforms at once—useful for comparative purposes. There are also specific keyword research tools like AnswerThePublic and QuestionDB that are geared toward identifying the questions searchers are asking (as opposed to just listing the topics of searches).
Developing a Keyword Strategy
For a keyword strategy to be successful, you'll need to consider not only the type or types of search intent to target but also how your competition is working to target the same searchers you are.
Examples of keyword research tools that can help you narrow your keyword list include:
What really makes these tools stand out is that they offer SEO and pay-per-click (PPC) data for competitive analysis. By gaining insight into exactly what your competitors are targeting and ranking for, you can focus your strategy on important, competitive areas.
Examples of on-page SEO analyzer tools:
Several free tools enable you to optimize your strategy by providing insights into how search engines like Google are interpreting your content. Some available tools for optimizing your site and content, like

HubSpot's Website Grader

,

Google Search Console

, and

Seolyzer

, can provide you with page-by-page insights and analysis as well as action items for improving your traffic by either fixing, strengthening, or replacing existing content.
Many of the best tools for fine-tuning your keyword strategy based on competitive insights come with price tags. You can often use free versions of their products to get started, though. Some of the most popular SEO tools with useful (though limited) free versions include Ahrefs, Semrush, and Moz.
DemandJump offers a freemium account, which includes automated keyword research and one-click content outline creation.
Boom! DemandJump Automated Keyword Research
We understand how hard it can be to generate keyword ideas and turn them into content that ranks. The free tools we have covered in this post are just a sampling of what's available out there. Most of them will give you the functionality you need for one or more specific elements of the keyword research process, but it will be up to you to piece these tools together for your strategy.

DemandJump takes a different approach, providing an all-in-one solution for creating a keyword strategy and even generating compelling content. For keyword research, DemandJump helps uncover the high-value keywords that can help you improve your search ranking and stand out from your competition.
Taking it a step further, DemandJump will generate a "one-click outline" that will set you up with suggested headings, questions to prioritize answering, and more.
Work smarter with automation tools designed to make content marketers look like rockstars.
Write content that ranks fast, and save time doing it - get started today!
Get Your Free Pillar Strategy Report