Lawmatics Increases Position One Rankings by 21% in Just Weeks
May 5, 2023 •DJ Team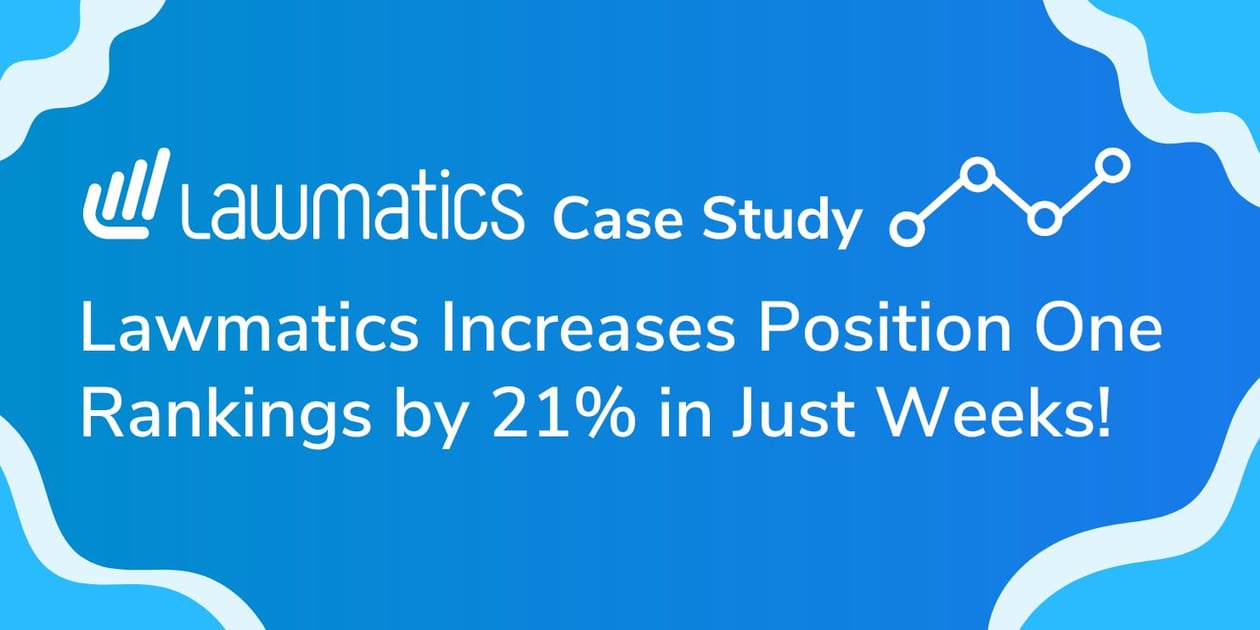 Lawmatics is a legal software platform and solution for growing law firms. Specializing in Legal Client Intake, Law Practice CRM, Marketing Automation and Legal Billing, all in one easy-to-use software.
Lawmatics Marketing and Content team partnered with DemandJump to create a strategy to drive higher converting traffic by aligning content to their ICP's search behavior. Demand Generation and Brand Awareness were two key marketing strategies that DemandJump's Pillar-Based Marketing solution could help move forward.
The Approach
During our initial discovery, we discussed Lawmatic's audience, how they go online to research software solutions for their law practices, how they are very connected to their communities for referrals, and how they are driven by positive brand awareness and perceptions. This presented an opportunity to create content that decision makers are looking for, and to present the Lawmatics brand as a thought leader with meaningful and helpful content that ranks high in the SERP.
Our first content pillar was for their Legal CRM product—think Hubspot for lawyers. Our teams utilized the DemandJump Pillar Strategy dashboard to build the pillar strategy.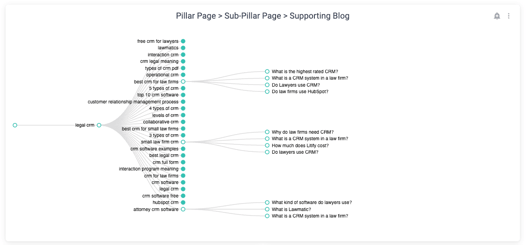 Once DJ's advisory team and Lawmatics Marketing team finalized the strategy, we worked together to create briefs and keyword lists for each of the initial 16 pieces of content we launched to kick off the campaign.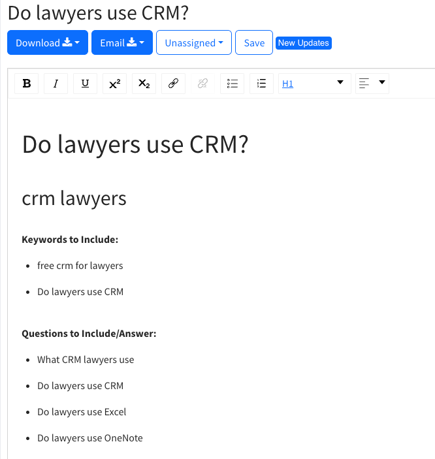 Our best practice for launching a Pillar-Based content strategy is to begin with a pillar (3,000 words), 3 sub pillars (2,000 words) and 12 blogs (750 words). Everything links up to the pillar to create topical authority for the domain.
The Results
Quickly after the content was published for the Legal CRM pillar, we saw week-over-week results.
Ranked in the top 100 positions for 106 relevant keywords, an increase of 31%

Ranked in position 1 for 23 relevant keywords, an increase of 21%

51 pieces of content across Lawmatics.com ranked for the keywords that matter in the Legal CRM keyword network, an increase of 19%

12 pieces of content ranked in position 1, an increase of 20%




Lawmatics has moved between position 1 and position 2 for the term, "Legal CRM," since the launch of our content strategy.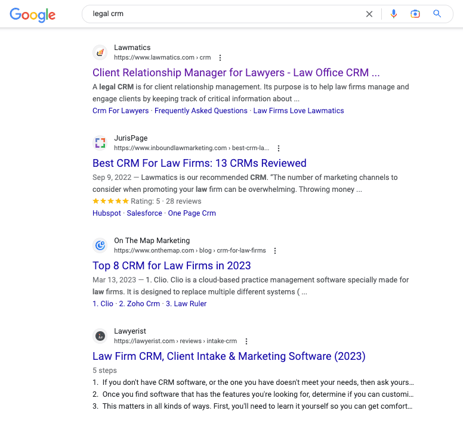 The "Legal CRM" pillar page ranked in position 1 for many important keywords their audiences are searching.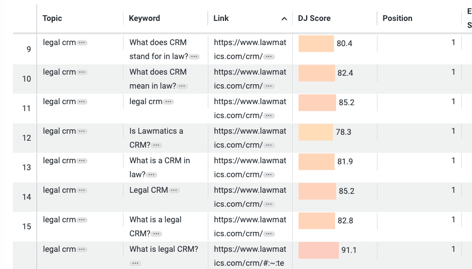 The pillar page even captured Google's Answer Box, for a highly relevant keyword ("What Does CRM Stand For in Law,") thanks to a blog dedicated to this topic, linking up to the pillar page.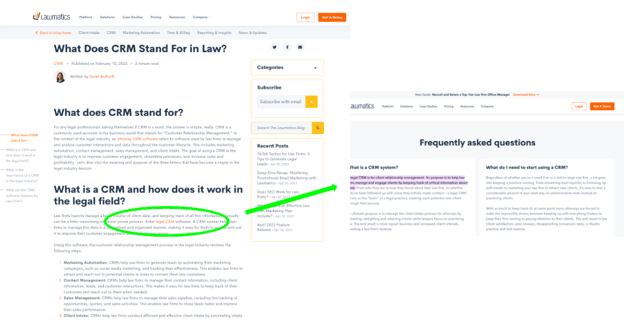 "I have been wanting this snippet for a long time - THANK YOU all for getting us here!"
Sarah Bottorff, SVP Growth at Lawmatics
Congrats to the Lawmatics team for these incredible results. We're excited to continue working with Lawmatics on their next pillar and beyond!