One-Click Blog Post Template For Any Topic (Downloadable)
January 3, 2022 •DJ Team
The building blocks of your content marketing strategy, blogs connect your brand with new and current audiences to establish trust, authority, and relevancy. The best blog posts do more than create the potential for a sales conversion, though.
Readers return to good website content, which improves SEO rankings and can earn you a more established presence on the web. This grows over time into real ROI for companies that put in the time and effort.
Blog post templates are a great addition to a content strategy. They help your writers adhere to a form and structure that provides consistency. They make blogs easier to write, and they also make them easier to read.
With templates, your audience can know what to expect from your blogs and can digest the information more quickly and easily.
What is a Blog Template?
For businesses creating content to grow their brand, connect with their audience, and promote their products and services, the blog format acts as an organic, intentional outreach strategy.
It can provide practical information (like "how to make iced tea"), explain an idea or product (like "top 12 best iced tea brands"), or build subject authority (like an infographic or case study on iced tea companies).
With blogs, not only are you providing relevant information that conveys your mission and your brand's personality, but you're using deliberate content that relates to your audience and has SEO relevancy.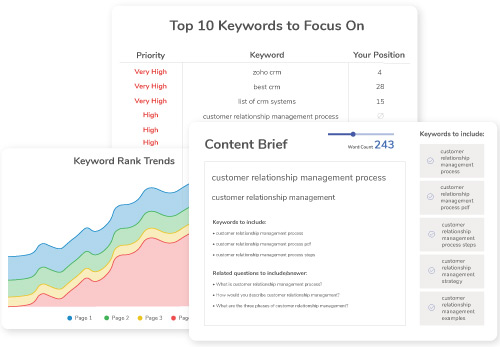 (DemandJump shows you the exact content to create around any topic. For each recommendation, you have access to a one-click SEO content outline with the H1, H2s, and keywords to include.)
A blog template can help multiple writers and authors on your blog meet each of these expectations. The template can be as rigid or flexible as you'd like. For a team of experienced writers, a more flexible template that just includes necessary keywords and topics might suffice.
For newer writers unfamiliar with blogs, use a template with specific headlines, word counts to hit, and locations for keyword placement. You might even use examples to provide context.
But keep in mind, a blog post template should aid in creating content and not act as a set of rules to follow. Templates act as scaffolding so writers don't become overwhelmed by the blank page and understand the purpose of their blog. They're not designed to weed out creativity.
What Should a Blog Post Include?
Templates can be customized to the type of website content best suited for your business. Below we've listed a few elements common to many blogs, but remember the blog exists to represent your business and establish your brand: Use what best suits your needs.
Title
Titles are important: They draw readers in, carry SEO weight, and act as the first impression of your blog. Titles should be captivating and accurate to your subject matter.
Introduction
An introduction tells the reader why the blog exists, what question you're trying to answer, or what deliverable you're promising.
Headings
Headings establish the structure and scaffolding for the blog. If a reader were to skim the article, the headings would give them a pretty good idea of what the blog covers. Keywords can be used in the headings. Interrogative headings, or questions, also work well by letting readers know what questions will be answered.
Links/Backlinks
When you link to other articles (or have other blogs link to yours), you can establish yourself as a subject-matter expert, create credibility with your audience, and you improve the SEO relevancy of the blog.
Keywords
Perhaps the most important part of the blog, keywords are terms your audience uses to search out information. They are how Google and other search engines try to connect an audience's intent with relevant content. Work with your SEO team to create a keyword list for your writers. Don't have an SEO team? DemandJump can help!
Does Google Docs Have a Blog Template?
So does a template already exist that outlines all relevant elements a writer needs to include on a blog? Are there blog post template examples that allow you and your team to plug and play? Yes and no.
Resumes, statements of purpose, letters, essays, reports—Google Docs has a template for almost everything. Unfortunately, they don't provide a blog template.
The reason for this relates to the nature of the blog: it's a nebulous genre, constantly changing, and tough to pinpoint. Couple that with the fact that there are so many different styles of blogs, and it's hard to pin down.
But a template for blogs would include many of the elements present in other templates on Google Docs.
Formatting
Lists and bullet points
Headings
Word counts
Images and image locations
You can still use Google Docs as a place for inspiration to create your own blog template.
How Do I Create a Blog Post in Word?
Unlike Google Docs, Microsoft Word does provide a template for blogs, but this tool is most helpful for creating a customized template yourself.
When you start a new document in Word, you'll see an option to create a document "New from template," which provides a list similar to Google Docs with a range of different templates. Simply search "blog" and you'll see the template available to use. Include the above-mentioned blog elements in your template to provide to your team.
How Do I Create a Blog on Canva?
Canva can be especially helpful with the design element of your blog, helping you to create graphics, images, and infographics, among other items, to use as a visual aid in your blog.
Still, Canva, like Word and Google Docs, lacks the personalized attention of a blog template creation tool that gives your writers the framework they need to create quick, informative blogs that lead to audience interaction.
Still Looking for Blog Templates? Good News…
DemandJump is your solution. DemandJump provides powerful SEO insights in an instant, including one-click outlines that recommend headers and keywords to use when creating a blog.
It really can be that easy - get started today for free!
Get Your Free Pillar Strategy Report