Plus Fashion is Poised for Explosive Growth. Which Brands are Ready?
December 20, 2016 •Egan Montgomery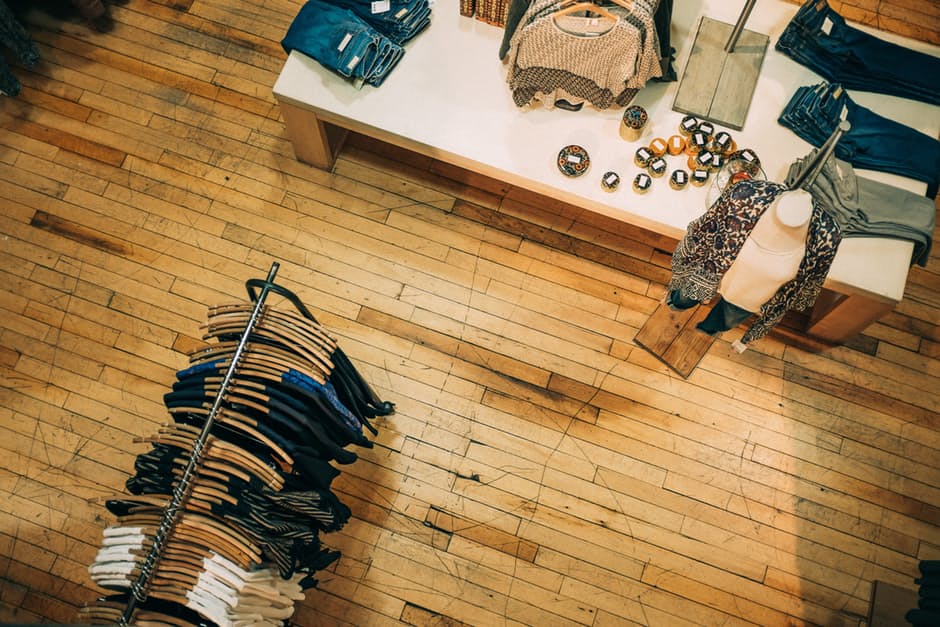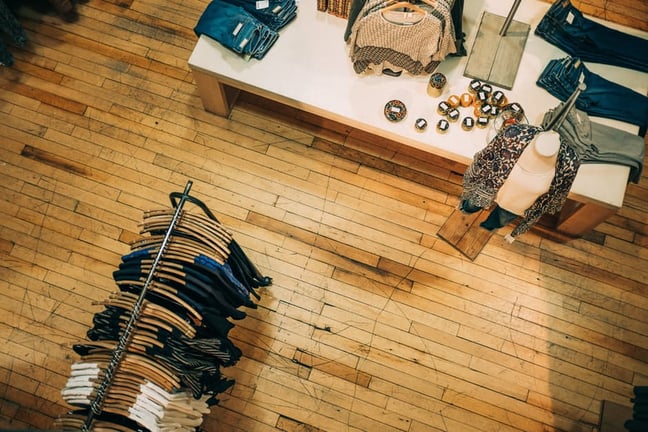 Earlier this year, DemandJump went deep on the wonderful world of fashion and apparel. We came up with a movie star's closet full of insights, and you should definitely check those out.In the meantime, we've uncovered an apparel subcategory that is ripe for the picking.
Women's Plus size fashion.
Plus fashion from DemandJump, Inc.

You might think that a $20 billion market, in a category that is outpacing the apparel industry as a whole, retailers would be jumping on the 'Plus size' women's fashion train and leveraging digital to the fullest extent.
Well we thought so.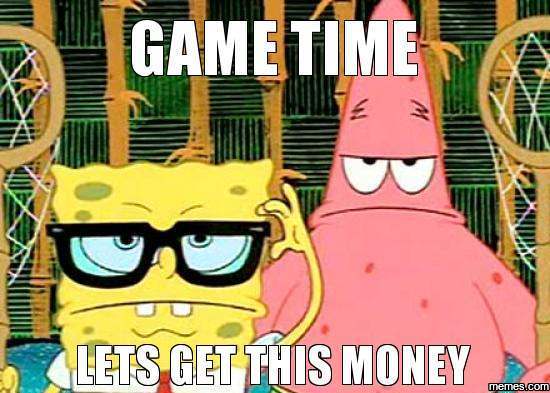 Source
So, using our AIM (Artificial Intelligence Marketing) platform, we looked at which Plus size retailers are capitalizing on the power of digital - and which ones are not.
And boy, were we surprised.
While a handful of Plus size retailers are showing signs of promise, DemandJump identified compelling gaps across the entire Plus size category.
Interestingly, larger department stores like Macy's, JCPenney, and Nordstrom (for whom Plus size business is a subset of their much larger apparel pad) have yet to leverage online channels as effectively for this sub category as they have for the rest of their apparel.
This is especially intriguing when you consider that, according to the International Journal of Fashion Design, Technology, and Education, American women today are, on average, between a Missy size 16-18, or what is considered a Plus size 20W.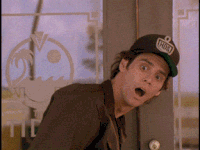 via Giphy
It should be noted that several traditional retailers, such as Charlotte Russe and Christopher & Banks, standout for having recognized this opportunity. They appear to be dedicating a significantly greater portion of their apparel assortment, marketing focus, and budget toward Plus.
Other up-and-comers like Gwynnie Bee and Eloquii are quickly starting to put pressure on category leaders.
Whether it is traditional retailers or specialized Plus retailers that effectively hone in on digital to maximize traffic and revenue is not the question. There is plenty of opportunity for both.
The important thing is that, like we see in most fashion categories, 3-4 brands will emerge as leaders as a result of their focus on harnessing digital revenue drivers. This handful of marketing "go-getters" are embracing digital wholeheartedly, and may soon leave their competitors far behind.
Plus size specialty retail is growing at a pace most categories would envy. Sales in 2016 rose by 17% (compared to 7% for the apparel industry as a whole).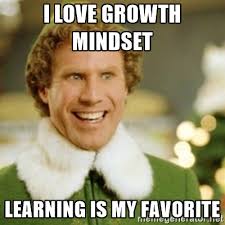 via Meme Generator
Specialty retailers like Ashley Stewart, Lane Bryant, Catherines, Torrid, Gwynnie Bee, Eloquii and more are posturing to capture that growth. We can see that they are already leveraging their position online to be a key differentiating factor in their ability to ride this tide.
Here are a few quick insights from our AI research.
Fifteen competitors were analyzed for this study and we found:
Less than 10% of competitors are seriously engaged with any of the top five referring blogs (aka traffic drivers) in the category
No brands except Lane Bryant and Torrid are driving more than 200K annual visits from any of the top 7 affiliates in the category
There are millions of dollars in incremental revenue available from social channels. Lane Bryant, who has long been an industry leader, is currently on Facebook, YouTube and Pinterest. However, our platform has identified more than $2.5M in incremental revenue that Lane Bryant is leaving on the table on these social channels.

It is clear that the industry is ripe and there is a lot of room to seize more revenue. In fact, the Plus size business is no petite opportunity.
Here are just three of the channels AIM identified as revenue drivers in Women's Plus size retail.
Google Paid Search
Charlotte Russe earns nearly 9% of its total annual website traffic (about 8 million visits annually) from Google Paid Search, while Lane Bryant, the most tenured specialty brand in the category, earns 7% (4 million visits annually).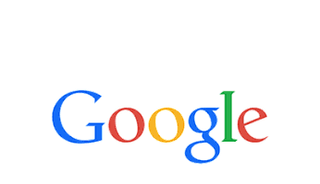 via Giphy
To put this in perspective, consider the fact that Lane Bryant generates about 400% more traffic from Google paid search than the nearest specialty competitor, Torrid. Rainbow and Ashley Stewart are also leveraging paid search, but only generating around four and five percent of their total traffic respectively.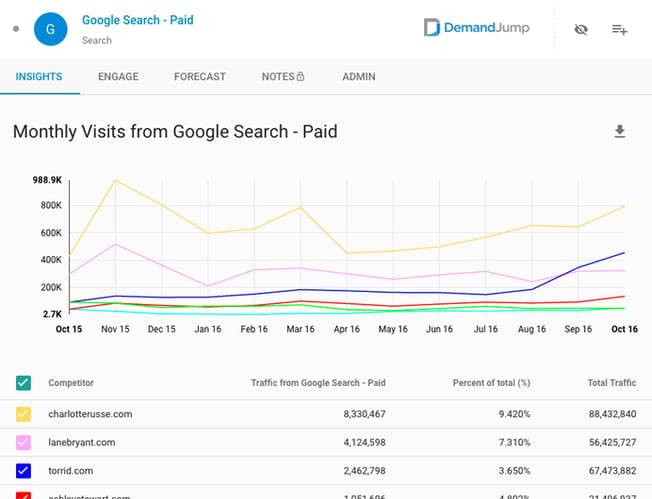 Source DemandJump
Several smaller competitors, specifically Kiyonna and Ulla Popken, are really harnessing the power of paid search to generate closer to 10% of their traffic.
Google paid search is the third largest traffic source for Plus sized brands behind only Direct and Google organic search. Paid search makes up on average 6% of total annual traffic to the entire category, but it delivers as much as 10% of total traffic for non Plus fashion brands.
Takeaway: To compete at the highest level, savvy Plus brands should strive to increase traffic from Google paid search to drive 10% of their total annual traffic.
Affiliates
Affiliates are also a major source of revenue for the Plus fashion category. Mainstream fashion brands (H&M, Gap, Forever 21 to name just a few) drive millions of visits each year from affiliates like rStyle, Ebates, Polyvore, ShopStyle and more.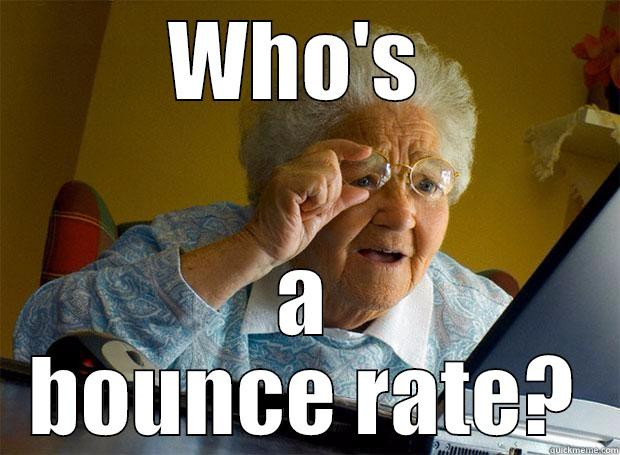 Source
By comparison, of the top ten affiliates in the category, AIM identified at least $4M in incremental revenue available to Lane Bryant by improving their relationships, or engaging with these affiliates.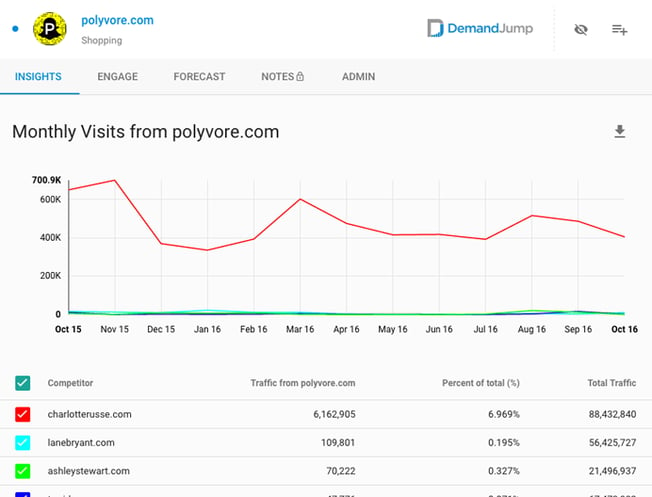 Source DemandJump
Here again, Charlotte Russe struts its digital prowess by leveraging key relationships with affiliates like Polyvore, ShopStyle, and rStyle, which deliver >6M, >1M, and ~1M to Charlotte Russe, respectively.
For some reason, Torrid (an above-average digital player) has experienced declining traffic from top affiliates during the second half of 2016. DemandJump's AIM platform identified two million dollars in incremental annual revenue for Torrid from Ebates, RetailMeNot, and rStyle alone.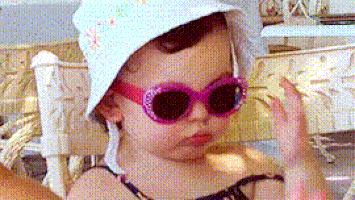 via Giphy
Takeaways: (1) Learn from category leaders; as well as (2) non Plus fashion brands who are using affiliates effectively to drive millions in incremental revenue; and (3) Implement aggressive affiliate strategies to add even greater value by using the increase in traffic to maximize customer email capture.
Email
Email is a powerful channel across all fashion and beauty brands. Plus size is no exception.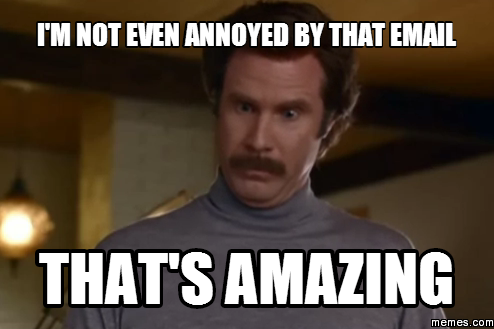 Source
Lane Bryant gets an estimated 4.5M visits annually from email, or around 8% of their total traffic. Gwynnie Bee (an up-and-comer in the category) earns around 2M annual visits from email, or about 15% of their annual traffic.
Catherines (a part of Ascena Group, which also owns Lane Bryant) earns a whopping 17% of their total traffic as a direct result of savvy email marketing.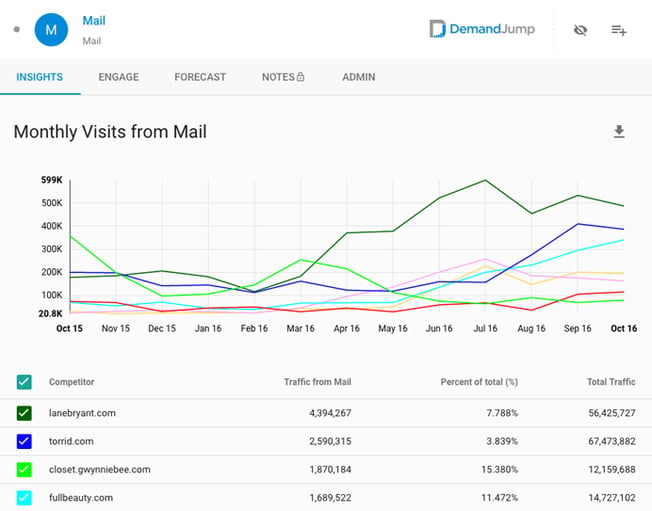 Source DemandJump
Charlotte Russe, Rainbow, and Ashley Stewart still have a lot of untapped potential when it comes to driving traffic from email, each receiving only ~3%-4% of total traffic from the channel.
Takeaway: Leading fashion and Plus sized fashion brands are driving up to 15% of their total annual traffic from email. Leverage affiliates to drive conversions and capture customer emails for a large bump in email traffic and revenue.
Conclusion
Plus size fashion is a money-making industry, worth around $20B in the US alone, and growing at a 17% clip (more than twice the national average for total apparel sales).
Paid Search, Affiliates, and Email are just a few of the digital channels that are loaded with opportunity in this category. Blogs, organic search, social, news, marketplace, and nearly every other digital channel are filled with customers just waiting to spend money with Plus brands. And, we all know the impact of digital on brick & mortar sales and traffic as well.
Brands currently working to harness digital are off to a good start, but there is so much opportunity available today in this rapidly growing category, that Plus brands need to hone in and get serious, or else get left hanging in the dust.
Get Your Free Pillar Strategy Preview!