SEO Content Writing Services | Content Creation Made Easy
November 11, 2021 •DJ Team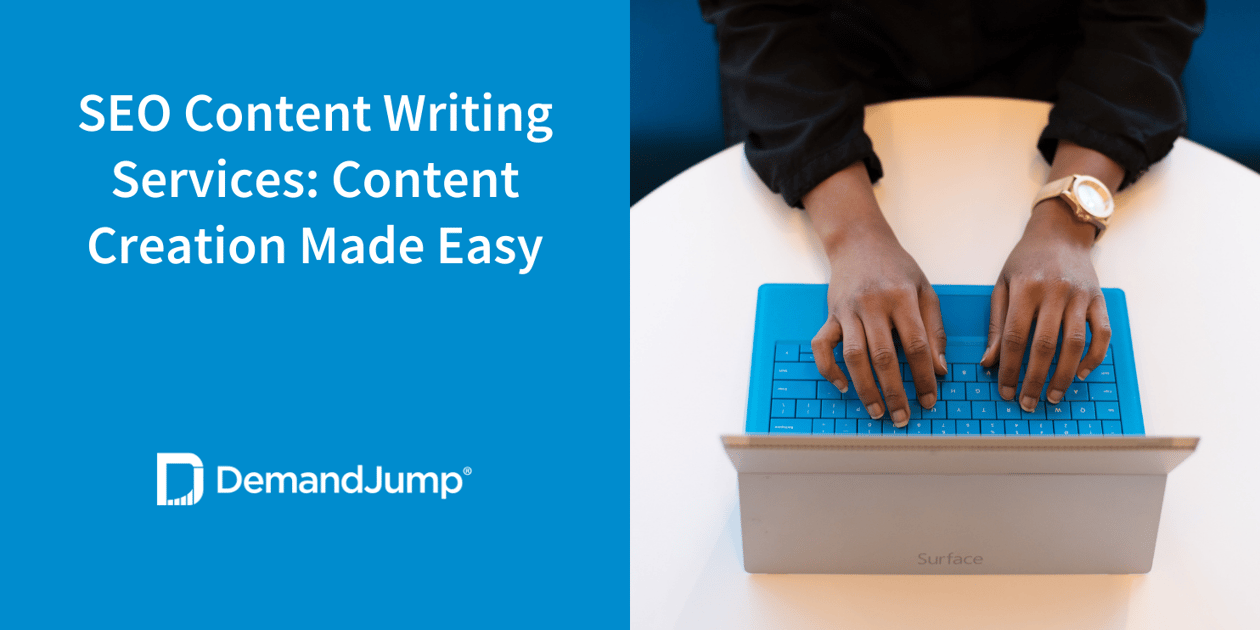 To implement a successful content marketing program, many brands need creative content writing services to produce high quality and a high volume of content.
The goal of SEO and website content writing, as a content marketing tactic, is to write resources and articles that address common challenges and search queries that its audience face. This attracts website readers through added value, rather than outbound, interruption-based advertising.
Over time, this builds credibility, earns new customers, and boosts a brand's rankings.
While some large companies may have the resources for an in-house newsroom or content team, many smaller, startup, and mid-sized companies can grow their content program and leads by working with a website content writing service or ongoing content writing service.
What are the Different Types of SEO Content Writing?
The different types of SEO content writing are on-page content writing, technical SEO, and SEO article writing:
On-page content writing
On-page content writing is the main content that your audience consumes on the page. These headings and body copy are the meat of your content. The writing should be clear and concise in your brand voice while including your important keywords.
Remember to use the correct heading tags (H1, H2, etc.) to signal to search engines the importance of keyword terms in your headings and subheads.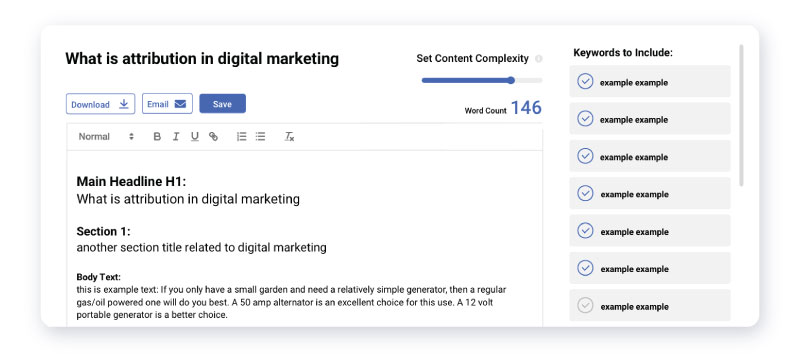 (DemandJump's automated one-click SEO content briefs.)
Technical SEO
Technical SEO is the back-end content that your audience may not see but is important information for search engines to rank your content. You should carefully craft your meta description, which summarizes your page and previews the page information on search pages, and your alt text, a description of each image you include.
SEO article writing
Outside of your core website pages, you should also have a section on your website such as a blog, resources page, or news and updates page where you can post regular content.
Google rewards websites that add consistent new content to their site and build authority on a certain topic over time.
SEO article writing allows brands to create findable content on niche content or long-tail keyword phrases that don't make sense to target on a general homepage, product, or services page.
To discover topics for SEO articles, use a keyword tool such as DemandJump to research and organize your top keywords.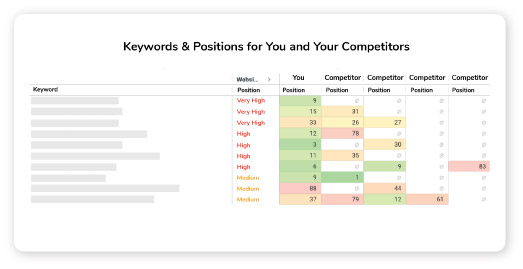 (DemandJump's prioritized list of SEO keywords to include and how you stack up against your competitors.)

Why Should You Use SEO Content Writing Services?
When building or optimizing your website, it's critical to write the on-page and technical content with SEO in mind. A site that isn't optimized or is poorly optimized can keep leads from finding your content and result in less traffic, sales, and revenue.
If you don't have the expertise to do this in-house, be sure to select a website agency that specializes in SEO.
When it comes to writing SEO articles to support your content marketing strategy, it can be difficult to manage this effort in-house with a one-person department or small team.
Hiring a content marketing agency can help you launch and scale a program that will see quicker results than you could produce yourself while bringing the latest research tools and industry standards to your marketing.
How Do SEO Content Writing Services Work?
An SEO content writing service is an outside agency or freelancer that will analyze and write content to rank higher and drive website traffic.
While every agency's method and workflow varies, here is a content writing services list of steps that an agency may follow.
Analysis and onboarding. The agency should analyze the brand's industry, market position, and rankings while learning its brand and voice.
SEO keyword research. Research and create a list of target keywords and phrases for which it wants to rank.
Content planning and outlining. Create and populate a content calendar with outlines and target keywords for each page or article (Tip: save time with an SEO keyword research tool that automates one-click content outlines like

DemandJump

).
Writing. Author the on-page and technical content, conducting any necessary research or interviews.
Approval, publication, promotion, and measurement. The agency may play a role in publishing to the website, promotion on social media, and analyzing content results.
When creating content for SEO, you need a tool that can take you from research to content creation to reporting analytics.
DemandJump can help you create research keywords, create one-click outlines for new content, and link marketing attribution from conversion back to your published content.
Sign up for a free trial today to see just how easy SEO content writing can be.
Get Your Free Pillar Strategy Report