SEO Content Writing Tips for Beginners
May 22, 2020 •DJ Team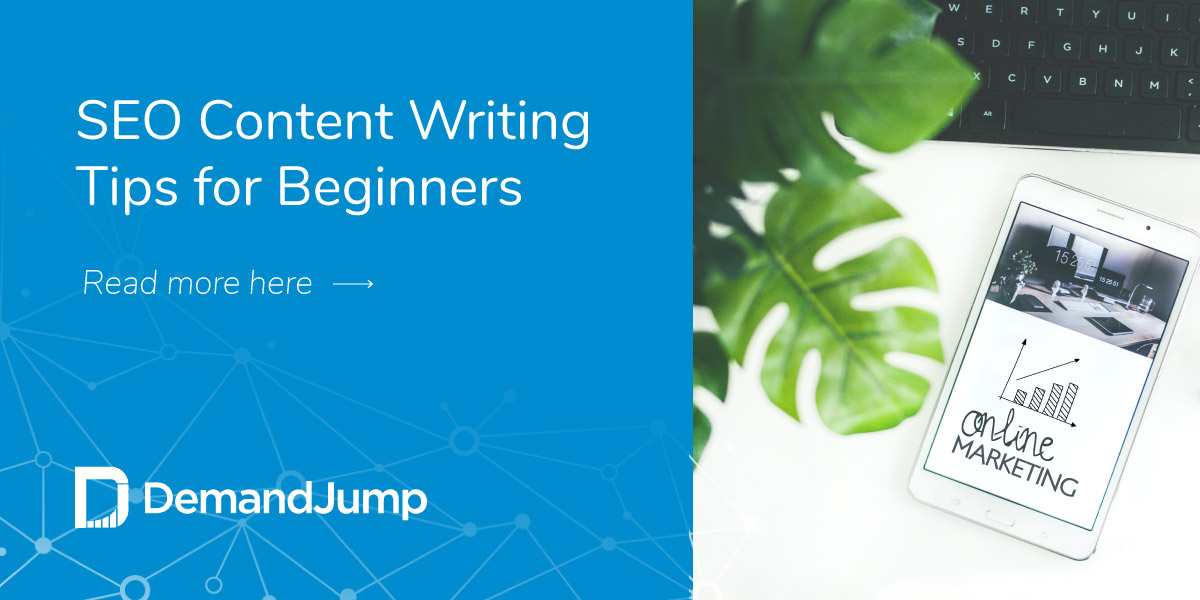 70% of marketers say that SEO marketing is more effective than pay-per-click. This is because the process of SEO in digital marketing relies on written content that brings audiences insights and value. In turn, your content marketing builds brand authority and presence over time. Since Google is matching its users to the content that is most likely to answer their question, how to start SEO is as simple as understanding what your customers are searching for, then creating content to answer.
But when Google uses over 200 factors to evaluate and rank a website, you might be asking what SEO fundamentals should be prioritized to make a web page rank higher? It's not always 100% clear, but there are some known SEO best practices that marketers and writers can rely on. Here are six insights about SEO content writing for beginners.
How do you write good SEO content?
Writing good SEO content starts with a quality keyword finder. Some SEO tools can analyze your existing website to let you know what you currently rank for and how you stack up against competitors. The best SEO keywords tools use consumer insights to put you in the shoes of your audience. 15% of the searches entered into Google every day are brand-new, so it's not just about ranking for existing keywords you know, but also identifying the ones you don't
Ready to create content but not sure where to start? We can help. DemandJump's automated data-driven content outlines are certain to get your content to rank. Get 4 FREE outlines on any topic or question important to you.

How do you write unique content for SEO?
SEO principles today mean you must stay focused on your audience. What questions are they asking, and what are the answers you should provide from a brand perspective?
If your first thought is that you will have to write a lot to tell them what they need to know, that's a good thing. The average top-ranking organic article on Google contains over 2,000 words.
Long content not only gives your audience the full answers they are looking for, but also allows you as the SEO content writer more time to establish your message. Use current data and anecdotes to display the support for your perspective. Take your time and make the effort to explain the answer to your reader online as carefully as you might in person.
How do you do SEO for a website?
One of the most fundamental SEO writing tips is to avoid "keyword stuffing," or just adding in keywords willy-nilly to make your site rank. Google and other popular search engines like Bing, Baidu, and Yahoo have all gotten wise to this tactic.
So how do you write an article for keywords?
Start with the list you created as part of your keyword strategy. Then, take a step back and consider which keywords are connected to each other. Which ones make sense to group together in a story? Getting visual with a whiteboard, word map, or other kind of outline might be helpful as you explore what topics your keywords naturally point to.
How do I make a website SEO friendly?
36% of SEO experts agree the title of your webpage is the most important element for SEO, with 25% believing headers and body copy are most important. Another important element is the URL of the webpage. The closer the keyword is to the front of the URL, the better the page might rank for that keyword (remember, Google examines over 200 variables!) However, short of changing your entire website every time you want to change keyword strategies, you can update the tail end of the URL to keep the page competitive while also preserving continuity of your established website and its domain authority.
Ultimately, it's important to create a rich list that contains both short and long-tail keywords. Short-tail keywords are one or two-word phrases that are likely to get a lot of traffic, but also lead to high "bounce rate," or people visiting your site and leaving quickly. Long-tail keywords are 3 words or longer, and they are usually more indicative of what information, products, or services people are searching for. Use both in your titles, headers, and body copy to increase SEO ranking over time.
Process of SEO in Content Marketing
SEO help doesn't just include writing content, but also the process of internal and external linking. This leverages your great content to help it rank on search engines.
Make sure you're backlinking to your own content to increase authority of those pages and keep potential customers on your website exploring your content. This means, if you've written or done video on a topic before, find a way to link to that older content in your new pieces. Every backlinked page gets more traffic, leading it to be perceived by search engines as better content that should be ranked higher.
This effect is compounded when an outside company links to your site. Your own linking will only capture the attention of people already on your site. But if a third party uses and links to your content, now you have a new source of traffic. This is another reason it's essential to write content your audiences will value.
SEO 101 For Images
One of the easiest SEO content writing rules isn't about writing at all: use images! Picking a relevant image that matches your content doesn't just make an impression on the reader. The file name of the image can improve the SEO ranking of the site or webpage, as can the alt text. Alt text is text that is displayed when the image isn't available for whatever reason, like if someone has images turned off in a browser. Alt text is also read aloud to visually impaired users by special accessibility tools, so it's important that it not only includes the keyword you want to rank for, but that it describes the image well. These are easy back-end ways to increase search authority.
Can I do SEO on my own?
SEO content writing for beginners is a process of choosing keywords, deciding on content topics, creating the content, and reinforcing it with the keywords in URLs, image file names, and alt text. This process might seem too much to handle alone. But it's not if you have the right tools to accurately inform your SEO content strategy. DemandJump uses AI to uncover all the questions consumers are asking, searches they're conducting, and videos and content they're consuming along their path to purchase - for any industry or product. If you'd like to automate your SEO content plan and see a punch list of exactly what you should be writing about to gain organic traffic and market share, sign up for DemandJump's free trial and get 4 free content outlines on any topic important to you.

Get Your Free Content Marketing Strategy Report