Social Media Based Content Marketing: Tips and Tricks to Increase ROI
December 28, 2020 •DJ Team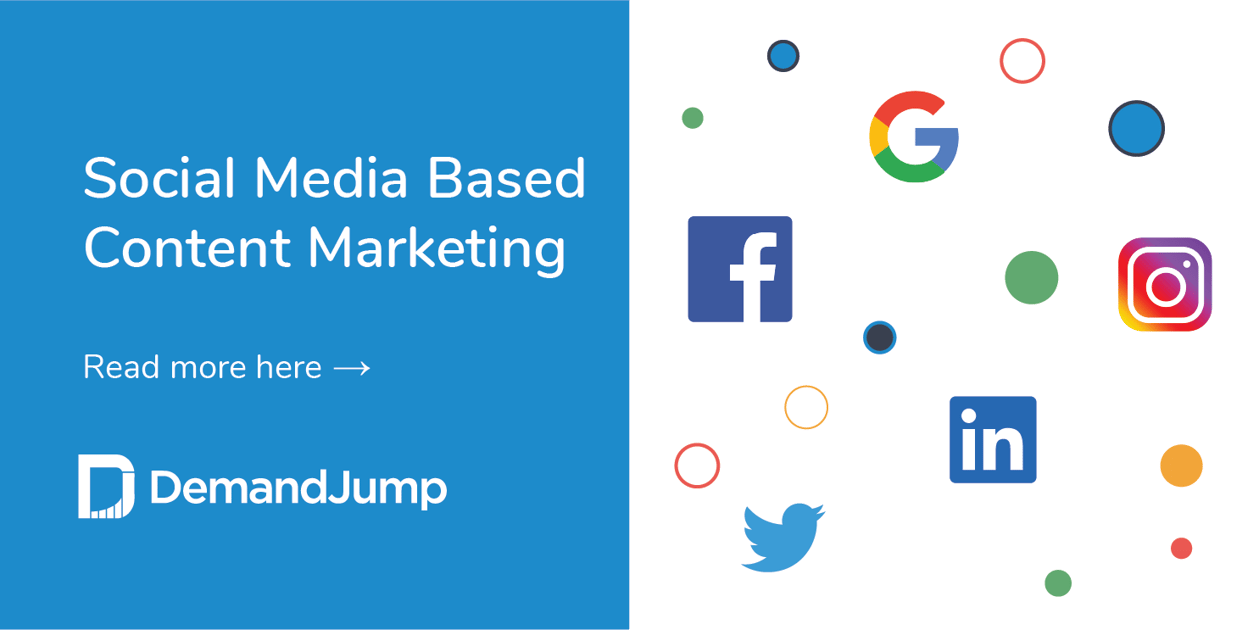 Connecting with new audiences on social media platforms isn't new—but its effectiveness hasn't been blunted over time. Anything but. Social media remains one of the best tools for connection between your business and audiences you never could access with traditional content marketing strategies.
Users on popular or up-and-coming social media platforms are privy to the fact that they're being targeted by businesses based on their interests or demographics—but that doesn't mean they won't engage with any social content or ads.
Content has to carry its weight: audiences value what is useful, engaging, or impactful against the milieu of baseless ads and links. Here are a few content marketing tips for social media to stand out and connect with new audiences.
What does social content mean?
When you use any social media platform to connect with your audience, everything you do on those sites can be considered content marketing media. That includes your interactions with other users or businesses, the posts you like or share, the content you publish, and the targeted ads you manage or allow on your feed.
Unlike your website or blog where you publish content—where you control a user's experience—users are exposed to infinite content on social media, and this dictates new content conventions to adhere to:
Content should be personable.
Relate with the individual.
Branding comes first, sales follow.
Frequent activity is a necessity.
Authenticity is key.
Distinguishing yourself in this universe from others can be difficult, but the good news is that everyone has the same starting point, similar tools to work with—and the space is fairly democratic about what content gets attention.
Creating content for social media
How do you know which social platform(s) will work best with your company's content marketing strategy? Find the answer by knowing your audience. Yes, you want to be able to reach users on every platform available, but be economically strategic about what platform will carry the most weight. A Twitter campaign by a 3PL Logistics provider isn't likely to gain traction, for example. The following social marketing tips will help funnel your messaging.
Determine your target audience (age, demographics, technical savvy, geography, etc.)
Learn how, when, where your audience interacts with ads.
Research your audience's preferred medium, their social media behaviors, involvement.
This will help you not only dictate where you should invest your resources, but will help determine the potential you have with a particular social media marketing strategy: if your target audience doesn't utilize Instagram, why hold court in that space?

What are types of marketing strategies?
The examples we'll provide can be used outside of social media, but in this context we'll talk about how each can be adapted to your social media strategy, specifically.
Interactive
Quizzes, questionnaires, linked videos audiences have to choose from—any content that gets your audience to participate amplifies the connection they form with your brand. Incentivize a poll or share by offering prizes or giveaways relevant to your brand.
Cluster/Pillar Model
Typically used to connect blogs to pillar content to websites, you can use the cluster/pillar model with various fan pages, groups, message boards, and posts to navigate users to a primary piece of content. (A quick social content tip: social media sites will prioritize "native content"—content that doesn't directly link away from their site. So even if you are linking to a pillar blog, include also creating posts with text or graphics that will show up as native content in their algorithms.)
Targeted Social Media Advertising
Use social media ad platforms to specify what ads you want to place for a specific targeted audience. It's remarkable how specific you can get in regards to picking specific audience characteristics, be it their listed interests, audience trends with previous ads, demographics. Here is where you can pay to get your content in front of the right eyes for a surprisingly affordable price.
How to plan content for social media
Social media is effective when you're consistent. As you gain followers, they need to know what to expect in terms of frequency, type of content, and quality. But even more so than just being consistent with posting, another social content marketing tip is to be consistent with interacting on a given platform; give your audience a chance to get to know your brand by responding to a comment or share, or engaging with another company's post.
Create a content calendar with daily, weekly posts. (Variety is key).
Plan for time-specific social posts based on current events.
Use social media ad managers and apps to target specific audiences.
Plan time to engage with users, other businesses, and groups in real-time.
Social Media marketing isn't a haphazard endeavor—it takes research, planning, strategy. And you need the proper tools and people to execute. Explore your resources before you decide on a content strategy.
Automate Your Content Strategy
DemandJump's Insights show you where you are winning and where you are losing out to your competitors around any topic. The platform will point out gaps and opportunities to take traffic share, and with one-click SEO-optimized content outlines, you'll know exactly what to include in social copy.
Save over 50% of your time while creating better content - content that works!
Get Your Free Pillar Strategy Report