The 21 Best Free Keyword Research Tools
September 22, 2021 •DJ Team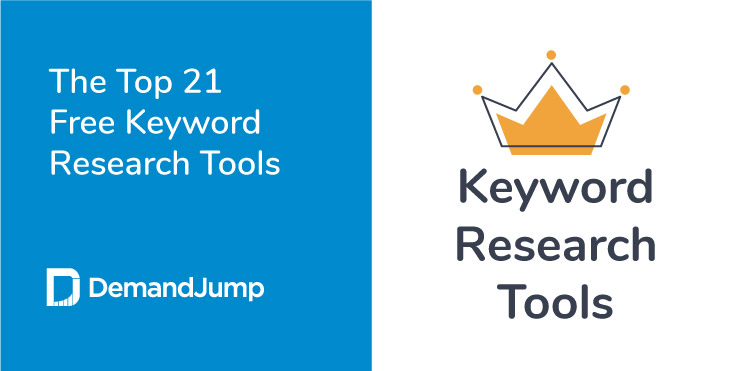 Stuck? Don't know where to start with your SEO keyword research? You're in luck.
In this blog, we're looking at 21 of the best free keyword research tools available, so you can decide for yourself which is going to be the best free keyword research tool for your specific needs.
Google Keyword Research Tools
1: Google Trends
Google Trends is one of the most powerful free keyword research tools there is. With Google Trends, you can see individual keywords' relative popularity in addition to regional or seasonal variations. This way, you can create content for topics that are trending now.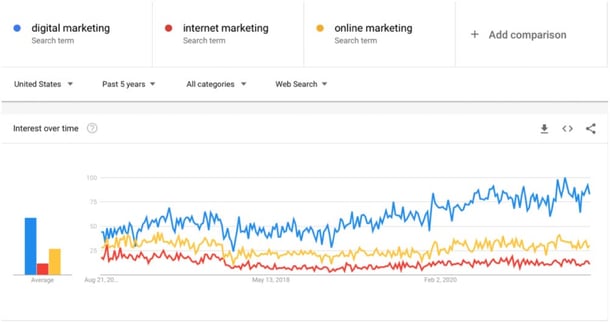 If you're wondering, "How do I search for keywords on Google?", It's exceptionally simple to get started; just enter a search term or topic. From there, you'll see a few things:
A graph showing interest in the term or topic over time
A map showing interest by subregion, which you can fine-tune to display results mapped by either subregion, metropolitan areas, or specific cities)
A list of related topics, sortable by "Rising" (e.g., +160%) or "Top" (0-100 ranking)
A list of related queries, similarly sortable by Rising or Top
These features empower content creators to plan an effective content calendar and strategy, giving searchers the answers they're looking for—when they're looking for them.
2: Google (Pt. 2)
Google Trends isn't the only way to harness the power of Google for your keyword strategy. Here are a few other ways to use Google services for keyword research:
1. Autocomplete. Have you ever noticed Google trying to predict what you're typing into the search bar? When you type part of a keyword phrase or question into the search engine, take note of the auto-complete suggestions. Those aren't random—they represent the common things people are looking for. Experiment with different starter phrases to generate a solid list of questions to start answering.
2. People also ask. If you're wondering what questions people are bringing to Google, you really don't have to overthink it—just go to Google and experiment with some search terms.
When you search for a keyword or question, Google will often display some "People also ask" questions. As you start clicking on and reading some answers, the list of questions will populate with even more suggestions.
Here, not only is it helpful to see the questions (and related questions) people are asking, but you can also take note of whose content Google uses to answer the questions. Are your competitors covering the lion's share? Where can you focus your efforts to rank?
3. Keyword Planner. If you have a Google Ads account (with or without an active campaign), you can use Google's Keyword Planner to search for keywords and view their average monthly search volumes.
The Google Keyword Planner helps uncover keywords you may not have otherwise thought of, refine your keyword ideas list, and forecast performance.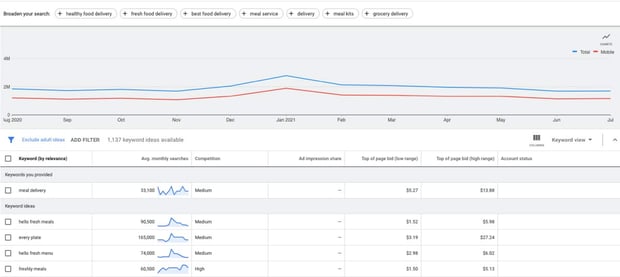 Without a Google Ads account, you can still search for keywords and view average monthly search volume, but the estimated volumes are broader than what Ads users are able to see.
Understandably, Google's Keyword Planner is biased toward pay-per-click (PPC) advertising, but can still serve as a great starting point for generating ideas.
4. Search Console. Google's Search Console provides data you can use to understand how Google sees and understands your pages, improve how your content ranks in searches, create better content backed by search analytics, and more.
Search Console offers valuable behind-the-scenes type analysis of content, so you can take the guesswork out of reaching your audience.
Free Versions of Paid Platforms
Many of the most popular paid keyword research tools have free versions (or freemium versions) that can provide solid jumping-off points for keyword research:
3. DemandJump SEO Strategy Tools
When doing SEO research, you need a tool that can take you from research to results. DemandJump has automated the keyword research process, providing a prioritized list of the exact content to create around any topic and the keywords to include.
With one-click SEO content briefs for new content, recommendations for updating current content, and linking content to revenue generated with marketing attribution you are sure to see results.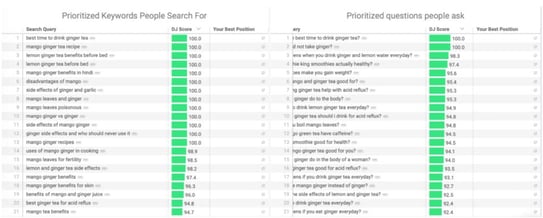 DemandJump makes it easy to identify competitive gaps, by showing you side-by-side how you stack up against competitors for any topic.
For the more advanced marketer, pillar page strategy is key - and DemandJump has automated it by providing you with a pillar page tree for any key topic you type in. A pillar page outlined in minutes, not days.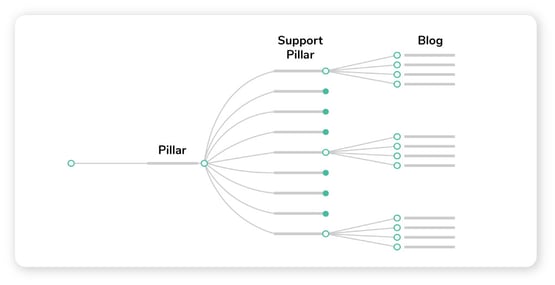 Bonus: DemandJump's Trends Tool shows your hard work is paying off in more rankings, traffic, and revenue by week. A great way to prove to the higher-ups that content is worth the investment.
4. Ahrefs Free SEO Tools
Ahrefs offers a number of different SEO tools to improve search performance and drive organic traffic to your content. Their suite of free SEO tools include:
Keyword research tools, including Free Keyword Generator and Keyword Difficulty Checker
Link building tools, like Backlink Checker, Broken Link Checker, and Website Authority Checker
Search engine results page (SERP) and ranking insights tools, including SERP Checker and Keyword Rank Checker
Ahrefs has a few different monthly plans you can invest in, from Lite at $99 to Advanced at $399. These paid plans give users additional features and fewer restrictions or limits.
With paid plans, you can get more frequent site audits, extended data retention, an increase in the number of keywords to track (and increased update frequency), and much more.
5. Semrush's Keyword Magic Tool
Semrush's Keyword Magic Tool offers simple keyword research, by taking a search query and returning broad match keywords, phrase match keywords, exact match keywords, related keywords, and questions related to the keyword.
For free users, usage is limited to 10 requests per day (and clicking on any linked reports counts as an additional request). For some users, this number may suffice, but with paid Semrush plans, users can perform anywhere from 3,000 searches (Pro users) to 10,000 searches (Business users).
6. Moz Keyword Explorer
You can sign up for a free account to use Moz's Keyword Explorer tool. Start by entering a search term or website URL to access monthly search volume, organic difficulty, click-through rate, and priority scoring.
Keyword Explorer cultivates a list of keyword suggestions, providing their monthly search volume and relevancy so you can make informed decisions regarding content creation and promotion strategies.
Another useful feature of Keyword Explorer is its SERP analysis, which helps illuminate why certain pages rank where they do within search results, breaking down the specific elements that are driving traffic to those pages.
A free Moz account gets you access to these tools—but limited to 10 searches per month.
The Best Keyword Research Tools for Generating Questions to Answer
7. AnswerThePublic
AnswerThePublic leverages data from Google and other search engines' autocomplete data, giving content marketers valuable insights into what real users are searching for. AnswerThePublic is useful for discovering questions you might not have thought of.
Start with a topic, specify a country and language to search. From there, you can see a visualization of questions people are searching for.
Or, you can click on the "Data" tab to see questions grouped by the initial words of the query (for example, you can see a list of "What…" questions, "How…" questions, and so on).
AnswerThePublic also creates question lists based on prepositional phrases searchers attach to the identified topic—for example, for the topic of "effective backlinking," you might see suggestions like "effective backlinking for SEO" or "effective backlinking for my website.
One downside to AnswerThePublic: it doesn't take long to exhaust the maximum number of free searches you can perform per day. They offer monthly plans, annual plans, and an "Expert" plan to meet various user needs.
8. QuestionDB
QuestionDB takes a unique approach to keyword research, focusing on Reddit searches. When you enter a board keyword into QuestionDB's search bar and click the "Generate" button, it returns lists of relevant topics and questions—specifically reflecting Reddit activity only. You can click on the source link for any specific item, then, and be taken directly to the relevant thread on Reddit.
The Best Keyword Research Tools for Generating a Keyword List
9. Bulk Keyword Generator
Bulk Keyword Generator is a local SEO keyword research tool that generates industry-specific keyword suggestions. Users first set a business type from a drop-down (Electrical, for example), and then select one or more options from the resulting products and services list (like Residential Electrician).
From there, you can enter one or more locations before generating location-specific keywords (like residential electrical services Indianapolis).
10. Keyword Sheeter
Keyword Sheeter's Free Keyword Tool produces keyword-specific reporting based on Google autocomplete suggestions. Their free tool can help generate content ideas and article subtopics.
Starting with one or more keywords, this tool enables you to add negative or positive keyword filters before hitting the "Start Job" button to generate a list of related topics you can turn into content.
You can also view a Keyword Table that assigns a "term explorer difficulty score," and clicking on a particular keyword's score takes you to a detailed table that includes data about domain backlinks, keywords used in titles, or headers, and more.
11. Keyword Surfer
Keyword Surfer is a free Chrome extension that shows estimated global and monthly search volumes for any query typed into Google, providing local search volume estimates for 19 different countries.
Keyword Surfer intends to serve as an all-in-one keyword research and content creation tool, from translating basic search data into a keyword list to suggesting content guidelines.
12. Keyword Tool Dominator
Keyword Tool Dominator enables users to view and compare keyword data from multiple large platforms, offering specific, free keyword tools for Amazon, Bing, eBay, Etsy, Google, Google Shopping, Walmart, and YouTube.
Free users are limited to just three total searches per day, across each of the keyword tools, but can still be a good starting point for brainstorming topics and strategies to compete in keyword search rankings.
This tool's pricing model is different from a lot of their competitors in that you purchase their tools individually and pay for lifetime access—price points range from $49.99 to $74.99. There are also a few bundles available, for example, an "E-Commerce Bundle" that includes the Amazon, eBay, Etsy, Google Shopping, and Walmart keyword tools for $139.99.
13. Keyworddit
Keyworddit is a simple keyword research tool that analyzes Reddit searches and comment threads to generate a unique keyword list. Using this tool is as easy as typing the name of a particular subreddit into the search bar and clicking the "Get Keywords" button.
Keyworddit will return a results list of keywords, with each keyword's monthly search volume. Clicking on the "Context" link next to any single keyword takes you to a Google search results page showing the different topics and comment threads that use the keyword.
14. Soovle
Soovle offers a simple interface designed to give users an easy, all-in-one screen for discovering search terms across Wikipedia, Google, Amazon, Answers.com, YouTube, Bing, Buy.com, Yahoo, and eBay.
Clicking on an individual result will open the relevant search (for example, clicking one of the Google results will open that Google search), so you can view the results in order to identify places where you can tailor content to specific search behavior.
Soovle offers simple functionality without additional bells and whistles or premium/paid offerings, making it useful in the initial stages of keyword research.
The Best Keyword Research Tools for Understanding the Competition
15. KWFinder
KWFinder provides an easy way to identify long-tail keywords— specifically, those with low SEO difficulty and high search volume—that will drive traffic to your site. You can also enter competitors' domains, and KWFinder will give insight into what they're ranking for, so you can plan your strategy accordingly.
Local keyword research and SERP analysis are also supported by KWFinder.
The free version of KWFinder limits the number of keywords you can look up per day. Basic plans for KWFinder start at $29.90/month, and they offer 10-day free trials.
16. Side-by-Side SEO Comparison
The Side-by-Side SEO Comparison Tool offered by Internet Marketing Ninjas, gathers data from other websites' web content and keyword strategies, allowing users to compare different sites' strategies when developing their own.
This tool's on-page analysis capability pulls back the curtain on how other sites are ranking highly using the keywords you're trying to use.
17. SpyFu
SpyFu offers SEO and pay-per-click (PPC) data for competitive analysis. Search for a specific domain, and SpyFu will get to work, surfacing the various places they appear within Google—including purchased Google Ads keywords, organic ranking data, and every ad variation they've run.
Once you see competitors' PPC and/or SEO keywords, you can monitor their activity, identify keywords they're using that you're not, and more.
SpyFu's free version allows unlimited searches, but limited data. Paid plans start with a Basic plan for $33/month that allows for up to 5,000 tracked keywords.
18. Ubersuggest
Ubersuggest offers several different keyword research tools, including a Keyword Analyzer, Competitive Analysis, and SEO Explorer.
When you search a specific term, Ubersuggest's Keyword Analyzer tool will surface the search volume, SEO difficulty, and cost per click. Digging deeper, you can generate a list of keywords to turn into content.
Ubersuggest's Keyword Analyzer also lists specific content ideas—by listing (and linking to) the webpages that are generating traffic based on the keyword. With a 7-day free trial or paid plan, you can access additional features like search volume graphed over time.
Paid plans for the full set of Ubersuggest features start at $29/month for an individual user, and they offer 7-day trials.
19. Wordtracker, Wordtracker Scout
Wordtracker's keyword tool lets free users run some searches to not only see suggested keywords and their search volume, but also PPC and SEO insights that pull from Google data as well as Wordtracker's own proprietary search technology.
Wordtracker Scout is a free-to-download Chrome browser extension that uncovers keyword ideas based on webpage content. Scout helps you analyze the competition, understand keyword performance metrics, match keyword data with on-page elements, and more.
BONUS: Keyword Research Tools You May Not Think to Use
20. Amazon Autocomplete
One easy way to perform basic keyword research through Amazon is to type different keywords into the search bar and see what the autocomplete suggestions are.
Think of Amazon as being like a search engine for purchases. Product sellers on Amazon have the opportunity to set keywords—referred to as "hidden keywords," since searchers don't see them at any point.
These keywords, set in the backend of the seller account, operate like long-tail keywords and guide searchers toward relevant, best-selling products. It helps to think of these "hidden keywords" as being similar to alt text you might assign to an image in a blog post.
21. YouTube
While YouTube isn't usually thought of as a keyword research tool, it does rank as the second-most popular social media platform. So it's worth seeing what people are looking for when they go to the site, which basically operates as a search engine for videos.
Wondering, "How do I find the best keywords for YouTube?" There are a few different ways to perform keyword research within their platform:
One way to generate a YouTube channel keywords list is by running basic searches and noting the autocomplete suggestions. These are the topics people are searching YouTube for.
As a form of competitive research, you can begin by looking at competitors' channels, taking note of the keywords and topics that are getting them traffic. Just go to their channel and sort videos by "most popular."
YouTube, like Google and virtually every search engine, uses an algorithm to generate (and rank) search results. Videos are assigned tags, which essentially function as long-tail keywords. Unfortunately, YouTube does not make it clear what tags are attached to a video, but there are additional tools that can analyze videos to uncover the tags that are driving traffic. These tools—

vidIQ

is one example—tend to have limited free versions with options for paid features.
Turn Your Keyword Research Into Content With Demandjump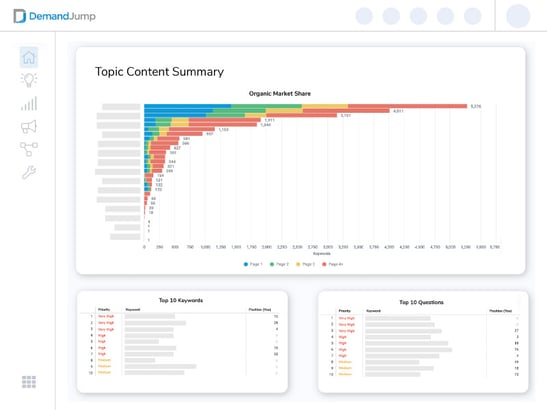 Hopefully, the suggestions we've listed give you a good idea of what types of tools are available to help you create content that ranks. Whether you're looking for a general keyword generator, advanced competitive insights, or aren't quite sure what you're looking for or where to start, you can piece together an SEO strategy by using different aspects of these free tools.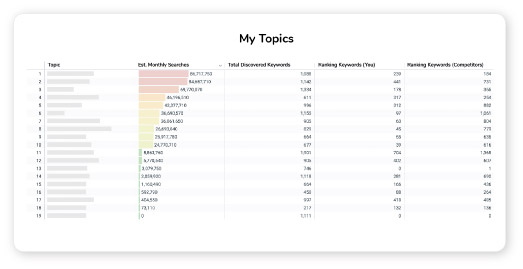 When doing SEO research, you need a tool that can take you from research to results. DemandJump automates the keyword research process.
With one-click SEO content briefs for new content, recommendations for updating current content, and linking content to revenue generated with marketing attribution you are sure to see results.
Work smarter with automation tools designed to make content marketers look like rockstars.
Write content that ranks fast, and save time doing it - get started today!
Get Your Free Content Marketing Strategy Report