Successful Growth Marketing: The 5 Keys
June 7, 2016 •Julie Lyle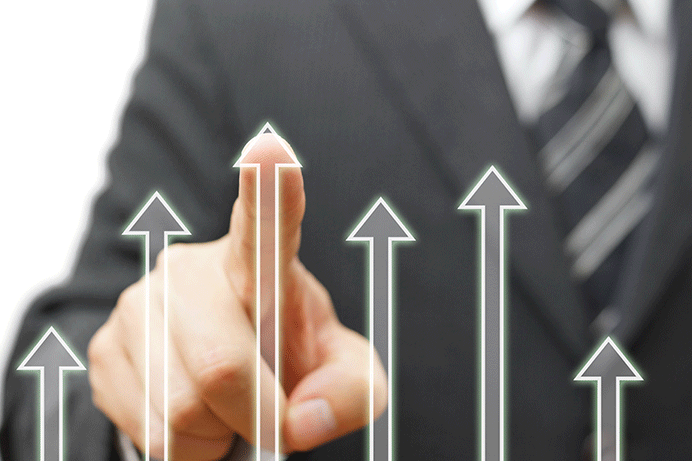 As many businesses are adopting growth marketing as a strategy, it's important to define what it takes to be successful with this approach. While there is no perfect recipe for success, there are a series of guiding principles that every growth marketer should strongly consider.
These ideas don't apply to just one company, or one industry. They apply across the board, and are relevant for a variety of operating models and business needs.
Growth marketing is fast becoming the new normal. Businesses are waking up and smelling the roses. Rather than simply trying to "hack growth" (which is rarely sustainable), marketers are placing their emphasis on proven, scalable, repeatable and sustainable ways of growing revenue. The Growth Marketing way.
Here's how:
1) Tie Growth Marketing to Revenue Generation
Growth can be defined in many different ways. Some companies want more users, some want to close more deals, while others want to increase visits or customer retention. The common denominator, however, is revenue. To growth marketers, growing revenue is the single most important metric to gauge performance.
The best growth marketing teams are able to track campaigns and isolate the sources that are generating the most dollars. Ideally a marketer should be able to do this using full-funnel attribution, however this level of detail isn't always possible due to limited or imperfect data, and a lack of adequate marketing resources.
As such, growth marketers create a better understanding of revenue attribution by focusing on lower-funnel metrics. Instead of optimizing campaigns to track and deliver general site traffic or unqualified leads, growth marketers build strategies around KPIs like closed deals, UPTs and customer lifetime value.
2) Be Agile
Agility is a core characteristic of successful growth marketing. It's a full-time commitment, which creates velocity, productivity, and helps to scale production. In any growth-focused organization, agility goes beyond just marketing. It applies to absolutely everything.
There isn't a standardized practice for what constitutes "agility". For example, an agile software company would probably look very different than an agile manufacturing company.
But there are certain things marketers can do to put themselves in an agile position, such as concisely articulating success criteria, closely monitoring progress, utilizing data, and making sure all teams are aligned and aware of wins and challenges along the way. Work to streamline approval processes and encourage open communication across business units, teams, and managers.
Most importantly, focus on being proactive rather than on being reactive. Seek out your next move long before it needs to be made. At a recent GRMA function, I was speaking with a wise colleague, Colin Faulkner, Chief Marketing Officer of the Chicago Cubs. He told me:
The wise captain focuses on getting his rowers all working together in unison, so that they leverage each others' effort to achieve maximum speed and distance in turbulent waters. But s/he must also ensure that all the sails are ready, so that when the wind comes, they are prepared to harness it and can accelerate into open water.
Agile marketers are more equipped to seize opportunities and scale production. It is an important step towards becoming a successful growth marketer.
3) Fail Quickly and Iterate
Growth marketers recognize failed or stagnant initiatives quickly, and they iterate to capitalize on new opportunities as soon as they arise. One of the worst things any marketer can do is fail to identify which campaigns are, or are not, meeting lower-funnel goals. Experimentation is important, but marketers need to conscientiously monitor activities and know whether or not those experiments are working.
As soon as you have proven that a certain strategy isn't meeting expectations, cut it and move on to something else.
Unlike growth hacking, successful growth marketing isn't usually one home run and done. It's an iterative process, where multiple adjustments and calibrations culminate into a series of successes.
John Doherty, growth marketer and founder of Credo, points out that the key to growing a young business is to keep trying new tactics. Building a business is all about learning what works and what doesn't work. Doherty writes in a blog post:
This thing could go either way. Either I'll be sitting on a much more valuable company that continues to grow the businesses of those listed or I'll have to change the model again to see if something works better. I know that either way I'll have to keep iterating and building and moving as the market needs it.
Doherty recognizes that the key to growth is being willing to fail, and being able to agilely adapt after failure is recognized.
Iteration shouldn't always be triggered by failure, either. Don't become complacent simply because something is working. We live in a world where things are changing constantly. Market conditions, competitive conditions, and emerging technologies should be monitored and analyzed at all times.
Don't fall in love with your present ways so much that you miss the next big thing.
The trick is to always monitor and to always learn. Growth marketers set goals for every project to help determine what success and failure really means, and they aren't afraid to cut their losses when the time comes.
4) Optimize the Entire Sales Cycle for Growth
While lower-funnel metrics should be the guiding factors in any successful growth marketing strategy, the best growth marketers are focused on optimizing the entire sales cycle. After all, most customers don't magically appear at the bottom of the funnel, and each stage is connected in its own unique way.
First, optimize the marketing and sales processes. These processes are what fuel business growth. Effective implementation of this approach requires a different way of thinking. End-to-end process optimization will have a transformative effect on marketing and sales operations. Instead of a diverse, almost abstract relationship, the two functions need to work together as a cohesive business development pipeline. The more closely aligned the sales and marketing teams are, the greater velocity the business can achieve.
Second, define the stages of your pipeline and set the rules required to advance from one stage to the next. Your pipeline should give your entire team, sales, marketing, account service and operations a simple understanding of the entire process.
Finally, define tracking, forecasting, and reporting goals. Enable management to better track opportunities, forecast revenue, and report results in real time. Growth marketing forecasts are typically much more reliable because they are data driven and developed following disciplined processes.
5) Ensure Growth with Scalability
This is the point where growth really comes to fruition. Each step until now is preparation for scaling up. Systematically and predictably scaling revenue is the staple of a true and successful growth marketer.
Put in the time up front to discover as much as possible from data and attribution. Hone in on what your marketing dollars are actually doing. Trim the fat, focus on what is really driving your bottom line, and scale, scale, scale.
Conclusion
Growth marketing is the future of business today. It's the combination of growth hacking and traditional marketing, where we use data and agility to drive revenue. There is no excuse for complacency. It is up to marketers to understand what is working and what is not.
Campaigns make up a large portion of marketing budgets and have significant impact on the P&L. They can be cumbersome and it can be hard to attribute sources of revenue. Designing strategies around lower funnel metrics, and monitoring results in real-time will help marketers understand the effectiveness of campaigns at a microscopic level.
Leverage analytics, sales cycle optimization, and agility to promote business development.
And above all else, focus on revenue. When it comes to growth, revenue is the metric to rule all metrics. More and more marketers are being held accountable for revenue. Use it to your advantage. Own revenue as your true north and feel the power of growth marketing.
Get Your Free Pillar Strategy Preview!