The Best Keywords for SEO: How To Find The Right Words
September 8, 2021 •DJ Team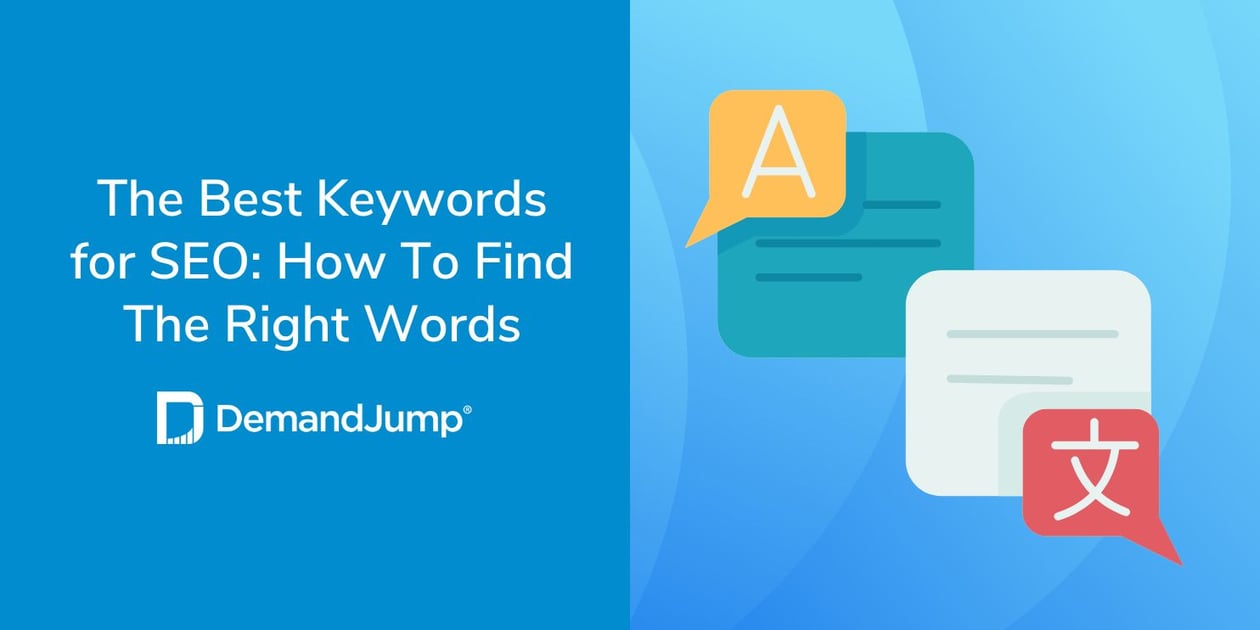 When you know what people are searching for, the ball's in your court. You can create content specifically to satisfy what your target audience is looking for.
The right keywords are like short-hand, telling crawlers (search engine bots that "crawl" and index a page's content in order to assess its value) that there is useful content on your site.
In this blog, we'll answer the most pressing questions about SEO keyword research:
How do I find SEO keywords?
How do I use keywords in content writing?
Search engines are powerful tools. They work by reading not only the literal text on the page, but by trying to understand everything else about the page, to help assess what content is relevant, and what content isn't.
The good news is that an SEO keyword research tool like DemandJump can walk you through the steps needed to create a competitive SEO strategy.
Understanding the different types of SEO is key to building an effective plan for generating traffic from SEO.
What Are The 3 Types of SEO?
The three distinct types of SEO are on-page SEO, off-page SEO, and technical SEO.
On-page SEO is pretty obvious, as it refers to anything that appears to site visitors. It covers things like blog titles, headers, content, whitepapers, landing pages, and so on.
Off-page and technical SEO cover what on-page SEO does not. This is where an understanding of how search engines (like Google) work provides a competitive advantage.
If your site content has off-page SEO issues with broken links, inefficient site architecture, or poor site navigation, search engines will de-prioritize your site as a source of credible information. Technical SEO is more analytical, assessing things like site-loading speed, in order to prioritize more easily accessible and understandable content among search results.
The combination of on-page, off-page, and technical SEO know-how will help with creating content that ranks. In fact, the top 10 Google SEO ranking factors for 2021 cover all three SEO types.
On-page SEO factors account for the #1 (high-quality relevant content) and #6 (optimized images) positions. Off-page SEO factors take the 2nd (solid keyword strategy), 4th (high-quality backlinks), and 9th spots (domain authority).
This highlights the importance of a comprehensive SEO understanding when creating content. Now, let's talk about how to find the best keywords to use in your content.
How Do I Find SEO Keywords?
Effective keyword research can have a huge impact on the traffic to your website.
Companies like DemandJump offer unique SEO keyword generator tools to reduce guesswork in favor of data-backed planning. These sophisticated platforms offer insight into not only what people are searching for, but how they are landing on those searches.
You can then start to understand the competitive landscape: how your competitors are ranking for specific keywords and questions. This helps you identify the highest-value keywords to build your content around and take traffic share from the competition.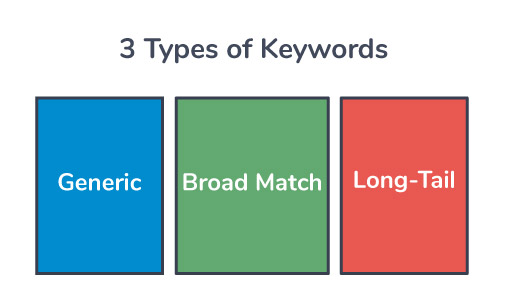 For a comprehensive keyword strategy, you'll want to generate a list containing each of the 3 types of keywords: generic, broad match, and long tail.
1. Generic or Short-Tail
Generic keywords, also known as short-tail keywords, are unspecific terms that people commonly search for, like "running shoes." Competing for generic keywords can be difficult due to how common they are, but if you can outrank competitors for these, it offers substantial advantages.
2. Broad Match
Broad match keywords are considered the core of SEO. This type of keyword offers good traffic with less competition. Examples of broad match keywords could include "Mizuno running shoes," "cushioned running shoes," or "racing flats."
3. Long-Tail
Long-tail keywords are the types of sentences or questions that someone might type into Google. Long-tail keyword examples include where can I buy running shoes near me? or what running shoes are right for me?
DemandJump makes keyword research easy.
You can begin by broadly searching for industry or company-relevant keywords. You can enter any term or phrase, and DemandJump will provide you with an Insights Summary, which will help you better understand:
How big the "space" around the keyword is (how many questions are people asking, and what sites are they visiting for answers)
The top 20 questions people ask, each of which is assigned a 1-100 "DJ Score" indicative of the power of a particular phrase or question within the network, driven by its Connectivity within the network and its Page Rank (Relevancy)
The top 20 keywords people search for, which are similarly assigned a 1-100 DJ Score
Within the questions and keywords lists, DemandJump will also surface insights regarding your best position (if applicable) and your competitors' best position (if applicable), so you can further refine your strategy.
How Do I Choose Keywords for SEO?
Once you have picked out a diverse set of high-value keywords, it's time to turn that SEO keywords list into actual content. You know what people are searching for, and even how they're forming their searches. Now, you simply have to make sure you offer content that does, in fact, address their question.
DemandJump helps turn keyword research into compelling content.
DemandJump, more than just a keyword generator tool, helps you think through how to use keywords in content writing. You can click on any of the top questions or top keywords people are searching, and DemandJump will provide you with a content brief of keywords to include and recommend H1s and H2s.
From there, you can adjust a slider to specify the length of the content you want to create in order to see a shorter or longer SEO content brief. Then, once you have a keyword-focused outline, it's time to write.
Automate Your Keyword Research With DemandJump
When doing SEO research, you need a tool that can take you from research to results. DemandJump automates the keyword research process.
With one-click SEO content briefs for new content, recommendations for updating current content, and linking content to revenue generated with marketing attribution you are sure to see results.
Work smarter with automation tools designed to make content marketers look like rockstars.
Write content that ranks fast, and save time doing it - get started today!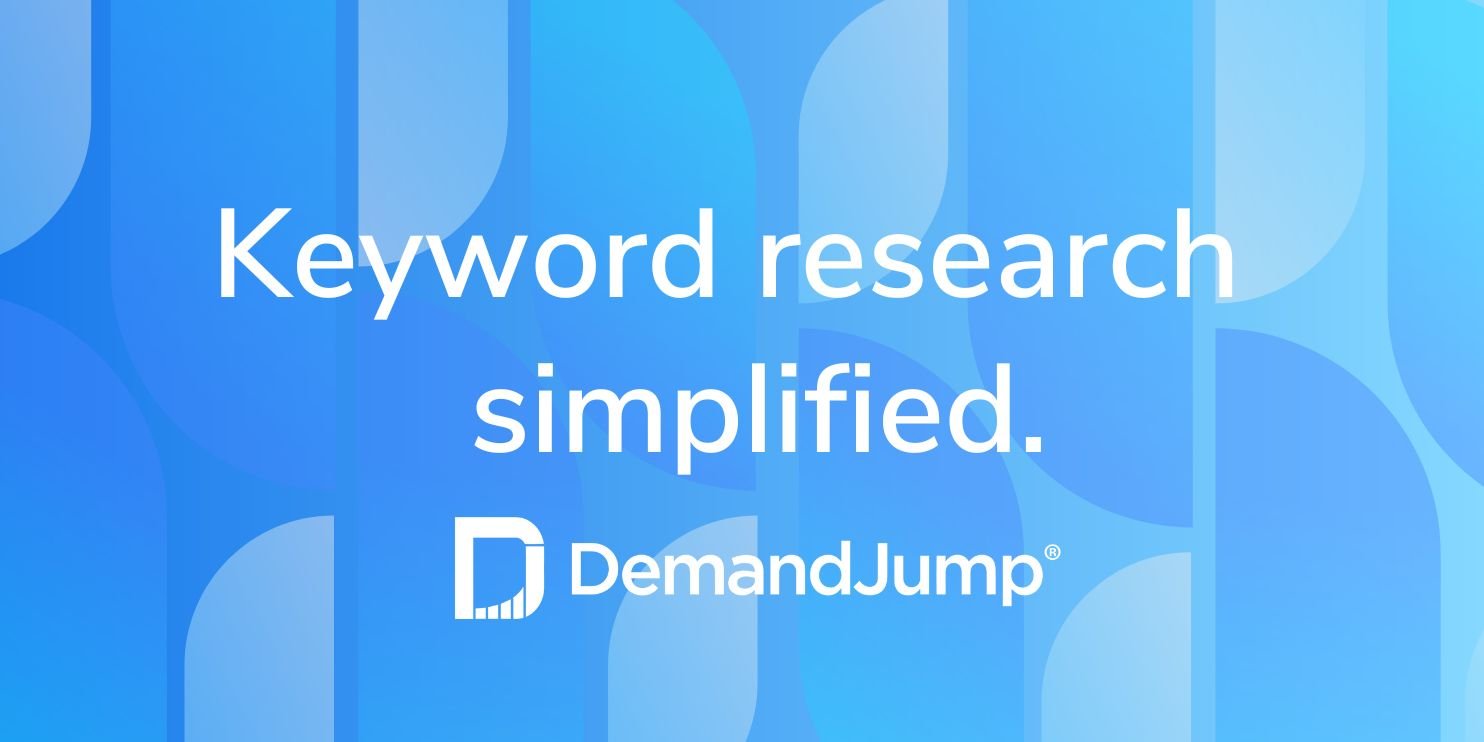 Get Your Free Content Marketing Strategy Report