The Best Writers Share These 5 Content Writer Skills
January 3, 2022 •DJ Team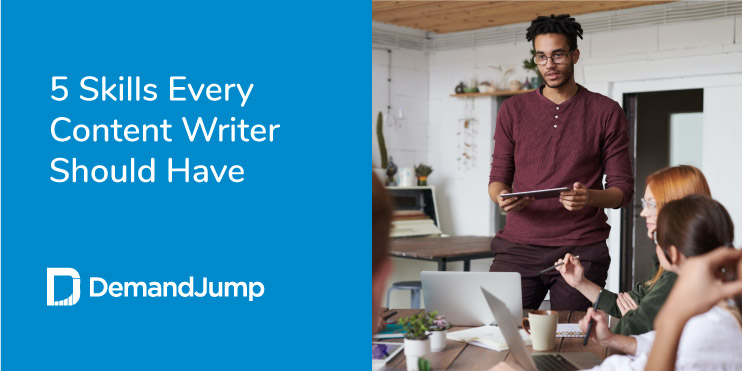 Wondering if you have the skills it takes to get into content writing? Good news: you don't need an MFA to learn how to be a good content writer.
One great aspect of content writing as a career path or side gig is that you don't need a specialized degree or even direct work experience in content marketing to create great website content. While advanced writing education is helpful, subject matter expertise in the area you want to write about can be just as valuable.
We've outlined the top content writing skills below to help you build out a copywriting resume and portfolio. You may identify skills you already have but have overlooked, or find gaps where you need to improve.
Types of Content Writing
What is content writing? Content writing is the process of writing marketing resources. Nearly 87% of marketers reported having a content marketing strategy. Common types of content writing include blogs, email campaigns, landing pages, e-books, white papers, or social media content.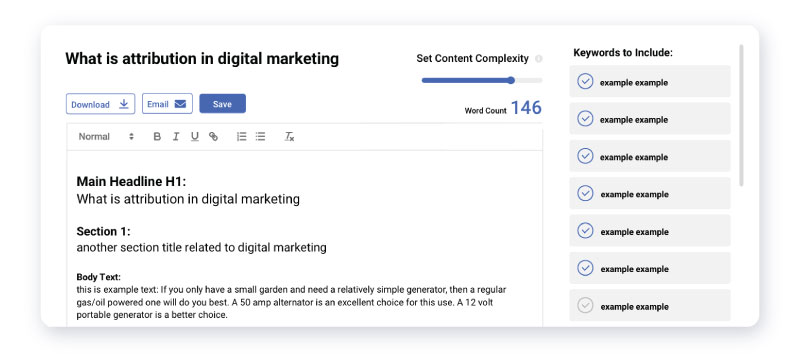 (DemandJump's one-click SEO content briefs make content creation easier than ever before.)
Content writing is distinct from advertising copywriting because its main goal is to offer user value above branding or a sales pitch.
What Makes You a Good Content Writer?
The obvious elements that make someone a good content writer are the technical skills like grammar and storytelling. However, content writers also need a basic understanding of web writing and SEO. There are also soft skills that are rooted in the team aspect of editing and re-writing pieces. Understanding how to take feedback in a positive way will always end up with your writing improving. So, what is content in writing skills?

Grammar and Syntax
Grammar is critical for a writer to master. Good grammar and syntax bring clarity and professionalism to any piece of content. If your target audience has to constantly re-read section because you're using improper grammar, then they will simply move on to another company's content.
Storytelling Techniques
Good storytelling can make even the driest of subjects captivating to read. Two components of this are imagery and pacing.
Imagery is the process of painting a picture in your reader's mind with words. In classic writing advice, you should show, not tell. What does this mean? Here's a comparison:
Show: The client paced back and forth, his eyes blazing.
Tell: The client was upset in the meeting.
Can you guess which of these is more effective and memorable?
Pacing is also important; good writers know how to use line breaks and varying sentence lengths to speed their readers up or slow them down. This gives your writing a flow and creates emphasis on certain lines of text.
SEO
Search Engine Optimization, or SEO, is the process of creating web content for visibility on search engines. While content writers don't need to be SEO experts, they do need to understand the basics of keyword research and choosing proper headers.
Tools like Demand Jump's content marketing platform are designed to help content writers by automating the SEO and keyword research for them.
Research
Writers need to be able to identify credible sources to cite in their content. There are times when you will need to write about topics that you do not have an extensive knowledge in. Some sources may be reliable but can turn out to have just pulled their information from a sketchy source. You also need to be able to cite research and images without violating plagiarism and copywriting laws.
Interviewing
Interviewing is also an important skill to have. When interviewing over the phone or in person, you need to be able to write good questions, put the interviewee at ease, and steer a conversation to get to the information and quote that you need.
What Degree Does a Content Writer Need?
None! A degree in creative or technical writing can give a strong foundation to the skills needed for this career, but they are by no means necessary for attaining a great position.
Oftentimes, a quality portfolio of previously written work can take the place of a traditional education. If you don't have any previous experience to make a portfolio out of, you can create one with fake samples. Choose companies you like the branding or voice of, and write something for them as if you were commissioned to do so. There are so many ways to become a content writer that you should not be hung up on getting a degree.
Content Writing Tips
Know Your Voice and Tone
Whether you are writing under your own byline, ghostwriting for someone else, or writing in a brand voice, it's important to know the voice and tone you are emulating.
This will help you know whether your writing style should be formal, humorous, warm, etc. A consistent voice and tone in your writing will help build loyalty and engagement with your readers.
Create an Outline
Especially for longer content pieces, an outline can give you guardrails to help you write with a good structure. Creating an outline before you start, and even having it pre-approved by your editor or client, will save you a lot of time and work later on.
Start by writing out your main ideas and keywords, then rearrange them into a flow that makes sense. Don't worry; if something isn't working, or if you're not sure of your subhead titles yet, you can always change them later on.
DemandJump Has the Tools You Need
Since most content writing is designed to be crawled by search engines, it helps to have marketing insights into what will rank well. A good content writing tool will help you build a list of keywords by popularity and competitiveness for your industry. It will also suggest topics based on your audience and competitor domains.
DemandJump's content marketing and customer intelligence platform helps you know exactly what keywords to target and what content to produce with a one-click content outline to save time. Get started for free today!
Get Your Free Content Marketing Strategy Report