The Importance of Content in Digital Marketing
December 10, 2020 •DJ Team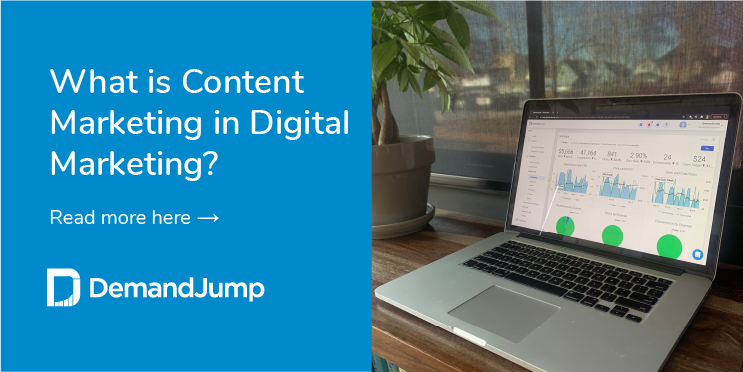 Digital marketing now encompasses so much of how a business connects with current and potential consumers. And the reason for this is simple: more people are, in some way, connected to the internet at an ever-increasing rate. Businesses have to develop strategies across all online platforms to win the online attention of a progressively savvy online community.
Multiple marketing efforts work in tandem to create effective digital marketing; for example, no one email campaign will lead to great, across-the-board marketing success. The pieces have to connect. So, specifically, how do we arrive at a content marketing definition in the greater scheme of a connected digital marketing campaign? Let's start with understanding digital content's purpose.
What does Digital Content mean?
Consumers consistently look to online sources as a way to learn more about brands and products that interest them. But where audiences connect varies: email, social media, websites, blogs, and other digital channels can reach your brand's ideal customers at different stages of their buyer's journey. Digital content involves creating a strategy over multiple platforms that connects the audience to relevant content, where hopefully you'll generate whatever it is your brand wants—typically increased sales. Perhaps it's a tweet that leads a consumer to a podcast, or a blog post that drives traffic to a lead generation whitepaper, whatever—as long as you're engaging your audience.
SEO, Sponsored Content, Social Media Marketing, Email Marketing—Digital Content runs the gamut of ways to connect with consumers. Content marketers know how their work connects with the other players.
As an example, look at the particular device a consumer uses and how that dictates how they interact.
Consumers increasingly rely on their smartphones to connect online socially and as consumers. Short-form content like social media, pop-notifications, and email campaigns are prevalent and work well in the mobile medium. But these could be a gateway to more developed, longform content they might access when they're not on the move.
A website links to a blog that leads to a whitepaper that leads to a sale. Here is where a content marketing definition is clear, and it finds its place Digital Marketing—transitioning from quick, non-committal connection with your audience to a deeper understanding of your message.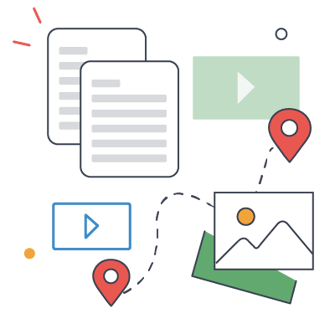 What type of content is most popular?
Effective content marketing connects audiences with valuable information. And that's why blogs still dominate the field when it comes to online content—and for good reason. It's tough to catch the attention of a fickle online community, but blogs operate as the perfect balance between subject-matter-expert information and brevity. But to get a significant readership, it takes more than 600-words every week on your brand.
Can your blog be backlinked from other blogs in a series? Does your blog link to other relevant posts or to a possible whitepaper or eBook? Based on analytics and how successful the readership is for a particular blog campaign, it might garner an additional website that leads to additional content.
It's hard to define content marketing and what content is most popular—digital marketing relies on more than what's viewed most, or by how many consumers visit a site. Audiences want to find value wherever your brand is present, so you need to provide a tangible storyline for them to navigate as they learn more about your brand.
Why do you need a content marketing strategy?
Content marketing leads consumers to more informative, engaging mediums—if done right. By having a content marketing strategy, you direct the consumer's attention to more and more pieces of content, further establishing your brand but also giving you a chance to know your audience more.
Content development doesn't happen overnight. It takes multiple campaigns, trial and error—but at the end of each campaign, you should have a better idea of what your audience values. Use content analytic tools to see how long a reader spends on a certain blog or webpage before moving to the next. Measure how successful a link has been to connect a reader to another blog or whitepaper.
You need a content marketing strategy to be able to plan, execute, and measure your content's success. DemandJump offers a unique set of tools so you have one space where you can organize and develop, measure, and analyze content and how it works with your greater digital marketing goals. As you continue to explore the potential of content marketing as a core part of your brand's digital marketing strategy, sign up for a free trial of DemandJump to see just how much you can learn about your audiences and what they want.
Get Your Free Content Marketing Strategy Report