The Importance of Content in Digital Marketing
December 10, 2020 •Bret Sexton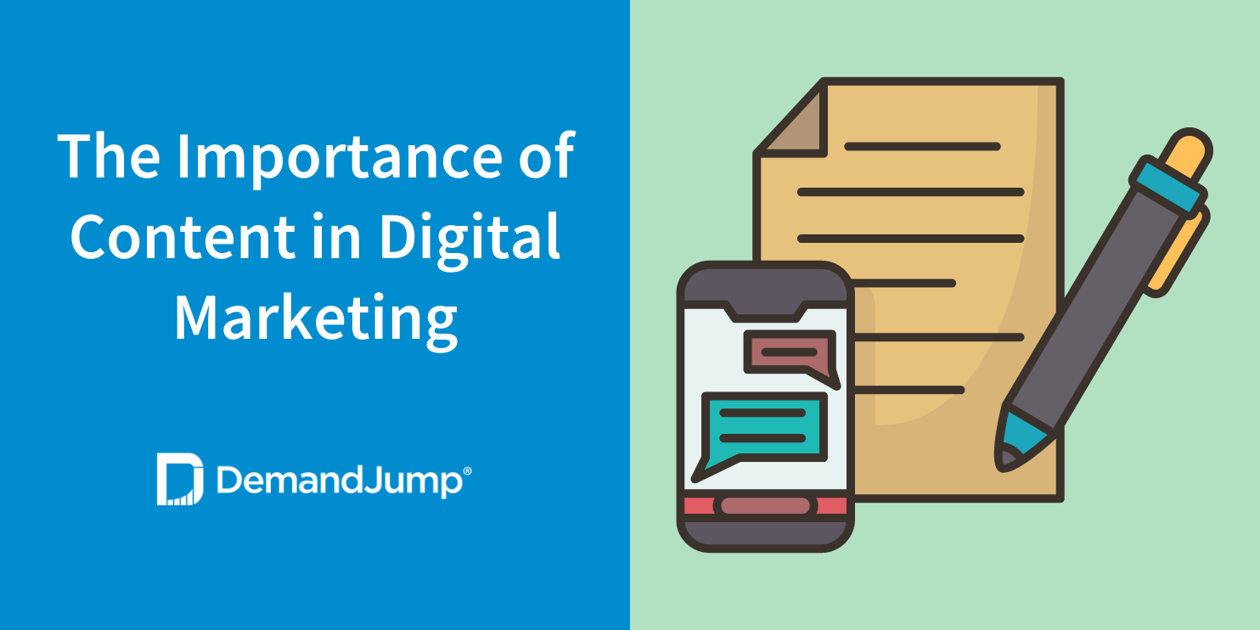 Digital marketing now encompasses so much of how a business connects with current and potential consumers. The reason for this is simple: more people are, in some way, connected to the internet at an ever-increasing rate. Businesses have to develop strategies across all platforms to win the attention of a progressively savvy online community. This leaves companies asking what is content and why is it important to build effective strategies in marketing? Investing in content creation gives businesses the opportunity to reach a broader audience and drive traffic to their sites.
Multiple marketing efforts work in tandem to create effective digital marketing; for example, no one email campaign will lead to great, across-the-board marketing success. The pieces have to connect. So, specifically, how do we arrive at a content marketing definition in the greater scheme of a connected digital marketing campaign, and why is content important in marketing? All this and more will be answered inside this blog.
What Does Digital Content Mean?
Consumers consistently look to online sources as a way to learn more about brands and products that interest them. But where audiences connect varies: they may choose email, social media, websites, blogs, and other digital channels. Each can reach your brand's ideal customers at different stages of their buyer's journey.
What is the digital marketing and content creation connection? Now it begins to become clear. Digital marketing involves creating a strategy across these multiple platforms to connect the audience to relevant content. This content is created to help you generate whatever it is your brand wants—typically increased sales. Perhaps you create a tweet that leads a consumer to a podcast or a blog post that drives traffic to a lead generation whitepaper, whatever—as long as you're engaging your audience.
Consumers increasingly rely on their smartphones to connect online, both socially and with businesses as consumers. Short-form content like social media, push notifications, and email campaigns work well in the mobile medium. These are also often a gateway to more developed, long-form content prospects might access when they're not on the move. An email links to a blog that leads to a whitepaper that leads to a sale. Here is where a content marketing definition is clear, and it finds its place in digital marketing—transitioning from a quick, non-committal connection with your audience to a deeper understanding of your message.
The importance of content in social media marketing and the other short-form types of content cannot be overstated. Each is relatively simple to get started and can generate big results with minimal effort. If social media is not your company's strong suit, partnering with DemandJump to write your content means that we will suggest possible copy for all your relevant platforms to get you started.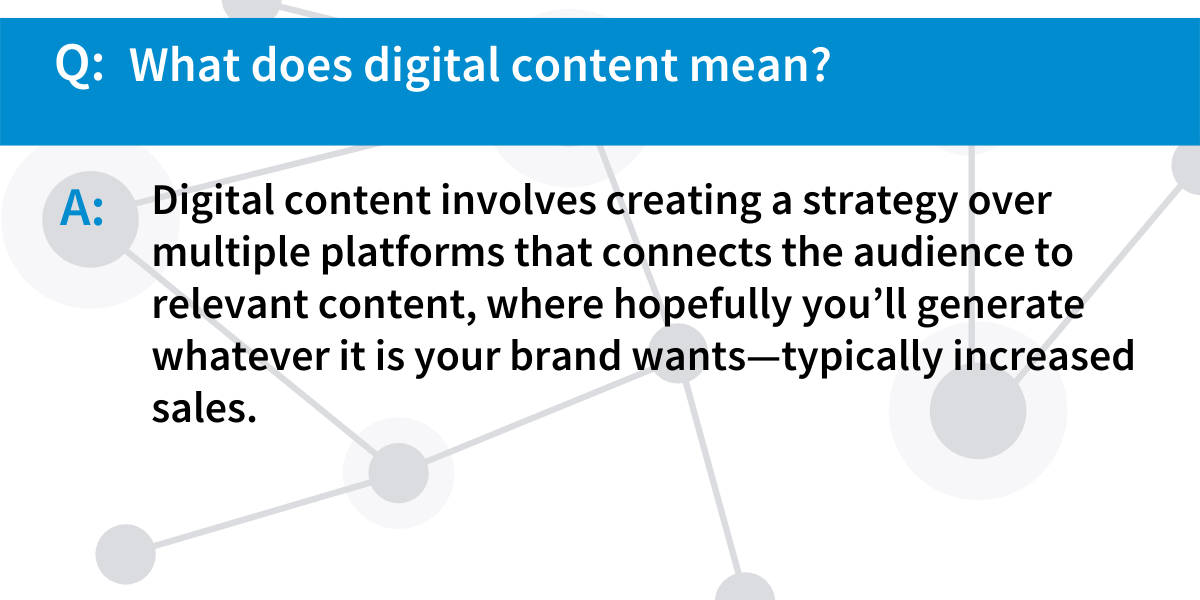 Why Is Content Important?
Many organizations come to us wondering, what are the purposes of digital content?
In the current digital landscape, content reigns supreme in generating organic leads and demonstrating authority on important topics to your target audience. Thus leading to better-qualified leads and increased sales. Yet many organizations still wonder how important is content really? If we haven't said it enough, it's very important. Roughly 90% of content gets zero traffic from Google. That means around 10% of content is getting 100% of the traffic. Not only do you need to be creating content, but it needs to get on Google's radar more than anything.
Let's take a blog, for example. This is a great way to reach your audience with content and answer their most important questions. However, blogs and other written forms of content are only effective at winning search engine ranks if you know what your audience is searching for. Luckily DemandJump's Pillar-Based marketing strategy connects you with the phrases and questions that real people are searching for every single day.
All in all, the true importance of content comes from the ability to attract customers with quality information and insight that will generate business for years to come.
What Type of Content is Most Popular?
Effective content marketing connects audiences with valuable information. And that's why blogs still dominate the field when it comes to online content—it's for good reason. It's tough to catch the attention of a fickle online community, but blogs operate as the perfect balance between subject-matter-expert insight and brevity. But to build a significant readership, it takes more than 600 words every week on your brand.
What defines popular content? Well, can your blog be backlinked from other blogs in a series? Does your blog link to other relevant posts or to a possible whitepaper or eBook? Based on analytics and how successful the readership is for a particular blog campaign, it might garner an additional website that leads to additional content.

It's hard to define content marketing and what content is most popular. Digital marketing relies on more than views, or how many consumers visit a site. Audiences want to find value wherever your brand is present, so you need to provide a tangible storyline for them to navigate as they learn more about your brand.
What Are the Contents of Digital Marketing?
Content in online marketing can include almost anything you can think of. So, we are going to keep our focus on written content. We have already mentioned blogs quite a bit throughout this piece, but are you aware of the other two major forms of written content? Each are longer than a blog. At DemandJump, our innovative Pillar-Based Marketing (PBM)strategy includes three types of written content: blogs, sub-pillars, and pillars. What should all three include? Let's break these down further.
Pillar: This is the longest form of content in our Pillar-Based Marketing strategy sitting at around 3,000 words. This piece will be about the high ranking topic you wish to rank for. Choose this topic based on what your audience needs or searches for the most, not what you are an expert in. Pillar pages should include anywhere from 15-20 high-value keywords or questions. One of the main keywords your audiences are searching most should be the title.
Sub-Pillar: These are 1,500-2,000 word pieces of content that take deeper dives into topics that are slightly more specific than the pillar page. Sub-pillar pages should include a similar number of keywords and questions as the pillar. Their titles should also be high-value keywords related to your main pillar page topic.
Supporting Blog: The shortest form of content in this kind of strategy, supporting blogs are around 750 words and include four to six keyword phrases. The title of blogs, as they are the most specific, will typically be questions such as "what is a good marketing strategy?"
It is unfortunate how many companies have quality pieces of content, but because their strategy did not include the right keywords, it never got in front of the right audience. The importance of content marketing comes down to the small details. After implementing a tested strategy like our Pillar-Based Marketing framework, you can get to the information inside all of these pieces, which is where you can let your expertise shine.
Digital Marketing and Content Creation Statistics
Content creation and digital marketing enable one another to generate more customers at an elevated level. Don't just take our word for it, take a look at some profound statistics on the matter.
These statistics show the importance of content creation in marketing and prove that if your content is well written and answers the right questions then you are on your way to success.
Why Do You Need a Content Marketing Strategy?
Content marketing leads consumers to find and do business with brands they love. By having a content marketing strategy, you direct the consumer's attention to more and more pieces of content, further establishing your brand while giving you a chance to know your audience more.
You need a content marketing strategy to be able to plan, execute, and measure your content's success. DemandJump offers a unique tool, one space where you can organize, develop, measure, and analyze content and how it works with your greater digital marketing goals. As you continue to explore the potential of content marketing as a core part of your brand's digital marketing strategy, sign up for a free account with DemandJump to see just how much you can learn about your audiences and what they want.
How Does Content Marketing Support Digital Marketing?
When used together, these two tactics can create an unstoppable marketing force for any company. In this digital age, almost any form of digital marketing will be some type of content. It is just a matter of finding the kind of content that best suits your marketing needs. Keep in mind that all content can build off and connect with other pieces to create a dominant content ecosystem.
So if you still find yourself asking "what is the importance of content marketing?", then it is time you get in contact with our team. Our platform enables you to gain access to everything you need to run a successful Pillar-Based Marketing digital campaign. We provide you with consumer insights, competitor rankings, high-value keywords, titles for every piece of content, and much more.
Get Your Free Pillar Strategy Report