The Purpose of a Content Strategy: Why Have One At All?
March 24, 2021 •DJ Team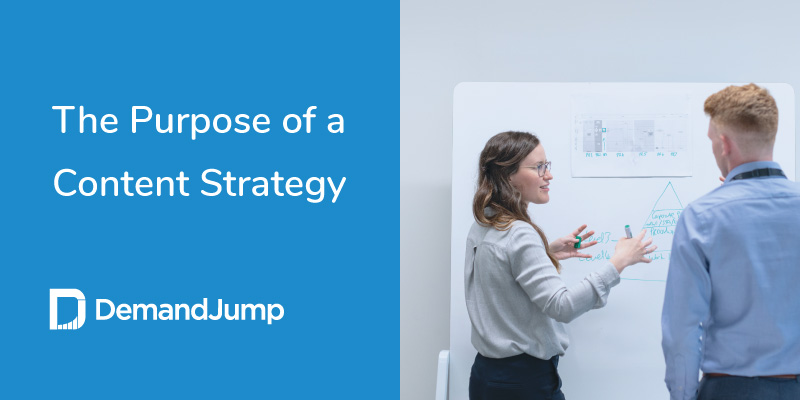 Traditional marketing strategies like print and direct mail, while still relevant with certain demographics, have given way to digital marketing approaches over the past several years. Today's consumers are becoming more and more savvy, and they're turning to the internet to research and purchase products. In fact, Gartner estimates that B2B buying groups spend over a quarter (27%) of their buying time researching independently online.
If you're one of the thousands of brands trying to connect with online searchers, how do you ensure that your website—and your products and services—are getting in front of the right people? With SEO-driven content marketing, like white papers and blogs, that speaks to search engines and your target audience.
To succeed in content marketing, however, you need a plan. That's where a content strategy comes into play. A content strategy is a way for marketing teams to develop and execute a plan for their content marketing. The right content strategy can take you from topic ideation to publishing and beyond. But what are the benefits of a content strategy and what content strategy goals should you aim for? Keep reading to find out.
What Is in a Content Strategy?
A content strategy is a roadmap that takes marketing teams through the entire process of generating topics, identifying high-value keywords, creating content, publishing content, and promoting it to your target audience across a variety of channels.
While every company's content strategy will vary based on identified goals and objectives, here are a few high-level pieces of information that most content strategies include.

A stakeholder roster that clearly defines who is in charge of what aspects of the strategy.
Consumer insights, including who your target audience is, what their pain points are, what high-value keywords to use, and more.
An editorial calendar that outlines key dates, like when drafts are due and when they should be published.
A promotional plan, including where you will advertise your content.
What Is the Goal of a Content Strategy?
For most companies, one of the primary goals of a content strategy is to increase the amount of organic traffic to their website. To do so, companies must rank highly on search engine results pages (SERPs). Over 25% of users click on the first organic search result on Google, and this fact alone illustrates exactly why you need a content strategy. Getting to page one doesn't happen accidentally. You need a solid content strategy with the right tools to make it happen.
It doesn't stop with more traffic, though. A solid content strategy provides myriad benefits.
Brand Awareness: Nike. Adidas. Skechers. They're all household names in footwear, and they got there—in part—from good marketing. The higher you rank on search engine result pages, the easier it is to develop name recognition.
Leads: Any marketer or sales representative will tell you that there's both an art and a science behind turning visitors into leads. One of the methods to get you there is with high-quality content that'll give visitors enough information to become interested.
Trust: More and more consumers want to purchase from companies they trust. In addition to implementing trustworthy business practices, developing clear, unbiased content can also help potential customers feel good about your brand.
Conversions: For most companies, conversions are mission critical. A good content strategy will include content at every level of the buyer's journey (more on this in the next section), including content focused on converting leads into happy customers.
What Is the Purpose of the Content in Your Strategy?
As we discussed above, for most businesses, the end goal of a content strategy is to get more visitors to your site. Why content is important, then, is because it's how you make that happen.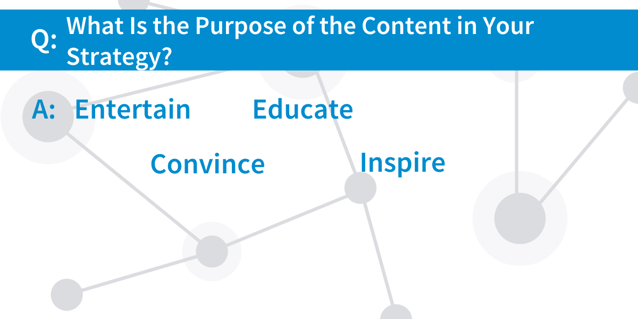 When it comes to content marketing, you must align your content to your buyer's journey. Building a relationship with a potential customer takes time and effort, and that's exactly what your content should do. As such, the purpose of your content will fall into one of or more of the following four buckets: entertain, educate, inspire, or convince.
Entertain: Content that entertains should hook your reader. This tends to be content that falls high up in the sales funnel, drawing new prospects in. Your entertaining content will likely also include some educational content, but consider pop culture references, witty comments, or adding fun posts to your social media content strategy.
Educate: Moving a little further down the sales funnel, educational content is where content marketing really shines. Your goal here is to become an authority, creating and providing content that informs your reader. Now's not the time to go full sales pitch—focus on providing high-quality informative content.
Inspire: Moving another step down the sales funnel, you can begin inspiring your reader. This might be a great time to develop case studies or interviews to show how and why your product or service shines.
Convince: Finally, you've got content that convinces your audience to take an action—ideally to buy your product or service. Focus on the ROI you provide, how you minimize pain points, and why you're the best.
Enhance Your Content Strategy Plan with DemandJump
At DemandJump, we've taken all of the guesswork out of creating your content marketing strategy. Simply enter the topic you want to rank for and DemandJump will show you where you are losing to competition and the exact pieces of content to create to take market share.
But wait, there's more!
Once you have your prioritized list of content to create, you are only one click away from an SEO content brief that recommends exactly what keywords to include to ensure your content ranks.
It really can be that easy—try it free for yourself.
Get Your Free Pillar Strategy Report