The Purpose of a Content Strategy: Why Have One At All?
March 24, 2021 •DJ Team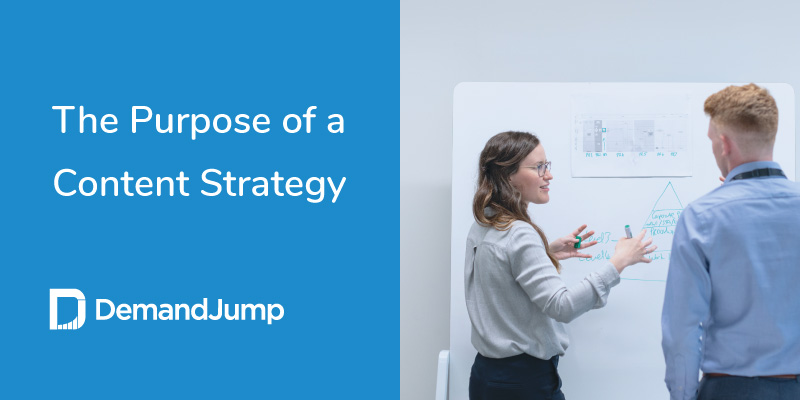 Traditional marketing methods are slowly losing significance, transforming content marketing into the new normal. Tracing the norm, content is quickly becoming the present and future of marketing.
As such, a content strategy is a plan that executes your personal or business digital marketing goals and uses content as the primary vehicle to attain those goals.
In order to implement an effective content marketing campaign, you need to create a content strategy that focuses on the consistent creation and distribution of informative and interactive content. It's imperative that such content talks about your brand, attracts potential consumers, and drives customers to choose your product or brand over other alternatives.

Content Marketing
Content marketing can be defined as the technique of creating and distributing valuable, engaging, and consistent content that aligns with the interests of your target audience. The above content marketing definition talks about two major components of content marketing: the creation of content and its distribution.
We can put things into perspective by broadly stating that the content marketer addresses the "whys," and the content strategy addresses the "hows." While content marketing illustrates the story and plans the channels that you'll use to develop the customer relationship with your brand, the content strategy ensures that the language and management process work efficiently across multiple teams and every publication that you leverage.
When it comes to marketing, the first step is to identify your target audience and then determine which types of content marketing you're going to use in your content marketing campaign. These may include blog posts, infographics, videos, white papers, and emails.
You begin by creating appropriate content that addresses the pain points, needs, and interests of your target audience. The content must engage with the audience, as it's the key to improving conversion. The conversation can be a profitable action of your consumers, more traffic to your website, or enhanced brand visibility.
A helpful step that you can take is to look at content marketing examples of successful businesses in your field to get insights about their content marketing campaigns from online platforms, such as our platform - DemandJump.
The last and the most crucial factor that completes a content marketing campaign is selecting and deploying various digital media channels for content distribution, such as:
Owned media
Paid media
Earned media
Quality content is the heart of an effective digital marketing campaign. While content marketing helps you create and distribute flawless content, other digital marketing helps you analyze the performance of content and find channels and tools to deploy them and grab more audience attention at a low budget.
Content Strategy
In layman's terms, the right content strategy can be regarded as the ongoing process of transforming your business objectives and goals into a plan that uses content as a primary means of achieving those goals. This makes sense because content is information made relevant by the given context. And contextual strategizing is bound to leave a powerful impact. An effective content strategy is very crucial to attract audiences and convert them into potential prospects.
If you're new to content marketing, we advise you to look at content strategy examples of successful businesses in your space. But in the meantime, here are some guiding points to help answer some questions on how to create a content strategy:
Identify your target audience
Create a content production plan
Develop a strategy for content distribution
Properly allocate resources for top-quality production and content distribution
Use analytics-driven assessment of content posts
Be flexible and make changes for better performance
Some online marketing platforms such HubSpot and DemandJump offer content strategy template PDFs and worksheets, so you don't have to go through the stress of designing a content strategy plan from scratch.
Content Strategist
What does a content strategist do? The answer is simple. The primary function of a content strategist is to create a content strategy based on client or consumer needs.
A business must have two types of content strategists: front-end content strategist and back-end strategist.
The front-end content strategist works with content creation and consumer experience. They offer advice on type, design, and quality of content based on identifying the target audience and their needs. Then the content strategist balances between these needs and the business goals.
A back-end content strategist deals with structuring, scaling, and technology. Their role revolves around technical tools and resources that might help streamline the strategizing process. Organizing and structuring content into usable sizes helps scale the entire content creation and marketing process.
Content strategists' skills include high-level thinking, idea generation, and vision for the brand. They must also possess problem-solving skills, good analytical abilities, great communication skills, strategic planning expertise, and search engine optimization experience.
According to Glassdoor, the average base pay for content strategists in the United States is $70,000, but could range from $49,000 to over $70,000.
Automate Your Content Strategy
Luckily for you, here at DemandJump we have taken all of the guesswork out of creating your content marketing strategy. Simply enter the topic you want to cover and DemandJump shows you where you are losing to competition and the exact pieces of content to create to take market share.
But wait, there's more!
Once you have your prioritized list of content to create, you are only one click away from an SEO content outline that recommended H1s, H2s, and keywords to include to ensure your content ranks.
It really can be that easy - try it free for yourself.
Get Your Free Content Marketing Strategy Report