The Ultimate Keyword Research Guide: Tips, Tools, and Best Practices
November 22, 2021 •DJ Team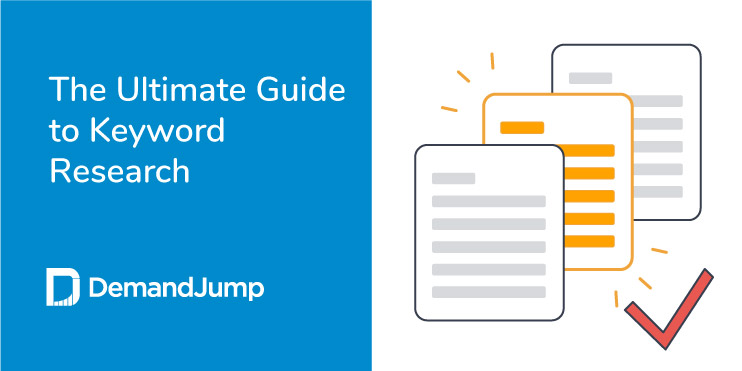 What are your customers looking for? What problems are they trying to solve? Which competitors are they comparing you with? One way to gain insights into these questions is through keyword research.
The keywords people use to find answers with search engines also give you some ideas about their intent. Are they looking for general information in your product category? Are they researching their options? Or are they ready to buy and already looking for deals?
Keyword research is important on different levels. For instance:
Search engine optimization. This is

foundational in SEO

. If you want your website to rank high for certain keywords, you should know which keywords you can compete for.
Content marketing. What you write on your website, and how you write it, should address keywords relevant to your customers.
Paid search. It's also crucial in pay-per-click advertising. You need to know which keywords trigger your online ads.
Market research. There are different ways to research your customers. Keyword research is one powerful tool, as it shows actual customer intent and behavior.
If you want to know how to do keyword research, this guide will help you navigate the process and do it right with keyword research tips.
Keywords
Keywords are the words and phrases people use to type in search engines to look for information. The kind of keywords they use indicates what their intent is. There are three broad categories of keywords: navigational, informational, and transactional.
Navigational. These are keywords that include the brand or product a user is looking for. They're also called Go keywords since the user wants to go to a specific website or destination. Example: Netflix website.
Informational. Also called Know keywords, these are words and phrases that indicate a user is searching for some information. Example: best streaming services.
Transactional. These are Do keywords, since a user is looking to do an exchange or transaction, such as buy, download, or register. Example: Netflix sign-up.
You want to rank for all these different keyword categories. This way, you can capture customers at different stages of their customer journey.
Awareness. Those who are at the awareness stage type more informational keywords that include how, what, best, top, cheap, free, and the like.
Consideration. Customers who are at the consideration stage use navigational keywords. They're already considering your brand and that's why they include it when they search. They type your brand along with words, such as website, app, features, prices, and reviews.
Decision. Those already at the conversion stage are ready to buy. They type your brand or a general product category together with words, such as buy, order, apply, register, discount, coupon, and reserve.
Keyword Research
You may be asking how to find keywords in an article, how to search keywords on a website, or is there a way to search for keywords on a website. Those are good questions, but they aren't the first questions you should ask.
The first question you should ask yourself is what keywords you want to rank for. If your business is providing bookkeeping services in New York, then you obviously want your website to rank high for the keywords "bookkeeping services" and "bookkeeping services in New York."
Remember that customers are at different stages in their customer journey and are typing in different keywords, not just the obvious ones. So the next question is, how do you search for keywords.
This is where keyword research comes in. Exactly what is keyword research? It is the process of discovering keywords used by customers to look for products and choosing the most relevant ones that you can potentially rank for. There are two keywords in that definition: discovering and choosing.
Free Keyword Research Tool
The first is to discover keywords. How do you search for keywords? There are many online tools available, both free and paid. But you can quickly research keywords on Google itself. Just type in the first letters of your keyword and Google will show keyword suggestions in the search bar. Take note of these suggested keywords you can consider later.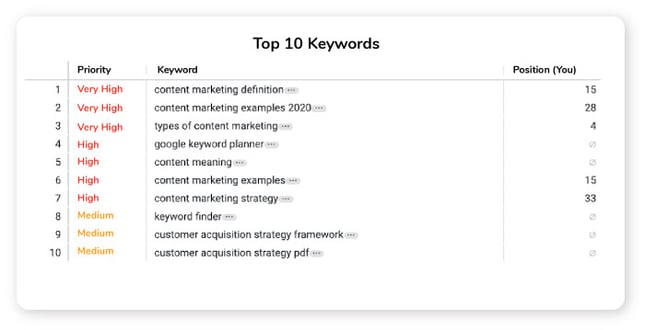 (DemandJump provides a prioritized list of keywords to include and content to create.)
After you enter your keywords and Google shows the results on its page, scroll down a bit to find a section called "People also ask." Copy those questions that are relevant to you. Click any of the questions and Google will show you even more. Do this for the other questions and you'll find loads of keyword ideas you can use.
At the bottom of the page results, you'll see a section called "Related searches." Again, copy those to add to your list of keywords.
Of course, this is just one step in doing keyword research for free. If you're asking, "How do I get free keywords," "How do I do keyword research for free," or "How do I research keywords for free," the answer is: Use a free keyword research tool.
There are plenty of free keyword research tools out there. But what is the best free keyword research tool? Not surprisingly, Google provides some of the best keyword research tools you can use.
Google Keyword Research
Aside from Google search engine results pages (SERPs), Google also offers three tools you can use to do keyword research for free: Google Trends, Google Search Console, and Google Keyword Planner.
Google Trends
This tool mainly shows the relative popularity of a keyword over time. So, it's very useful when choosing keywords you want to rank for and discarding keywords that are not being used as much anymore.
However, you can also use Google Trends to discover new keywords. After entering your keywords, you'll find two sections at the bottom of the page: "Related topics" and "Related queries." For both sections, there's a drop-down button where you can toggle between "Top" and "Rising." These are additional ideas you can use.
Google Search Console
Google Search Console is a tool that primarily helps you measure your website's performance on Google Search results. Most importantly, it shows which keywords you already rank for, including the number of clicks, impressions, click-through rate (CTR), and average position.
You may discover keywords you rank for but never targeted before. For example, if you rank for a certain keyword that has a lot of impressions, but you have a low CTR, you might want to create a page optimized for that keyword to get more people to click your website in the SERPs.
Google Keyword Planner
This is Google's main tool for doing keyword research. Google Keyword Planner has two sections: "Discover new keywords" and "Get search volume and forecasts."
Use this tool to search for words or phrases related to your products or services. Google Keyword Planner helps you find additional keywords that are relevant to your business. You can start with keywords by typing one or several keywords. Or you can start with a website, either yours or a competitor's. This free tool generates a list of keywords arranged by relevance. You can group, filter, copy, save, and download them. It also has a feature to broaden your search by offering additional keywords to include.
Each keyword has corresponding average monthly searches, level of competition for ad placements, ad impression share, and the range of bids that advertisers have paid for. These show you the popularity of each keyword and how competitive it is.
SEO Keyword Strategy
By now, you probably have a very long list of keywords. And with it, you may feel overwhelmed and confused about what to do next. You're done with the discovering part of keyword research. It's time to work on the choosing part. How do you choose which keywords to prioritize?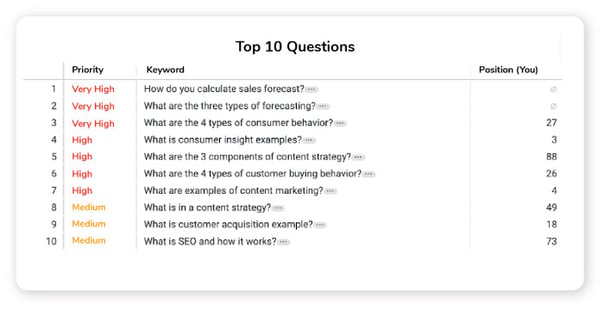 (DemandJump shows you the exact content to create, in order.)
There are two parts to your SEO keyword strategy: review keyword value and prioritize keywords.
Not all keywords have the same value. You only want to rank for keywords that'll help drive traffic to your website. How do you know which ones will accomplish that? There are three factors to consider: search volume, cost per click, and keyword difficulty.
Keyword Search Volume
Look for the keyword search volume. Google shows this as average monthly searches that is a range. Premium keyword research tools are more specific, so they may be worth paying for.
Whichever tool you use, search volume is key to identifying valuable keywords. This also trims your list of keywords considerably. You can disregard keywords that don't get any or enough search volume to make them worth considering.
Cost Per Click
High-volume searches aren't the only factor in determining high-value keywords. The amount advertisers are willing to pay for a keyword is also an important indicator. This is represented by the cost per click (CPC).
On Google Keyword Planner, you'll find that in the "Top of page bid" columns. The higher advertisers have paid for a keyword, the more valuable it is to them. It shows they are willing to pay because the returns are worth it.
Keyword Difficulty
Which keywords to choose also depends on how difficult they are to rank for in search results. Unfortunately, Google Keyword Planner tells you the competitiveness of a keyword, based only on the number of advertisers bidding for that keyword. It doesn't show you how difficult it is to rank for a keyword. You'll have to use other tools for this. But this is worth knowing, as it helps you decide what to target and what to give up.
Keep in mind long-tail keywords, which are longer and more specific phrases, are generally easier to rank for. Between "bookkeeping" and "bookkeeping services in New York," you have a better chance of ranking with the latter. So target keywords that are within your reach.
Google Keyword Planner is a powerful tool, but as we've pointed out, it has limitations. Also, it takes a lot of time and effort to do keyword research. The best keyword research tools are the ones that save you time.
Use Demandjump for Keyword Research
Demandjump is one of the best SEO tools you can use because it has automated SEO keyword research. With just a click of a button, you can know exactly what to write in your website or blog to rank on the first page of search engine results.
It's a huge time saver compared to manually doing keyword research on Google Keyword Planner or other keyword research tools. Demandjump prioritizes lists of content to create around any topic. It generates content outlines for any search query. And it takes the guesswork out of how to structure content, as it's built with pillar strategy execution in mind.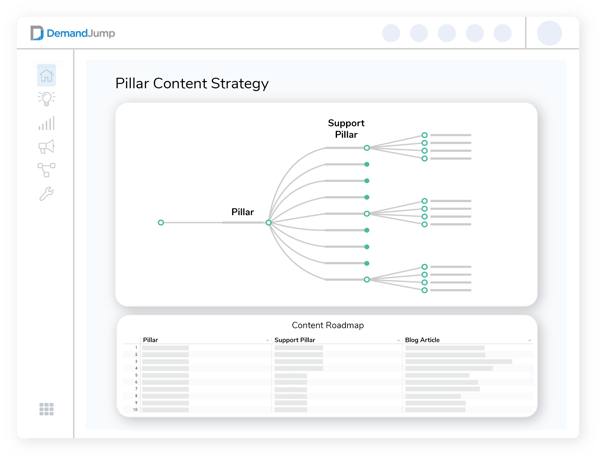 (DemandJump has automated pillar strategy showing you the content to create, what to include, and how to link it to rank on page 1.)
Discover how Demandjump can simplify and automate keyword research for you so you can focus on creating relevant content that ranks. Get started today!
Get Your Free Pillar Strategy Report