Top 5 SEO Strategies and When To Use Each One
August 17, 2023 •Josh Daugherty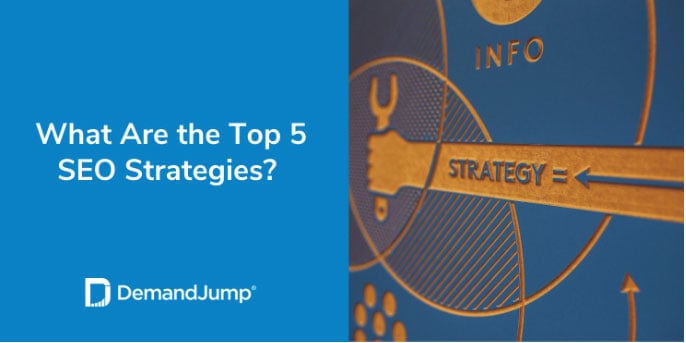 Gone are the days of tricking search engines into ranking your content higher in search engine results pages (SERPs). Search engines have made it clear that they'll prioritize white hat SEO techniques over their black hat counterparts. What are white hat and black hat techniques in SEO? White hat SEO centers around ethical practices, like keyword research and writing quality content, to gain organic traffic to your website. Black hat SEO, on the other hand, uses unethical means, like keyword stuffing and paid backlink farms, to drive organic traffic. Search engines nowadays will penalize any websites that use black hat SEO techniques by ranking it lower in SERPs.
Suffice it to say, if you want to rank in search engines, you have to put in the work instead of cheating the system. There are five top strategies you should follow to rank highly and stay there. And as an added bonus, we'll discuss an SEO content tool and a content SEO strategy that makes it easy to follow the top five best practices and drive results. Let's jump in!
What Are the Top 5 SEO Recommendations for Strategy?
The top five SEO strategies are:
Do keyword research. This strategy entails more than merely choosing a few keywords to repeat several times in a piece of content like what black hat SEO does. Instead, it involves tracking down all the most relevant keywords and questions to a particular topic. Tools like DemandJump make finding this network of keywords easy.
Write helpful content. The keywords you pulled will guide you through writing content that will answer your readers' questions in language that they use.

Google

ranks helpful content higher than content that's repetitive and/or misleading.
Build links to your content. When links send readers back to your website, it shows search engines and readers that you have authority on a particular subject. With a Pillar-Based Marketing (PBM) strategy, you can easily establish your larger pieces of content as authoritative sources of information (but more on that later).
Post content on a regular basis. How often you post will vary depending on the size of your writing and/or marketing teams, but we recommend posting new content about 1-4 times a week. It will indicate to search engines and readers alike that:
Your information is up-to-date
You're an expert on a particular topic(s)
Optimize your website. To do that, you'll have to use on-page SEO techniques, such as better organizing your website, making content mobile friendly, and adding images to your content. Also consider improving your technical SEO, such as boosting load speeds and cleaning up any and all code for your website.
With Pillar-Based Marketing (PBM), you can implement all the SEO strategies listed above.
What Is Pillar-Based Marketing, and How Does It Fit In With the Top 5 Strategies?
Pillar-Based Marketing is an SEO content strategy that allows you to build an entire web of content around a topic you want your business to rank for. By creating at least 16 pieces of content around a single topic, and interlinking all of them, you build authority around that topic. What are those 16 pieces of content?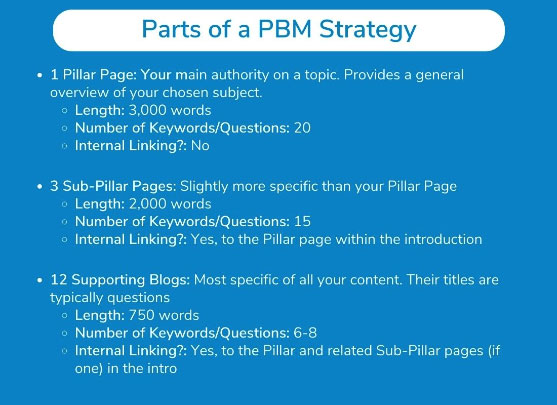 As noted above, each piece of content will require you to do keyword research. Any questions you pull can be used as headers throughout your content to make your content more scannable and mobile friendly. These keywords will also ensure that you answer your audience's questions.
The PBM linking strategy drives all traffic to your Pillar page and some of your traffic to the Sub-Pillar pages. It enables you to build authority, or establish your expertise, around those more general topics that you want to rank for. To build your authority and see results quickly, you should post all 16 pieces of content at once. You can then create new pieces of content, like a related podcast or guest blog, influenced by the pieces from your Pillar strategy. You can even go back and add more content to older strategies if you want to maintain your authority on that particular topic—and to post new content 1-4 times a week like we mentioned.
DemandJump makes it easy to build a PBM strategy. Simply type a term into our "Set Pillar Topics" tab, and you'll see suggestions for titles of pieces you should write surrounding that topic. We also provide you keyword and question suggestions on our "Get Topic Insights" and "Content Briefs" tabs.
What Are the 3 Main Objectives of SEO?
The three main objectives of search engine optimization techniques and strategies like PBM are to:
Rank higher on SERPs. Earning high rankings is the primary goal of SEO because without them, you couldn't achieve your other objectives. Good SEO can boost your rankings by showing search engines—and your target audience—that the pages on your website are:
Relevant to search queries
Helpful to readers
Authoritative on a particular topic
Boost organic traffic to your website. As your pages rank higher on SERPs, more organic traffic visits your website. In fact, the #1 spot in search results receive 34% of all

organic traffic

, a value nearly double of the #2 spot and almost 6 times higher than the #5 spot. Win those higher spots, and you'll get more eyes on your content—and hopefully more people talking about you, too.
Increase conversions. With more people visiting your web pages, you will also see growth in the number of conversions your website experiences. A conversion is an action that a reader takes to draw them further down the sales funnel. If you give your reader helpful content, they'll be more likely to take whatever action you tell them to, whether it be to visit your website, schedule an appointment, etc.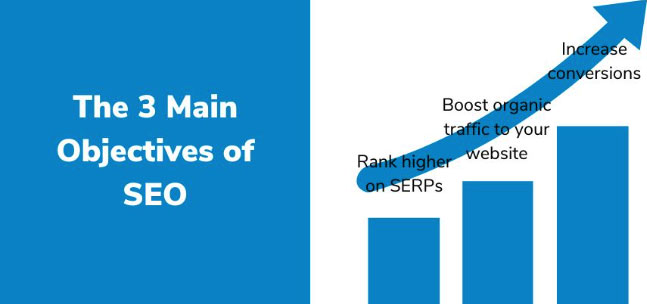 To rank higher in SERPs, boost organic traffic, and increase conversions, you need to implement a PBM strategy of your own.
Drive Results. Choose Pillar-Based Marketing
Pillar-Based Marketing is a must-do content strategy for any company that wants to see results from their marketing efforts—and we're guessing your company falls into that category. We at DemandJump created the PBM strategy to combine many of the top SEO practices implemented today into a singular plan for you to follow. To learn more about PBM, purchase the book that our Chief Solution Officer and co-founder wrote. Or you can create a DemandJump account to start building a PBM strategy of your own.
Get Your Free Pillar Strategy Preview!