Top 5 Content Marketing Strategy Examples
November 25, 2020 •DJ Team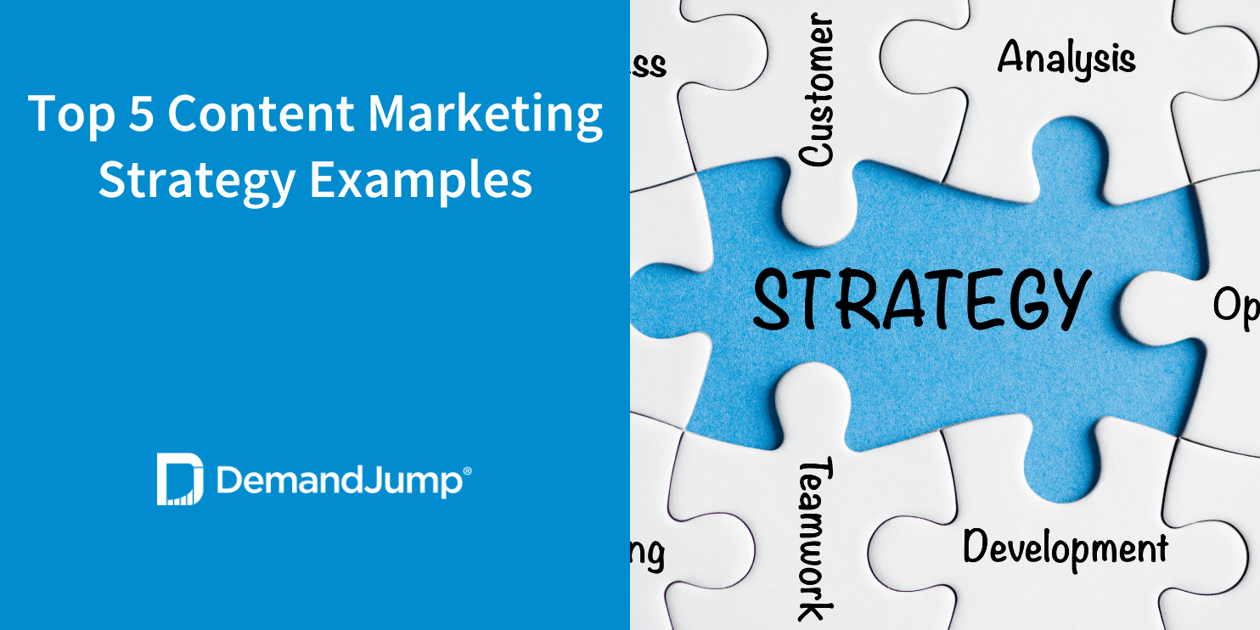 What are the top 5 content marketing strategies that you can incorporate into your business? Check out these content marketing ideas and see how they can transform your business:
1. All Plans On Deck!
What is a good content marketing strategy? Well, simply put—it's one that exists and is stuck to. A good content strategy covers and differentiates between each way to reach your customer—from your website to social media and from ad campaigns to customer emails. With so many demands for your time, it is tempting to skip writing down and creating plans for each different channel. But having a plan and sticking to it can actually save you time in the long run. Not to mention you'll also be saving money (because you won't spend money on ineffective marketing efforts) and creating revenue (because your marketing efforts are actually reaching the customers that you want).
It may seem simplistic to say—a good strategy is having one you use—but 70% of marketers don't have a consistent, integrated plan. Having a strategy, creating plans, and sticking to them are key.
2. Test, Test, Test
What should a content strategy include? While making all your plans for different channels, make sure to include A/B testing as a default. Create two versions of your ad campaign, or two differently-formatted blog posts, and see what people respond to the best.
A/B testing on your website is a great way to increase conversion rates. You can test almost everything, focusing on elements like your call to action, headlines, and site speed to show you what people respond to. Including testing in your content strategy from day one will help you get the results that you want.
3. Segment Your Audience
Content marketing is not and should not be a "one size fits all" situation. Think about the wide variety of people who are seeing your content—some are ready to purchase, some have no idea what your business is, some are just browsing for ideas…your customers have a wide variety of needs and are at vastly different places in their buying process.
Segmenting your audience catches those customers at the different ends and all the ones in the middle, too. There are three stages of the buying cycle: awareness, consideration, and decision.

Awareness
Your customer is searching for solutions and finds your business.
Content marketing ideas: Educational content that informs about what your products are and the solutions they offer. How-to videos, tutorials, or client success stories could be effective pieces
Consideration
Customers are trying to figure out if your solutions are right for them—whether you're selling a product or a service, they are weighing the pros and cons of committing to your business.
Content marketing ideas: Blog posts comparing products, highlighting positive customer reviews in social media posts
Decision
Your customer has made their decision and is ready to buy your product or commit to your service.
Content marketing ideas: Free trial, product demo, free consultation
Segmenting your audience and tailoring the content to catch your customers at different points is a powerful and effective content marketing strategy. Do this by collecting and utilizing information about your customers. Gather information about demographics like age, gender, and location or information about what content they're clicking on and what interests them. Having this data helps you to set up your algorithms and marketing campaigns to send specific and targeted content to the customers who are most likely to be engaged by it.
4. Curate Your Content!
The trick is to curate the content that is relevant to your business. Do your research! Find blogs and social media accounts that cover topics related to your products or services. You can even share other creators' content that your audience would enjoy, just make sure to ask for permission first!
While researching does take time, often it is less time intensive than creating new content from scratch. Including content curation is a great strategy for your content marketing framework.
Save time and create better content that ranks with DemandJump's automated data-driven content briefs.
5. Content Marketing On The Move
More and more, the average consumer is viewing content on their cell phone. 55% of emails are opened on mobile devices, and cell phone users reached 7.1 billion people in 2021. Focusing on adaptive, responsive, and mobile-friendly content when coming up with content marketing ideas is a great strategy to adopt. Furthermore, there are indications that search engines such as Google will be prioritizing mobile-optimized sites and content and giving them better SEO rankings. Mobile optimization is an important strategy that will set your content apart from others.

What Are Successful Content Marketing Strategy Examples?
Looking at successful content marketing strategies and examples can inspire you to create campaigns that build awareness, get customers to consider your offer, and persuade prospects to do business with you. Searching for ideas? Start here:
Rip Curl: To support their branding of being the "Ultimate Surfing Company," Rip Curl frequently publishes articles about all things surfing. Topics range from event coverage to new product releases and gear maintenance, so there's something for all readers. What makes Rip Curl's blog so successful is that they aren't using it to sell—at least that's how it appears while you're reading. Instead, they use their blogs as informational tools to attract readers to their website where they can then shop around. Take their article on

wetsuit care

, for example. They only mention their own products in a short section while the rest is general advice. This builds trust with readers because they don't come across as biased.

Microsoft

: Microsoft's collection of blogs—titled "Stories"—shares how advancements in technology are changing lives. The technology that they are writing about isn't necessarily what they are trying to sell, though. Instead, they are establishing themselves as innovators. They are developing highly-advanced technology that is benefitting people all around the world, so why wouldn't you trust them to provide the technology for your business? A recent content marketing strategy example is

Microsoft's article

on how their Azure AI machine learning can detect patients that will face greater risks of complications during surgery. While this feat is impressive, the article is meant to promote more than just one service. It does this by linking to another page that shows how

responsible AI

can be used in high-stakes situations, like the medical and financial industries. Microsoft draws readers in with touching stories. They then connect readers to products and services they may be interested in based on what they chose to read.

Spotify

: Since its launch in 2017, Spotify Wrapped has become an annual mainstay of social media. With the data the music streaming platform gathers throughout the year, Spotify uses it to do more than just improve their services. They make it available to users to see which songs they listened to throughout the year. The campaign took off, and in 2020, over

60 million

people shared their Spotify Wrapped, showing off their most listened to songs, artists, and genres. The effectiveness of this campaign is that it resonates with users in a way that encourages them to share what Spotify has to offer.
What are the examples of content marketing strategy that you can learn the most from? When studying an example of content marketing strategy, ask yourself: how is this content drawing in an audience? How does it connect with its brand? How does it persuade its audience to take the desired action?
Ready for the next steps?
If you're ready to implement these strategies but aren't sure how to get the data that you need to make these decisions, DemandJump can help. You can combine first and third-party data and see your target customer behavior throughout the entire buying journey. You'll receive insights, analytics, attribution, and data-driven recommendations on what actions to take next in your content marketing strategy.
Sign up for a free DemandJump account to see how easy upgrading your marketing strategy can be!
Get Your Free Pillar Strategy Report