Topic Cluster Examples: Guides for Structuring Your Pillar Content
June 17, 2021 •DJ Team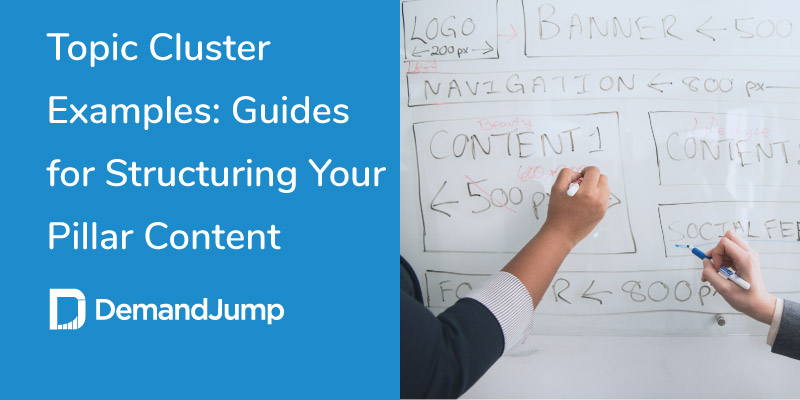 You could do everything right. Create blog posts that are no longer than 1,000 words with catchy headings and titles. Research your keywords and upload quality content frequently. Come up with captivating title tags and metadata. However, the traffic on your website may remain unchanged even after doing all this.
Google has revolutionized the SEO world. Although it's still essential to use the right keywords and create good content, showing that you have authority regarding your topic is vital. The best way to showcase your authority is by using topic clusters and pillar pages to organize your content.
What Is a Topic Cluster?
A topic cluster refers to a group of interlinked web pages all focused on the same topic. These narrower focused pieces of content are linked to a single piece, called a pillar page, that has content more broadly covering the entire topic.
To break it down further, a topic cluster refers to content made up of:
Pillar content focused on a widely searched keyword. Ex: Productivity Software
A variety of related content focused on specific topics related to the pillar page topic. Ex: What is the best free productivity app for Android?
Links from the related blogs to the main pillar and sub-pillars. Ex: You would link internally FROM 'What is the best free productivity app for Android?' TO the 'Productivity Software' app, on anchor text including 'productivity software'.
What Is a Pillar Page?
A pillar page refers to the backbone onto which topic clusters connect. Pillar pages cover every aspect of the topic in one page. However, it provides the opportunity for more detailed reporting through cluster topics that are linked back to the pillar page.
Whereas cluster content addresses a particular keyword related to the topic of discussion, the pillar page focuses specifically on the subject matter.
How Do You Create a Topic Cluster?
When executed correctly, topic clusters have the potential to increase the rankings of your website when it comes to SEO authority, boosting organic traffic and increasing inbound leads. Every topic cluster you create boosts your marketing campaign, and it's an opportunity to prove you're an authority in your niche. But how do you create the ideal topic cluster?
Select Your Pillar Topic
You should first figure out the subject that will act as the anchor and focus on creating content based on the topic to gain the trust of prospective customers. The topic you choose should be the cornerstone of your product or service. Think Nike. One of Nike's pillars may be 'Athletic Apparel'. (Note: The larger the company and services/products that the company offers, the more pillar pages.)
Pick Subtopics or Sub-Pillars
Subtopics are vital to covering an entire topic in detail. Think about the relevant content potential buyers will search for when you're looking for information regarding a new product or solution.
The best way to do this is by considering the pain points for most buyers. For example, using Nike again, they may have sub-pillars for 'Women's Athletic Apparel', 'Men's Athletic Apparel', and so on.
Consider the Keywords to Include
Topic clusters have become the most crucial element in SEO and focused keywords greatly impact Search Engine Results Page (SERP) rankings. You will use content marketing tools (such as DemandJump) to analyze keywords, and your content still needs effective optimization based on those keywords.
However, put less emphasis on keywords and focus on writing content that answers the questions your customers are asking. Once you are answering the questions, then make sure you are including the necessary keywords.
Figuring out how each keyword relates to one another helps with internal linking. This is crucial when it comes to boosting the rankings of other pages on your website.
Develop and Publish Your Pillar Page
After considering key details, strategizing, and researching, you need to come up with pillar content that covers the selected topic extensively. A pillar page should feature relevant pictures as well as captivating content.
Topic Cluster Examples
Now that you have a better understanding of cluster topics, it's time to go through some examples of websites that have clustered their way to the top of lead generation and organic traffic rankings using topic clusters.
It's impossible to discuss cluster topics without talking about HubSpot, as it is the industry leader of inbound marketing. The Ultimate Guide to the Best Productivity Apps is one of the best examples of using cluster topics effectively.
GatherContent's guide to UX design and content strategy is another great example that features a variety of subtopics and a table of contents connected to different parts of the web page.
What Is the Ideal Length of a Pillar Page?
There are no specific limits on how long a pillar page should be. However, staying between 2,000 and 5,000 words should get the job done if being comprehensive is your goal. The exact length, however, varies depending on the topic under discussion and your competition.
If you're looking to create pillar content that works effectively, it should be comprehensive and have several links to relevant posts. Ideally, a pillar page should be the same length or longer than that of your competitors.
Getting Started With Topic Clusters and Pillar Pages
Topic clusters and pillar pages are crucial elements for any website if you want to increase its organic traffic. Creating an effective topic cluster requires extensive work.
Luckily, DemandJump has automated most of that work for you. Simply enter the topic important to you and DemandJump gives you a prioritized list of the exact pieces of content to create. The best part? With one-click SEO content outlines you know exactly what keywords to include and H2s and H3s to use, cutting your content creation time by over 50%. See just how easy it can be, try it free for 14 days. (no cc required)
Get Your Free Content Marketing Strategy Report