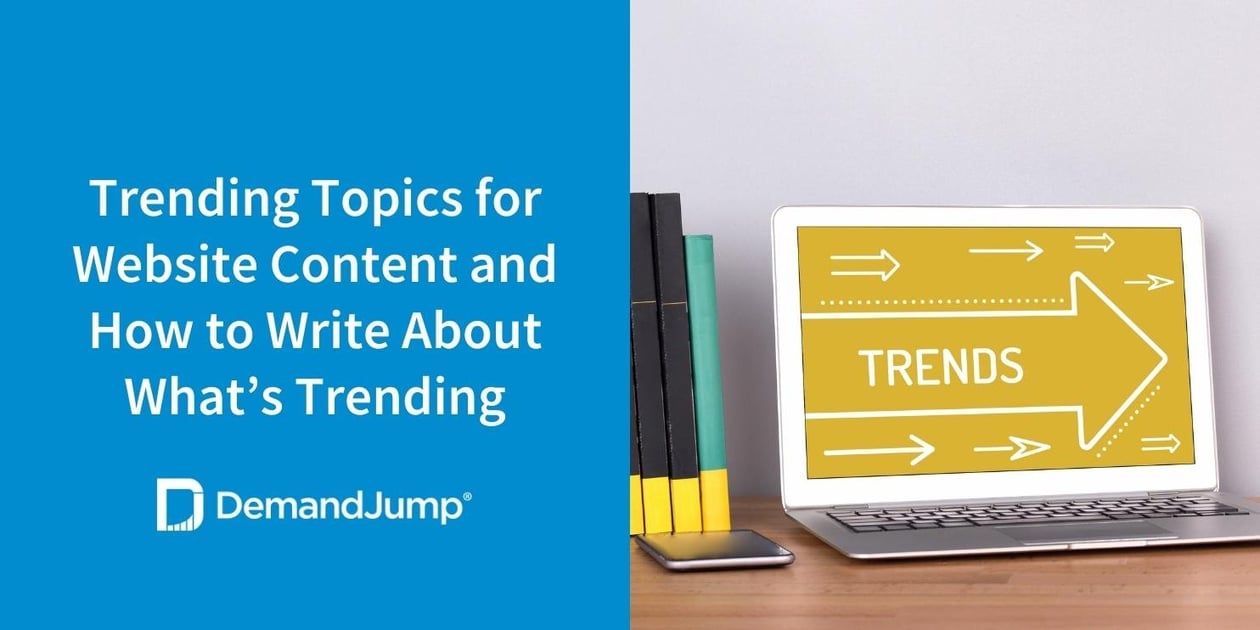 You want your business's website to be fresh, innovative, and on trend. Website content that hits these marks can not only inspire your current audience, but perhaps also draw in a few new faces.
These new faces might not know you or your offerings, but as you continue to deliver trendy content that interests them, they may start coming to your website more frequently looking for content to connect with.
This is what content marketing is all about—building a relationship with prospects and customers by providing unique content that addresses the topics they care about the most.
So, how do you take current trending topics and turn them into website content that your target audience wants to read? Keep reading for tips on how to find trending topics and strategically incorporating trends into your website content.
How Do I Find Out What's Trending?
To figure out what's trending, you'll need to consistently research the latest and most popular topics. This does require some time and effort on your part, but there are also numerous tools out there that can make your trend research much easier, like:
DemandJump - DemandJump is a marketing strategy platform that shows you the exact content to create to increase your first page rankings on search engine results. You simply type in a topic that is relevant to your business, and the platform will show you all the trending questions and phrases people are searching for around that given topic.
Google Trends - How do you get a trending topic on Google? Google has made it easy by taking all of their search engine data and transforming it into a categorized database of Google trending topics. Their trends website can show you interest in a topic over time, which demographics are searching for a topic, and related search queries.
Redditlist - Reddit has become one of the most popular websites on the internet, recently pulling in

1.7 billion

visits in only a month. To explore trending topics on this powerhouse of a webpage, check out Redditlist, which provides insights on trends within the world of subreddits. You can see trending topics with the most recent activity, the most subscribers, and the most growth in the last 24 hours.
Industry-Leading News Sources - To keep the balance of making content that's trendy but also valuable to your audience, stay current on the latest trending news headlines in your industry. Maybe a major event is coming up, or perhaps there's a new product that's taking the industry by storm. Industry leaders likely have a good understanding of what website content and trends are most effective, and by learning from their practices, you might become an industry leader yourself one day.
Social Media - Social media is a wealth of information on the latest trends. And fortunately for you, many of the top social media platforms have made it easy to search trending topics. For example, you can see what's trending worldwide on YouTube by checking out the "Trending" section under the "Explore" tab. Similarly, Twitter also has a "Trending" tab that shows you what's trending now on Twitter.
What Topics Are the Most Popular? 30 Trending Topics
Let's get right to it—here are 30 current trending topics that people can't stop talking about:
Digital Storefronts
Cybersecurity
Social Justice
Cryptocurrency
Mental Health
Gaming Livestreams
Virtual Reality
Artificial Intelligence
Diversity and Inclusion
Metaverse
Alternative Education Options
Sustainability
Social Media Influencers
Online Dating
Electric and Self-Driving Vehicles
Air Fryers
Side Hustles
Robotic Appliances
Cannabis Industry
Personal Finance and Investing
Podcasting
Eco-Friendly Fashion
Healthy and Easy Recipes
Met Gala
Social Media Shopping
Heritage Months
TikTok Ideas
Working From Home
Financial Aid
Traveling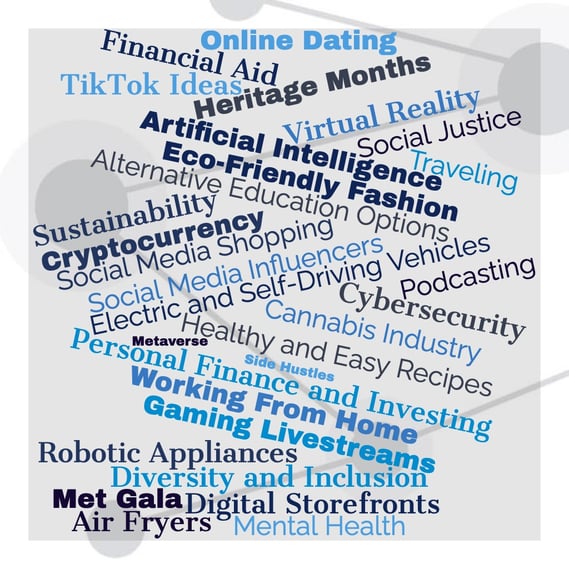 And these topics only scratch the surface. After you've done your research and you know what's trending, it's finally time to sit down and create some content.
How Do I Create Website Content for Trending Topics in the World?
First, make sure you have a purpose that serves your overall business goals and your audience. After all, you don't want to simply jump on a bandwagon and create pointless content! If it feels like you can't make a topic work, you're probably trying too hard—and your readers will sense that.
It's best to stick with trends that provide value to your target audience or that you can clearly relate to your business's purpose. This will allow you to stay relevant while also nurturing your connection with your audience.
However, that's not to say you should avoid trends that might not be obviously relevant. This is where creativity comes into play. For example, let's say you run a B2B company. Maybe writing about "Mental Health" (to pull from our list above) seems irrelevant to your work at first.
As you mull it over, though, you think of conversations you've had with peers who struggle with work-related mental health issues. You are then inspired to write a piece about mental health in the B2B space, focusing on the concerns of your fellow professionals and offering useful information and solutions to resolve those pain points.
When your peers read it, they feel understood, and your brand is now in their brain as a company that is trustworthy and empathetic. You've established a connection deeper than surface-level advertising, one that will stick and further build your reputation in the B2B world.
When it comes down to it, you can write about any trending topic, but the most effective topics will be in that overlap of what your audience cares about and what serves your business goals.
Ready to Start Researching Trending Topics to Talk About? Try DemandJump
DemandJump is an excellent tool for content creation and connecting trending topics with your business goals. Simply enter a search term you would like to rank number one for on search engines, and we will give you a curated Insight Report that shows you the trending keywords and phrases around that topic.
Our platform includes a variety of other useful tools as well, like Content Briefs to get your creative juices flowing, Organic Market Share graphs to show you how you rank against competitors, keyword tracking capabilities, and much, much more.
Want to build up your website with trending content that actually drives results? Get started with DemandJump today!
Get Your Free Pillar Strategy Preview!